New York City
State Sen. Brian Benjamin considering NYC comptroller run
The Harlem lawmaker may join an increasingly crowded 2021 race.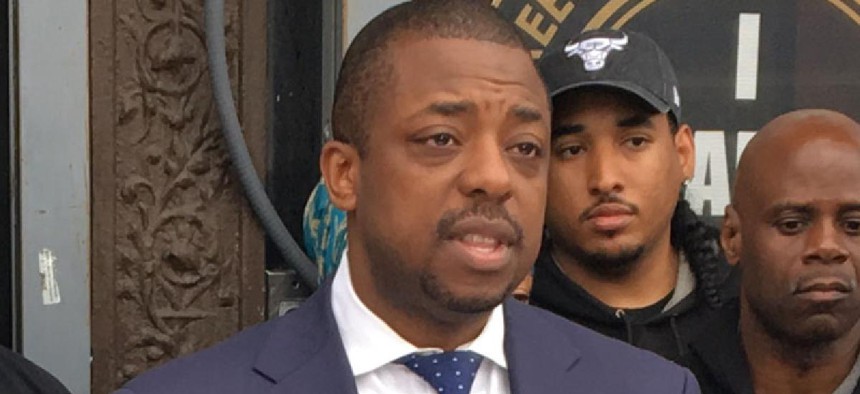 New York City's municipal elections will shake up local government in 2021, with significant turnover across the City Council and in citywide offices – including mayor and comptroller. If the elections in 2017 – when the mayor, comptroller, public advocate and the vast majority of City Council members were re-elected – were a neighborhood pet shop, the 2021 cycle is the Bronx Zoo, teeming with political animals. 
The mayoral race is already the talk of the town – or at least, certain bars in the vicinity of City Hall. But don't forget about the race for city comptroller, an influential office with some 800 employees and control over $200 billion in pension fund assets. Here's who's looking at the seat – including state Sen. Brian Benjamin, the latest politician linked to the race – 22 months before the expected June 2021 Democratic primary. 
Brian Benjamin
The state senator from Harlem is definitely thinking about a run, a source close to Benjamin told City & State. The lawmaker hasn't formed a campaign committee yet, but has been feeling out his chances with allies. For now, he has a re-election campaign for his Senate seat ahead of him in 2020, and plans to hit the speaking circuit for Kamala Harris' presidential run. Benjamin endorsed the U.S. senator from California in July. Benjamin was an affordable housing developer before winning office in a 2017 special election to the state Senate, where he now chairs the Committee on Budget and Revenues.
Brad Lander
New York City Councilman Brad Lander, who has represented Park Slope and surrounding areas since 2010, will be term-limited out in 2021, and has his eyes set on comptroller. He's leading the early field in fundraising, having brought in some $360,000, and will likely frame himself as the most progressive candidate in the race, having recently backed Tiffany Cabán's insurgent campaign for Queens district attorney. Like his preferred presidential candidate, Elizabeth Warren, Lander has built up a reputation as a progressive policy wonk on the council. 
Helen Rosenthal
New York City Councilwoman Helen Rosenthal of Manhattan's Upper West Side was the first to officially jump into the race, filing a committee in July of 2018. She's the only woman in the race for now – a point she likely won't shy away from, as the chairwoman of the council's Committee on Women and Gender Equality. Like Lander, she's a progressive policy wonk who nerds out about city contracting and once worked for the New York City Office of Management and Budget. 
Kevin Parker
Like his colleague Benjamin, state Sen. Kevin Parker is also considering a citywide run. "I've registered an account. There's no money in the account, but I've registered an account," the Central Brooklyn state senator told City & State. "But I am, right now, running for re-election for my seat." 
Just as Rosenthal and Lander may be competing for the same lane as white, Jewish, progressive policy wonks from the City Council, Parker and Benjamin both running could make for an interesting dynamic as black state senators who both back Harris for president.
David Weprin
A scion of a prominent political family, Assemblyman David Weprin has represented a stretch of eastern Queens in the Assembly since 2010. Before that he was a city councilman. Weprin ran for city comptroller once before, in 2009, and finished fourth in the primary, with just 11% of the vote. Weprin also fell short to Republican Bob Turner in a 2011 bid for Congress. 
A mayoral candidate
The wild card in the race: Could one of the leading mayoral candidates "pull a Stringer" and drop down a peg to run for comptroller instead? That's what then-Manhattan Borough President Scott Stringer did ahead of the 2013 race. He ended up winning, and is now planning to enter the mayoral race as a stronger candidate with eight more years of experience under his belt. Stringer is term-limited in 2021, but could Bronx Borough President Ruben Diaz Jr., Brooklyn Borough President Eric Adams or New York City Council Speaker Corey Johnson go for it? None would admit to thinking about it, but only time will tell. 
Powered By
NEXT STORY: Eric Adams: Hakeem Jeffries is not my rival