New York City
State Sen. Kevin Parker draws a challenger
Brooklyn Democratic District Leader Josue Pierre is running against state Sen. Kevin Parker, City & State has learned. While Pierre faces an uphill battle, he hopes to catch the progressive wave that powered a number of upsets in the last election cycle.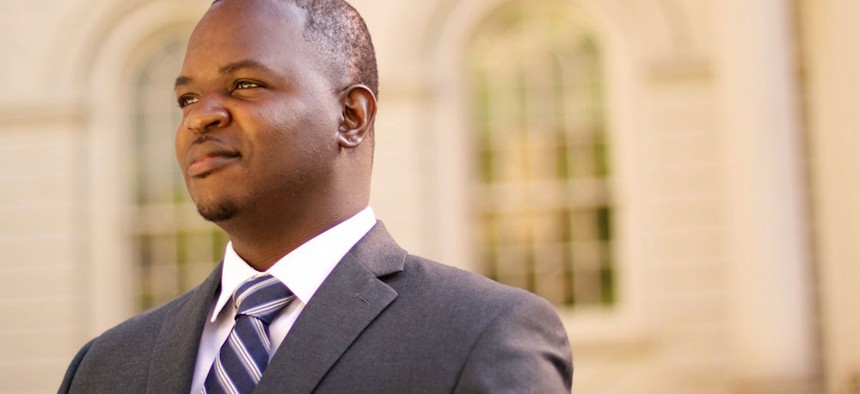 Brooklyn Democratic District Leader Josue Pierre, 37, is running to represent the Central Brooklyn state Senate seat currently held by Kevin Parker, City & State has learned. While Pierre faces an uphill battle against the nine-term incumbent, he hopes to catch the progressive wave that powered a number of upsets in the last election cycle. 
Whether or not his self-described brand of "Flatbush progressivism" will resonate with voters, one thing is certain: Pierre is not taking the easier path to elected office, as he could have sought to succeed New York City Councilman Mattieu Eugene, who is prevented from running again in 2021 by term limits. Vying for an open seat, especially as a well-connected member of the politically ascendant Haitian-American community in a heavily Haitian district, would be one thing. Challenging a nine-term incumbent who has not faced a serious primary challenger since 2008 is another.
That's why some political insiders say that Pierre, a longtime Brooklynite whose day job until late June was as Brooklyn borough director for New York City Comptroller Scott Stringer, is risking his political future by launching a primary challenge. "That's kind of a suicidal move in my opinion," one Brooklyn Democrat with ties to elected officials in Central Brooklyn told City & State. In nearly two decades in the state Senate, Parker has cultivated strong relationships with Brooklyn power brokers, including New York City Public Advocate Jumanne Williams.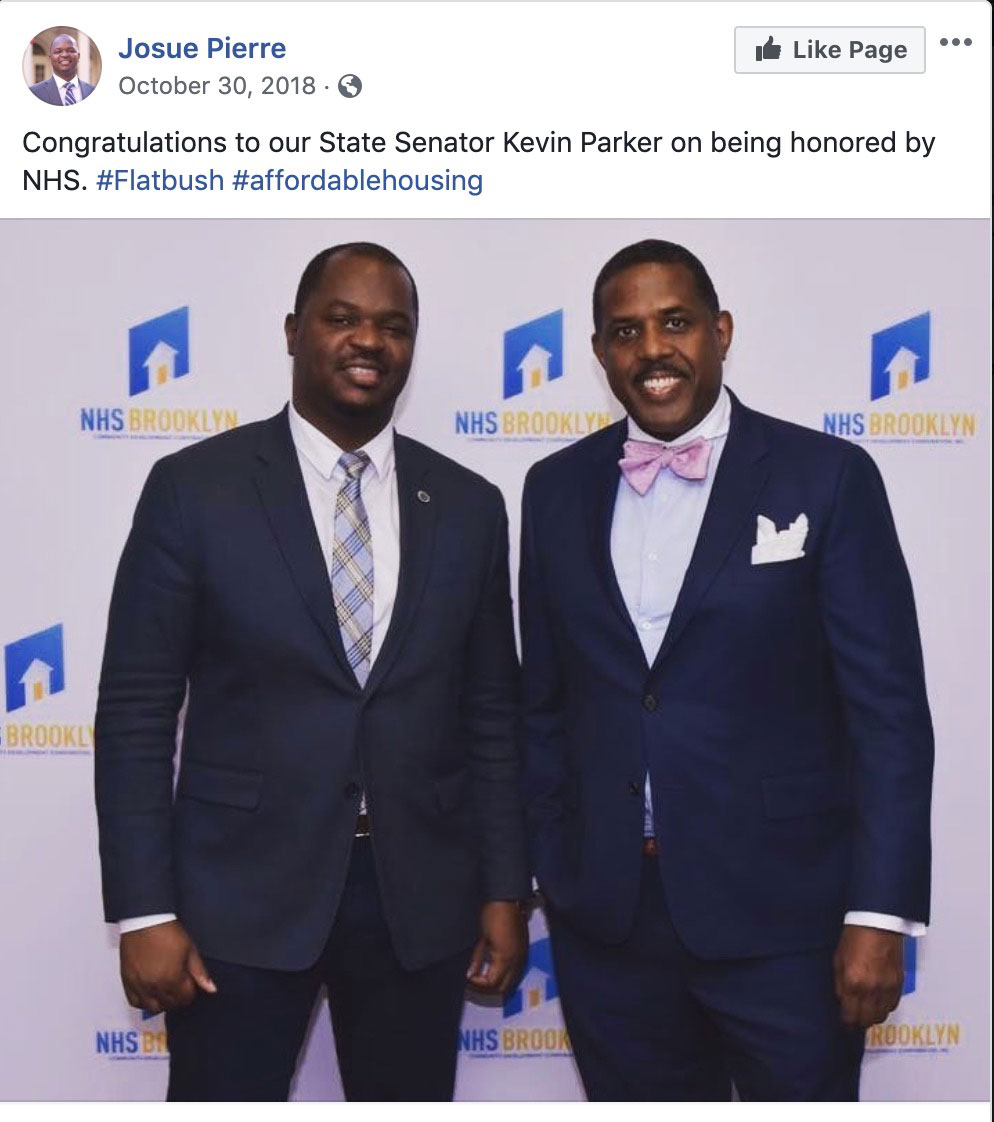 While Pierre has his own connections to local leaders, his primary challenge will make many choose between supporting him or sticking with a sitting legislator whose help they may need in Albany. 
Parker is also known for being easily offended and unforgiving, having become well-known for his volatile temper, including a 2018 tweet that told a GOP operative to "Kill yourself!"
An April meeting of the Democratic state Senate conference is a case in point. Parker made a comment at the meeting that fellow Democratic senators should be more responsible on social media, which was widely interpreted as a rebuke of state Sen. Alessandra Biaggi, who had suggested on Twitter that Gov. Andrew Cuomo had grown too powerful. When Biaggi pushed back by noting Parker's own troubled history with social media, he accused Biaggi – whose grandfather was a congressman – of being "born on third base." At one point in the exchange, Parker removed his tie and threw it down. "I am unbeatable," he said of any possible primary challenge. 
Parker's supporters in his district apparently have previously included even his opponent. After being contacted by City & State for this article, a staff member for Parker sent links of screenshots of social media posts that Pierre has made in past years praising Parker. This includes a September 2018 Facebook post in which Pierre posed for a photo with Parker during his run for district leader. "Proud to be endorsed by my State Senator Kevin Parker," Pierre wrote. "He was saying #NoIDC before it was popular." An October 2018 tweet congratulates Parker for receiving an award from a local neighborhood group.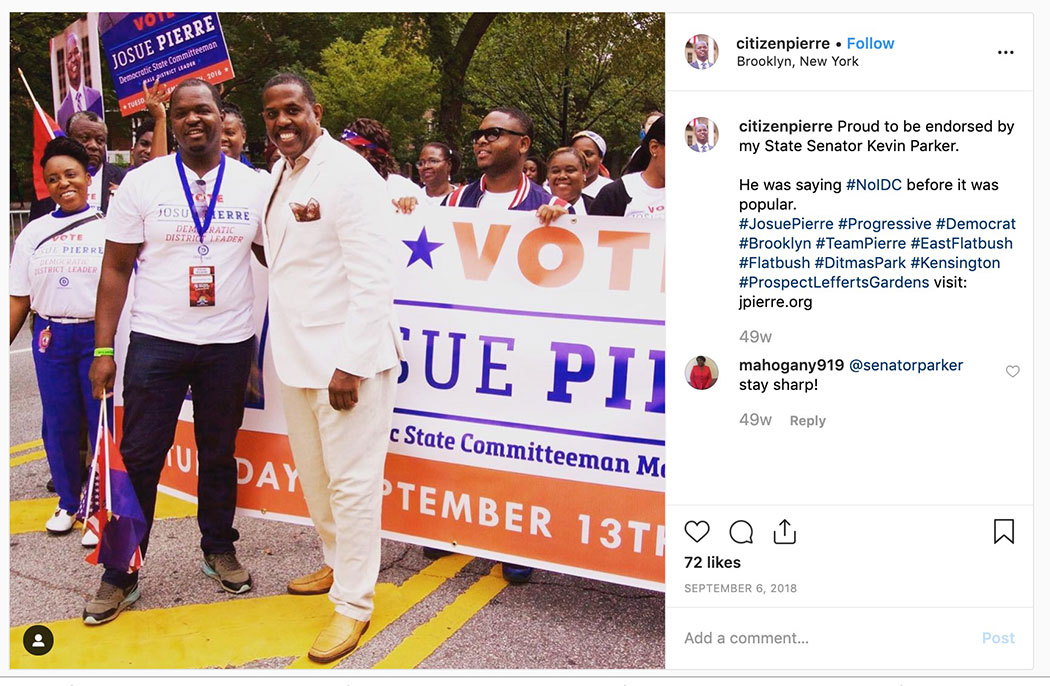 Despite the political peril, Pierre has some reasons to think that he could beat Parker, especially given past controversies about Parker's personal conduct, which could allow Pierre to contrast his seemingly soft-spoken personality with Parker's.
Oh my word. pic.twitter.com/DB7KgEZj8s

— Jon Campbell (@JonCampbellGAN) December 18, 2018
Even though Parker voted in favor of the 2019 rent reform package and has expressed support for additional legislation like a bill that would establish the Home Stability Support rent supplement program, Pierre is also betting that voters in the district want someone who will take a more vocal position on housing.
Parker defended that record in an interview with City & State. "I welcome any opportunity to put my record in front of the voters and have an open and honest discussion," he said. He is the majority whip in a Democratic conference that passed landmark legislation on a range of bills, including rent reforms, climate change, LGBT rights, bail reform and other issues. 
While he did not necessarily take a public role in pushing for some of those bills, Parker said he was busy working behind the scenes to get them through the Senate. "I'm in charge of making sure that we actually have votes for all these historical things," he said. "I'm part of the leadership and I've been part of the leadership for over a decade in the Senate." 
Pierre, the son of a mechanic and a home health aide, arrived in the U.S. from Haiti at age five and has lived ever since in Flatbush, a central Brooklyn neighborhood with a large immigrant community from the Caribean. He attended public schools in the area and then got a degree in accounting from Baruch College. 
Pierre came out as gay in college. "Not an easy thing to do in my local community," he said. "I felt like I had to live my truth." After graduation, he went to work at PricewaterhouseCoopers. He later worked in the city pension system. While accounting may not sound directly applicable to legislating, he says this experience gives him insights into his signature issue: housing. "Something over 70% of that was investing those pension monies into building affordable housing," he said. "So I already have a sense of what would be needed in a big affordable housing plan in terms of financing and in terms of policy and dealing with the public." 
Although his work for Stringer includes outreach to Brooklyn community boards, it was Pierre's 2016 election as district leader that paved the way for him to run for the state Senate. The role expanded his profile with the grassroots groups and Democratic clubs he will need support from against Parker. "He has really stepped up in his district leader role and serves the community well," said Jessica Thurston of the reform-minded club New Kings Democrats. "He seems to be doing a great job meeting with other leaders of clubs, other electeds, trying to listen to a really diverse group of voices as he gears up for this run." 
Groups such as New Kings Democrats have not yet made endorsements, but some have said that backing Pierre against Parker is a possibility. His status as a gay man could also give him an edge against Parker, given the dearth of LGBT legislators in Albany. "(Pierre) is a progressive activist, the exact kind of LGBTQ face that we want running," said Jared Arader, president of Lambda Independent Democrats of Brooklyn, a group that back pro-LGBTQ candidates. "Especially when you only have one openly gay state senator," Arader said, referring to state Sen. Brad Hoylman of Manhattan, "and we're facing the possiblity of no openly gay elected officials in Brooklyn." 
A key figure in the upcoming race could be Pierre's distant cousin Assemblywoman Rodneyse Bichotte, who could provide a critical endorsement for Pierre, while most other elected officials are likely to stick with Parker. Bichotte, a three-term lawmaker, flexed her political muscle in the past year by backing the successful campaign of Farah Louis to replace Public Advocate Jumaane Williams in his old East Flatbush-based City Council seat. The Democratic primary battle in the deep-blue district was widely viewed as a proxy battle. On one side was the Haitian-American community, which has forged an alliance with the Orthodox and ultra-Orthodox Jewish voters and political leadership in Flatbush and Midwood. On the side were African American and non-Haitian Caribbean Americans, including Williams and Rep. Yvette Clarke, who backed Monique Chandler-Waterman in the race.
While Louis prevailed, this victory though came at a cost in how it affected her relationship with Williams and Parker, who backed Monique Chandler-Waterman in both the May special election and June Democratic primary for the seat. Bichotte claims that Parker promised to refrain from endorsing Chandler-Waterman, which Parker denies. "His loyalty in terms of his word, and staying out (of the race) was not there," Bichotte said. "In politics, that's how it is: friends one day, and then you're not friends the next day." While she acknowledged encouraging Pierre to run next year for the City Council seat currently held by the term-limited Mattieu Eugene, Bichotte denies that she has had anything to do with Pierre's decision to challenge Parker, despite suspicions to the contrary and the unavoidable perception in some quarters that Parker's reelection bid will amount to another round in the battle for Central Brooklyn. 
"She's trying to build her power base," said the Brooklyn Democrat, who requested anonymity to speak candidly. "By going after Kevin Parker, she is making a statement that 'I am the queen maker.'" Bichotte told City & State she has not decided yet whether to endorse Pierre, but the candidacy of a close political ally for the state Senate may exacerbate any tension between her and Parker.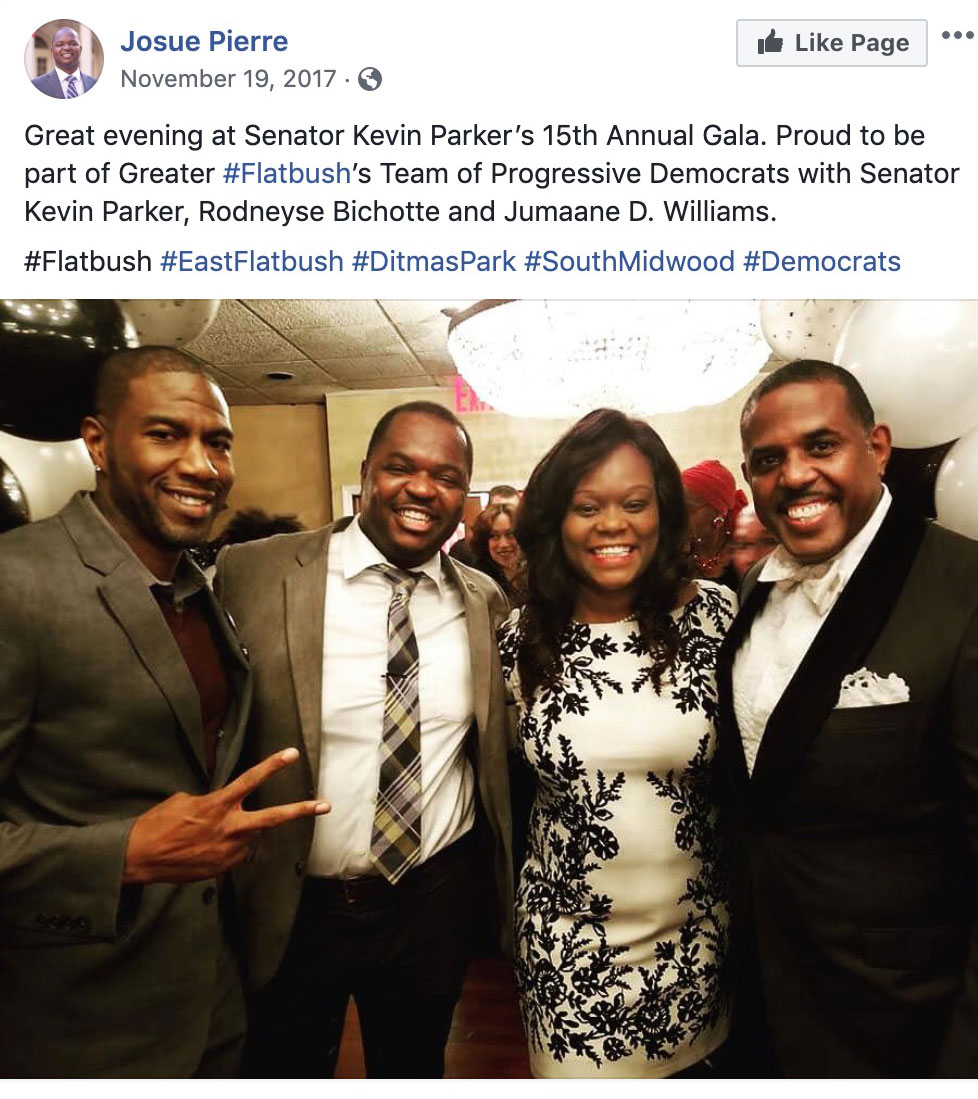 Pierre says that he is running for purely idealistic reasons, rather than settling a political score. "I'm running because I see the need for greater vision and initiative around issues (like) housing, schools, transportation, infrastructure, health care, energy and jobs," Pierre said. He added that he would be a more vocal proponent of affordable housing compared to Parker. "So many people in this community are impacted by rent-stabilized housing and the need to pass those laws," Pierre said. "I would have hoped that the incumbent would have worked towards that and would have been a leader at the forefront. We didn't see that." Pierre also speculated that Parker might have pushed harder for more aggressive housing reforms had he refused $12,500 in donations this year from the Real Estate Board of New York. 
Attacking Parker from the left could prove difficult because of his support this year for many of the progressive bills that passed the Legislature during the 2019 session,including rent reforms and the Climate Leadership and Community Protection Act. 
Parker says that his current primary opponent is just the latest to target a candidate who has not satisfied the appetite on the radical left. "This is the Democratic version of the Tea Party takeover," he said. "Let's be very clear, Josh Pierre is a puppet being used by other people who are manipulating him to make him think that he has an opportunity that doesn't really exist." Among the groups that Parker accuses of backing Pierre is the Democratic Socialists of America, the same group that backed the successful primary campaigns of Rep. Alexandria Ocasio-Cortez and state Sen. Julia Salazar against longtime incumbents. 
Pierre, unlike Ocasio-Cortez, Salazar and former Queens County district attorney candidate Tiffany Cabán, is not a member of the local branch of the DSA. However, he said will pursue their endorsement. "They are definitely for many of the progressive policies that I stand for," he said. "It makes sense to sit and hear from them and have them hear me out." 
Parker's district is predominantly black and located mostly in neighborhoods east of Prospect Park, including East Flatbush and parts of Flatlands and Flatbush. But it also includes whiter, wealthier western Brooklyn neighborhoods such as Windsor Terrace and most of Park Slope, and gentrifying areas of Kensington and Ditmas Park. Those are the same areas that boosted Clarke's challenger Adem Bunkeddeko to a near-upset last year. These communities feature large numbers of younger voters, relatively new arrivals to the neighborhood in many cases, who are on average more highly educated and more ideologically motivated than the older, more blue-collar pre-gentrification communities. That's the same type of voter that swept insurgents such as Ocasio-Cortez and Salazar to surprise victories over longtime incumbents in last year's primaries. Just as Ocasio-Cortez and Salazar won by combining yuppies with a stronger showing among Latinos than a non-Hispanic white insurgent might have garnered, one can imagine Pierre replicating that strategy with a combination of gentrifiers and Haitian-Americans. 
Even if Parker holds his seat, a strong performance by Pierre in the state Senate primary could undermine Parker's hopes for higher office. While Parker said that he remains focused on winning reelection to the state Senate next year, campaign filings show that he is among the candidates getting ready to run for city comptroller in 2021. He set up a campaign account even before winning reelection last year – though he said that he has not raised any money for that campaign since then. 
The Democratic primary next June is more than eight months away, but political insiders say it's going to heat up quickly. Progressive challengers made their mark last year by unseating incumbents like then-state Sen. Martin Dilan, then-Rep. Rep. Joe Crowley and former members of the Independent Democratic Conference – a group of renegade Democratic senators that once caucused with the GOP. Now that Democrats have full control of the state Legislature, progressives are setting their sights on pushing Democrats further to the left. Primary challenges threatening longtime incumbents such as Assemblyman Joe Lentol and state Sen. Velmanette Montogomery – the longest serving Democratic senator – will test the left's power in northern and western Brooklyn. Pierre's race against Parker opens a new front to the south and east. 
Pierre said he will begin hosting campaign events and fundraising after Labor Day. Now comes the hard part of making that case to voters who have sent Parker back to Albany by large margins for the past decade. Both Pierre and Parker want to move up in Brooklyn political circles, but only one of them will come out on top. 
Correction: An earlier version of this post incorrectly said that Josue Pierre is the Brooklyn borough director for New York City Comptroller Scott Stringer. Pierre left that position in late June. 
Powered By
NEXT STORY: Will the House condemn Trump's comments on 'disloyal' Jews?