Andrew Cuomo
9/11 remembered, fusion voting debated, vaping scrutinized
Rounding up the week's political news.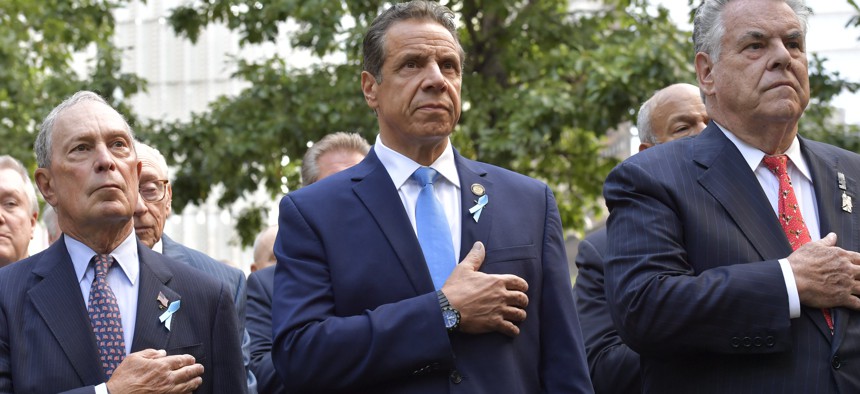 A man took a metal banjo to the Charging Bull near Wall Street last weekend, and it was a one-sided bullfight. The iconic statue has a new blemish, a gash about 6 to 8 inches in length one of is horns. Fortunately for the bull, and tourists who want pictures with an uninjured statue, the original artist will oversee repairs – and a bull fighting group has offered to help foot the bill. Ole!
State public financing hearings
The commission on statewide public campaign financing held its first two hearings on Tuesday, one for experts to testify and the other for the public. Experts largely agreed on a matching fund system at a ratio of 6:1, with an independent agency, analogous to New York City's Campaign Finance Board, overseeing it. Working Families Party representatives defended fusion voting, which lets candidates run on multiple party lines, and butted heads with Jay Jacobs, chairman of the state Democratic Party and a gubernatorial appointee on the commission, who opposes the practice. A number of New York City officials – including Comptroller Scott Stringer, Council Speaker Corey Johnson and Public Advocate Jumaane Williams – showed up to defend fusion voting. 
9/11 remembered
Wednesday marked the 18th anniversary of the Sept. 11, 2001 terrorist attack on the World Trade Center. At the annual tribute at ground zero, all 2,977 names of those who died in the attacks were read aloud. New bills were introduced or signed into law in memory of the attacks: Gov. Andrew Cuomo signed legislation making it easier for state employees that volunteered at ground zero in the aftermath of the attacks to file claims for sick leave, while New York City Mayor Bill de Blasio introduced a measure to make families of civilian city employees – like sanitation workers and correction officers – who assisted police and firefighters eligible for health insurance benefits. 
Help for cops
Amid a spate of suicides by current and former New York City police officers, Police Commissioner James O'Neill announced that his department would no longer automatically strip officers of their badges for seeking treatment for mental illness. The efforts aim to destigmatize mental health while encouraging cops to get help and open up about their struggles. The City Council is also considering a bill to require the NYPD to hire clinicians for precincts to provide confidential counseling.
Still a tale of two cities
Despite de Blasio's pledge as a mayoral candidate to close the gap between the richest and poorest New Yorkers, a report from the right-leaning Manhattan Institute found the city's income disparity has remained largely unchanged throughout his time in office. Addressing income inequality – "the tale of two cities" – was a major campaign promise, along with reducing homelessness, a pledge he has similarly been criticized for failing to make good on.
Crackdown on vaping
Following the outbreak of a mysterious vaping-related illness that has led to several deaths around the country, Cuomo announced a state crackdown on e-cigarettes. He directed the state Department of Health to subpoena companies linked to black market vaping products and to issue a mandate requiring warning signs at shops that sell e-cigarettes. Cuomo also called for legislation to ban the sale of flavored e-cigarettes, which critics say target teenagers. President Donald Trump also took steps to address the issue, likely making Cuomo's statewide ban moot. The FDA is outlining a plan to ban flavored e-cigarettes nationwide.
Primary date changes DOA
Cuomo's proposal to move New York's presidential primary up to February, instead of in late April as originally planned, appears to be dead on arrival. The governor reportedly wanted to plug in New York between Iowa and New Hampshire – while moving state legislative primaries to the same date too, instead of in June. But the Democratic National Committee warned that such a move would be "a violation of the DNC timing rules," while Assembly Speaker Carl Heastie said he and state Senate Majority Leader Andrea Stewart-Cousins discussed the proposal and that there's "no indication" they'll alter the election calendar. 
Powered By
NEXT STORY: Should New York City reconsider term limits?