New York State
Everyone wants to be the next AOC. And that's the problem.
Why a flood of Democratic congressional challengers could help entrenched incumbents.
Michael Weinstock, a former sex crimes prosecutor in Brooklyn and volunteer firefighter, was furious when his local congressman, Tom Suozzi, wrote a letter to a judge urging leniency for Gerard Terry, a Nassau County Democratic official sentenced for tax fraud in 2018. 
Somebody ought to run against Suozzi, Weinstock thought. 
Then, he remembered a lesson he learned in the fire department: "If you ever find yourself saying, 'Somebody needs to take care of that,' that somebody is you."
So Weinstock filed to run for Congress, launching a longshot primary campaign against the two-term incumbent representing much of Long Island's North Shore.
Then came a complication: Somebody else decided to run too. Melanie D'Arrigo, a health and wellness consultant filed to run in New York's 3rd Congressional District on July 15. 
And to further complicate it, yet another Democrat is jumping into the increasingly crowded primary. Joshua Sauberman, a former U.N. analystwho originally registered to run as an independent, told City & State he planned to enter the Democratic primary as well. 
"I think it's fair to say that Mr. Suozzi was drinking a couple martinis when he learned that another person had joined the race," Weinstock told City & State shortly after D'Arrigo filed to run. "He's thrilled! If you're going to have one challenger, you'd rather have a bunch."
A spokeswoman for Suozzi, Kim Devlin, said with a laugh she's never seen the congressman drink a martini in her two decades of working with him, but you can't knock Weinstock for struggling to swallow his own bitter reality. In Suozzi's district, and in congressional districts across New York, there is a glut of Democratic candidates.
Inspired by Rep. Alexandria Ocasio-Cortez's victory over incumbent Joe Crowley, more Democrats have filed to run for Congress than in any other cycle in recent memory. Representatives who have coasted for decades without a primary, or only facing an occasional challenger from the fringes, now find themselves running against two, three or even five opponents. But while challengers are navigating the crowded fields, House members may be breathing a sigh of relief. 
"The more in the district who challenge, the better for the incumbent, frankly," said Ester Fuchs, a political science professor at Columbia University. Incumbents have a baseline vote from people that will show up and vote for them to stay in office, she said. Another share of Democrats are willing to – or committed to – vote against the incumbent. "The more challengers, the more they're going to split whatever opposition or dissatisfied block of voters there are," Fuchs said.
Even if insurgent candidates expand the voter pool – convincing people who vote either rarely or never – it wouldn't necessarily be effective, Fuchs said, since multiple challengers could cannibalize the larger opposition vote. The insurgents "all, in total, could get more votes than the incumbent, but they lose anyway," with the sitting House member winning a plurality of the votes.
Thomas Musich, a political consultant with The Advance Group, agreed. 
"Anyone who's frustrated or fed up with the incumbent is going to have multiple choices to express that feeling," he said. "If you have one incumbent and three challengers, the incumbent has a good base to run off of."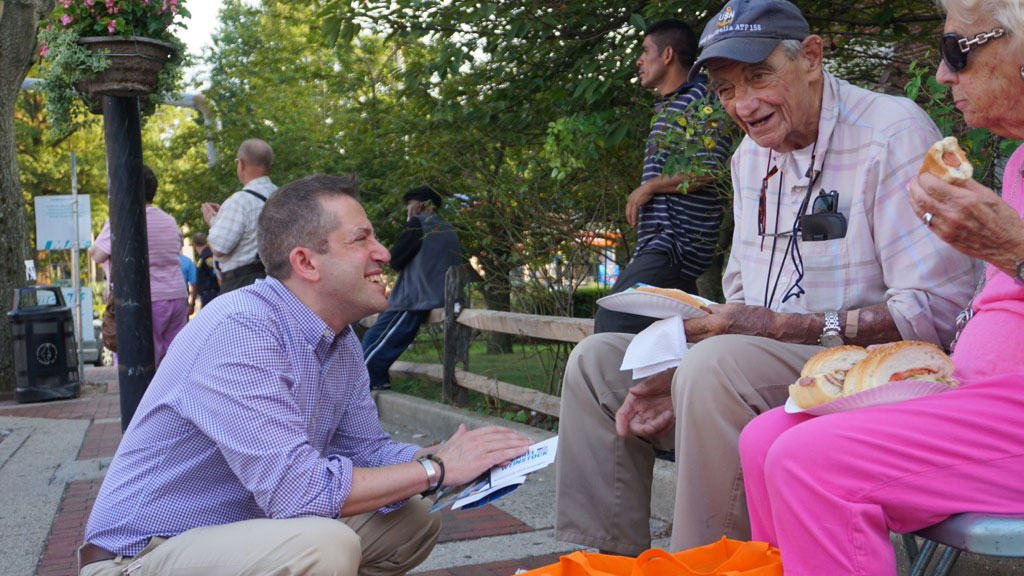 Some challengers have discussed the dynamic among themselves. Andom Ghebreghiorgis, a 34-year-old special education teacher, is one of four Democrats who have launched campaigns to unseat 16-term incumbent Rep. Eliot Engel in the 16th Congressional District, covering the North Bronx and southern Westchester County. Ghebreghiorgis told City & State that he and another challenger, Jamaal Bowman, chatted earlier in the summer. Both are black educators running to Engel's left, and shared serious concerns about splitting the vote. Having multiple challengers now, 10 months before the primary, is "a boon to the discourse, and it's beneficial," Ghebreghiorgis said. But that might change by April, when petitions are due and the primary ballot is finalized. He and Bowman didn't reach any formal agreement, but Ghebreghiorgis suggested that if one of their candidacies was flailing by then, one could drop out. Nobody would be forced, Ghebreghiorgis said, and the goal would be to "be open and be transparent and not try to follow the historical machine politics tactics."
That's a line that many of the challengers aren't willing to cross. Historically, political incumbents or their allies would use threats or bribery to discourage challengers. If a pesky opponent did try to run, the incumbent would challenge their petitions in court and try to get them booted from the ballot. 
But these tactics are anathema to the brand of anti-establishment lefty candidates running in 2020. 
"I ran in part to stop that kind of stuff!" said Adem Bunkeddeko, a candidate in NY-9. "It would be extremely hypocritical of me to be going out there telling people 'don't do this.'"
When Bunkeddeko ran for the same seat in 2018, it was just him versus Rep. Yvette Clarke, and he came within 1,900 votes of winning. Now, he's one of four Democrats who have filed to run against the seven-term incumbent in 2020. 
So Bunkedekko isn't directly telling his opponents not to run. But he seemed to think that the other candidates may slough off on their own before the ballot is set. "The easiest thing to do when starting a campaign is filing the paperwork to say you're going to run. … Let's see where things are in the thick of winter," he said with a laugh. "I've been in the wilderness, and I've survived a long time out there."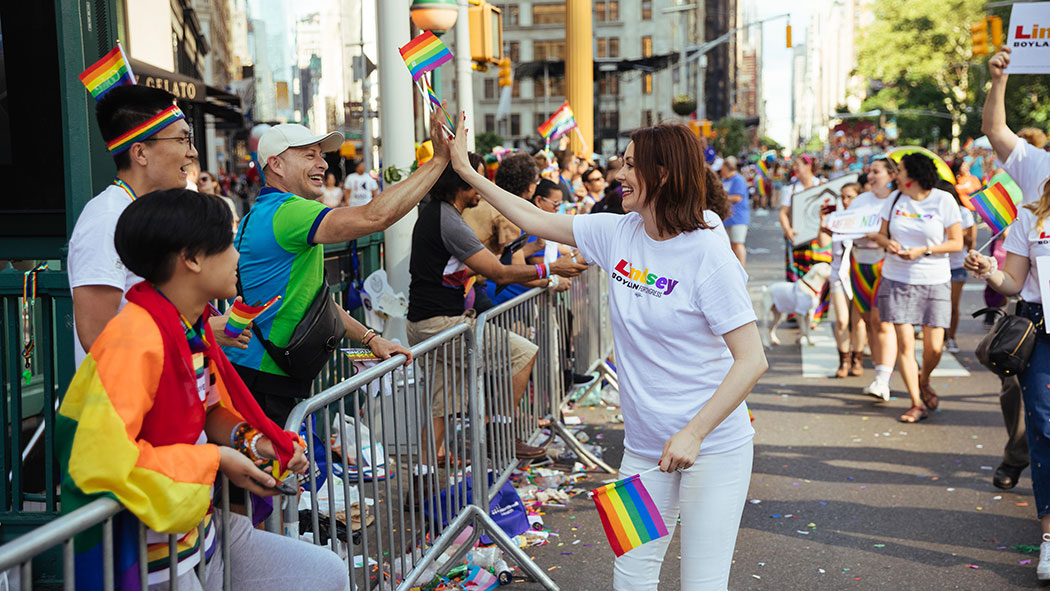 Another congressional challenger, Lindsey Boylan, has had some early success thinning out the field in the 10th Congressional District. She's one of five Democrats who have filed to run against Rep. Jerrold Nadler, who has held office since 1993. Peter Daou, a former aide to Hillary Clinton, considered entering the race before Boylan convinced him to advise her campaign instead. Boylan, a former economic development advisor to Gov. Andrew Cuomo, seems to have a jump on the rest of the challengers, with her well-organized campaign raising way more than opponents like former ad executive Holly Lynch and 25-year-old cryptocurrency analyst Amanda Frankel. But Boylan isn't looking down at the other challengers. She's looking up at the powerful Nadler. 
"If I spend my time negatively trying to push others out of this, then I'm losing my focus," Boylan said.
She wants to have a "friendly, competitive relationship" with the other challengers, and rejects the premise that a crowded field makes it even easier for Nadler to win. 
"You have a movement happening … and the outcome of that is not more of the same," she said. "I think you're too smart to think that, and I'm too smart to think that. And I think voters are going to be too smart to think that."
Other challengers acknowledged the gamesmanship that's part of any crowded primary, like Erica Vladimer, an attorney and former state Senate staffer who's running against Rep. Carolyn Maloney. The 14-term incumbent seemed vulnerable after her lone primary challenger in 2018, Suraj Patel, managed to win 40% of the vote. Patel has yet to announce whether he's running again in the 12th Congressional District covering parts of Manhattan, Queens and Brooklyn on the East River but three other Democrats – including Vladimer – have already filed. Vladimer has met with the other two, Lauren Ashcraft and Peter Harrison, and speaks of them more like teammates than opponents. Vladimer says she's in the race to win, but suggested that beating Maloney is the main goal – even if she herself loses. 
"It's important for all of us to have conversations with one another, because there is strategy that goes into winning for a cause versus ourselves," she said. "I think at this point we'll see how the pieces fall."
Working together towards a common cause may resonate with progressives, but these candidates may not have any other choice. The odds are against any challenger hoping to unseat an incumbent, and the odds get longer the more candidates jump in the race. 
But Weinstock pointed to some other math to consider in his race to defeat Suozzi. Even if he did want to force the other challengers off the ballot, as an insurgent, he couldn't afford it. . 
"I don't see my campaign having a lot of money to hire attorneys and conduct a legal challenge," he said with a laugh. "Money's a little bit tight."
Correction: This article originally referred to Melanie D'Arrigo as a health and wellness coach. She is a a health and wellness consultant. 
Powered By
NEXT STORY: Don't panic about those tornado sightings