New York State
Milking the school lunch issue
Upstate lawmakers complain about a proposed ban on flavored milk in NYC schools.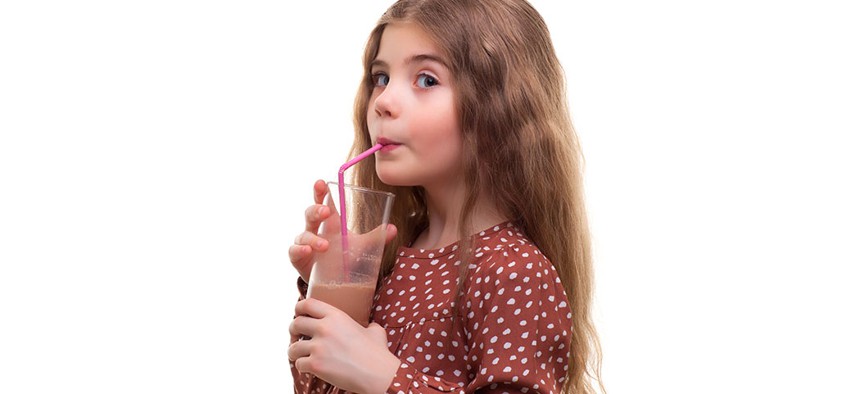 Could chocolate milk determine the future of New York state politics? 
That notion is not so far fetched if you consider the wider political implications of a proposed ban on flavored milk in the New York City public school system – which is among the biggest customers for New York state's $2.9 billion dairy industry. There are plenty of swing districts upstate, and Republicans and Democrats alike can score some political points by defending a local cash cow from the North Country to the Southern Tier.
Three members of Congress from upstate swing districts, the chairs of the state Legislature's agriculture committees and other state legislators have already publicly called for the city Department of Education to reject the proposal, which they say would lead to decreased milk consumption among the city's 1.1 million public school children. The proposal would deal a heavy blow to a dairy industry suffering from low milk prices and an ongoing trade war with China, lawmakers say. 
New York City Schools Chancellor Richard Carranza nor New York City Mayor Bill de Blasio have yet to respond to the concerns of the state and federal lawmakers, who have no direct say in the city's buying decisions for school lunches. However, that does not mean that elected officials cannot try to use their powers of persuasion to make the city abandon the proposal, while scoring some political points before the 2020 elections. 
The Democratic takeovers of the state Senate and the U.S. House of Representatives in the 2018 elections happened in part because of the victories of moderate Democrats in upstate swing districts where the dairy industry holds particular sway. Efforts to protect the milk industry could help protect vulnerable incumbents like Democratic Reps. Anthony Brindisi of Central New York and Antonio Delgado, whose district spans parts of the Catskills and the Hudson Valley. Republican Rep. John Katko, also of Central New York, fended off an energetic Democratic challenge last year and is expecting one again in 2020. The close margins that each of them won by in 2018 means each has a strong incentive to demonstrate attention to nonpartisan local concerns. "There's certainly a concentrated effort in working with dairy farmers, which is a struggling industry in this area," said Luke Perry, a professor of political science at Utica College. "It's been bipartisan."
All three of them signed a Sept. 16 letter to de Blasio from Brindisi's office, along with GOP Rep. Elise Stefanik, who represents the North Country, Democratic Rep. Sean Patrick Maloney – who easily won reelection last year, though his Hudson Valley district was narrowly won by Trump in 2016 – and Rep. Grace Meng of Queens, who is vice chair of the Democratic National Committee and may be concerned with protecting the party's congressional majority. The issue also helps Brindisi and Delgado distance themselves from de Blasio, whom a Sept. 27 Siena College poll showed is deeply unpopular across the state.
The milk issue is even more relevant to Republican hopes of winning back the state Senate. The Democrats currently have 40 seats in the 63-seat chamber, meaning the GOP needs to win at least nine of them to take control. Most of those 40 seats are firmly in Democratic hands, so, in addition to picking up seats on Long Island, Republican will need to milk the proposal for all it's worth against upstate Democratic incumbent Sens. Jen Metzger, James Skoufis and Rachel May. "The dairy interests are quite substantial upstate," said Bruce Gyory, a Democratic consultant at the Albany-based Manatt, Phelps & Phillips. "I can see this impacting Skoufis, May and Metzger." 
The upcoming special election to replace Republican state Sen. Bob Antonacci of Syracuse, who won election last year by a two-point margin, will test the appetite among voters for the chocolate milk issue. If Republicans are unable to keep that seat, then it could have a "tremendous impact psychologically on how many of the current Republican senators wind up running for reelection," Gyory added. 
A loss in the Syracuse area would also leave the Democrats one seat away from winning a super-majority of the state Senate – a nightmare scenario for Republicans, who would lack any power to check the progressive impulses of the Democrats in the state Legislature. 
Democrats are also targeting state Sen. Sue Serino of the Hudson Valley, who won reelection by a two-point margin last year. Serino – who did not respond to a request for comment – along with Skoufis and May, appears to have not made any public comments about the proposed chocolate milk ban. 
It's possible that the issue has escaped their notice, since it's fundamentally a local issue outside of their district."They may not even realize or be thinking about this," said Gyory.
Metzger, chair of the state Senate agriculture committee, has taken a leading role in opposing the ban. A Sept. 16 letter to Carranza signed by Metzger and state Assembly Agriculture Committee Chair Donna Lupardo included the same criticisms as the letter from the congressional representatives. Metzger and Lupardo warned that the proposal would undermine a state program that aims to bolster nutrition for city school children while promoting agricultural products from upstate. "The proposal to eliminate the option of chocolate milk in your schools would be a step backward in the progress we've seen through this program and would constitute a serious setback for our already-struggling dairy farmers," reads the letter.
Metzger and Lupardo told City & State that they were given no heads up from the de Blasio administration about the proposed ban and have not received any response yet to their letter, which requested a meeting between them and the city DOE. Both lawmakers have adopted a cooperative stance towards the de Blasio administration, which did not respond to a request for comment, as part of their efforts to stop the chocolate milk ban cold – but that could change if the ban is ultimately adopted. "We should be focused on how we can create these mutually beneficial relationships between our farms, our dairies and our schools," said Metzger. She added that she would follow up "soon" with the DOE to get a response to the letter. 
The DOE said in a statement that the primary aim of the proposal, which is still under consideration, is to promote healthier eating among students, rather than protect upstate dairy farmers. Chocolate does have more sugar and calories than regular milk, but there are worries that schoolchildren will drink less milk if they cannot have chocolate. Recent case studies suggest, however, those concerns could be overstated. A 2014 Cornell University study of schools in Oregon that banned chocolate milk found that about 10% of chocolate milk consumption was not replaced by regular milk. Los Angeles County schools abandoned a chocolate milk ban in 2016 after overall student milk consumption went down. 
The potential loss in business to farmers is not the only political angle of attack. GOP state Chair Nick Langworthy made a broader point about what conservatives see as government overreach. "Nanny state foolishness at its worst," he told City & State via Twitter. Referring to the mayor, Langworthy added: "Bumbling Bill wages war on chocolate milk, hamburgers and buildings made of steel meanwhile the city is going to hell in a handbasket. It also hurts our NYS dairy farmers." Other Republican lawmakers have pursued similar attacks against progressives over the ban, including state Sen. Robert Ortt – who is currently pursuing a primary campaign against indicted Republican Rep. Chris Collins in western New York – and Republican state Sen. Rich Funke of western New York, who won reelection last year by a four-point margin. "New York City Democrats want to legalize prostitution and taxpayer-funded drug shoot-up sites," Ortt said in a Sept. 17 press release. "But they want to outlaw chocolate milk in schools?" 
The potential impeachment of President Donald Trump is threatening to suck up political oxygen at the federal level in the months ahead. The next legislative session will bring budget battles and other legislative fights. One locality's ban on chocolate milk will more likely than not fall way down the political agenda for both members of Congress and the state Legislature. 
But the 2018 elections show that just a few thousand, or even hundred votes, can determine who gets elected. Swing district lawmakers of both parties will be fighting for political survival in the 2020 elections and any political edge they can get from showing their support for the state's dairy industry – the fourth-largest in the country – may help.
At the very least, it is political food for thought.