New York City
Putting Trump's presidential library on Staten Island is a great idea
It would bring prestige, scholarly resources, and all of Trump's documents to the borough that loves him.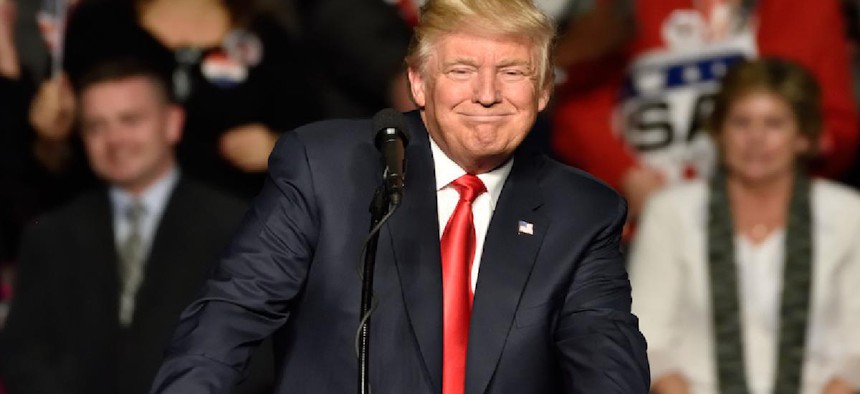 Staten Island may just become the No. 1 destination to review President Donald Trump's tweets and redacted documents, thanks to public advocate candidate and Republican New York City Councilman Joe Borelli.
Borelli pitched the idea of building Trump's presidential library on Staten Island in a letter addressed directly to the president two weeks ago – and it's a surprisingly great idea.
In his letter, obtained by the New York Post, Borelli points out that the borough has plenty of vacant land on its waterfronts and that the president and island have a mutual fondness for each other. About 57% of Staten Islanders voted for Trump in 2016 – far more than in any other borough (Queens came in second, at 22%). And Borelli told City & State over the phone that since Trump's presidential library is going to be built no matter what, why not build it in the borough that holds a special place for Trump in their hearts?
"This borough is the one that voted pretty overwhelmingly for him (in 2016)," Borelli said. "I think he got the biggest majority (vote) in the county since Reagan. He also won the primary here in a landslide. So if people aren't going to be happy about (the library) in other boroughs, that's fine – but a lot of people here will be."
It would be easy to dismiss Borelli's pitch as just another attempt to troll the city's largely left-leaning population, as Borelli is prone to do. But this proposal, regardless of your political affiliation, could actually benefit the borough.
Gotta have a little fun at #deBlasio City Hall.... pic.twitter.com/Dz56aPpEix

— Joe Borelli (@JoeBorelliNYC) September 26, 2019
Thanks to the Presidential Libraries Act of 1955, all presidents are required by law to have all of their presidential materials archived and housed in a presidential library after they leave office – regardless of whether or not they've been impeached.
Considering the sour reception he tends to get whenever he comes back to visit, Trump has unsurprisingly floated the idea of building his presidential library at one of his properties in Florida, as opposed to his home state, where most presidents typically have their libraries built. But as Borelli points out in his letter, Trump has affection for the forgotten borough. "In the summers I used to work on Staten Island," Trump said during a press conference in 2016. "The greatest people. These people are incredible people."
Borelli says that he would be surprised if Trump doesn't want a monument to his presidency in New York City – though he imagines Trump might want to place it in the borough that has done its best to erase his name. "Knowing who Trump is, (the idea) that he wouldn't want one final, last real estate (property with his name on it) in Manhattan, knowing how many crazy New York progressives it would bother – it's almost too good to pass (up) if you're Trump," Borelli said.
Borough politics aside, having a presidential library and research center in Staten Island could be transformative for the borough. The New York Public Library currently has 40 branches in Manhattan, 35 in the Bronx and just 13 in Staten Island. (Brooklyn and Queens, which operate under separate library systems, have 65 and 68 branches, respectively.) 
Though unlike most of the city's library branches, the presidential library wouldn't be a typical circulation library; it would be a research center, set up with resources to help New Yorkers conduct more thorough investigative work.
"We (Staten Island residents) don't have the same higher education institutions that other boroughs have," Borelli explains. "I mean, just look at Brooklyn, there's Brooklyn College and a whole bunch of community colleges and the Brooklyn Law School. In Staten Island we have a CUNY site and we have two private colleges. If Staten Island was chosen (as the location to house Trump's presidential library) one of (the borough's) colleges would be a partner with the Trump library. So it'd be a very big thing."
Plus, it would allow numerous individuals to gain access to all of Trump's presidential materials – which Borelli argues would benefit even Trump's fiercest opponents.
"I mean, this is where the unclassified records of the administration would be housed," Borelli said. "So some little angry, liberal grad student at Columbia right now will have the opportunity, when all the records are declassified, to come to the Trump library on Staten Island and, you know, see what Donald Trump was really up to."
Borelli said he hasn't received any serious complaints about his proposal – beyond those opposed to anything having to do with Trump in general. "I've yet to see a rational argument beyond, 'Orange man bad, library bad,'" said Borelli.
We just have one question: How will the library be archiving Trump's tweets?
Powered By
NEXT STORY: The least powerful man in New York