New York City
The least powerful man in New York
Bill de Blasio promised to end inequality. He didn't. But a mayor never could.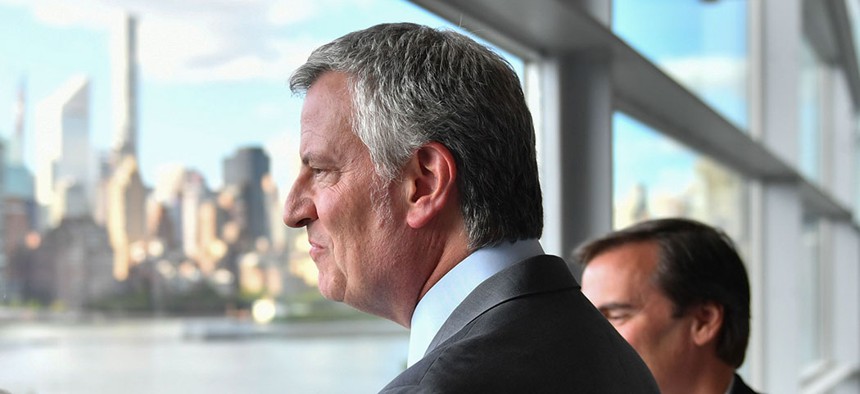 New York City Mayor Bill de Blasio's abortive presidential campaign didn't achieve much, but at least it didn't last long – only four months. He jumped into the race relatively late, and having failed to qualify for the Sept. 12 debate that included such heavy hitters as the mayor of Indiana's fourth-largest city and a businessman literally handing out campaign money, he bailed out before being embarrassed again.
De Blasio's anemic performance nationally came as no surprise to New Yorkers, as it is consistent with his underwhelming popularity at home. A Quinnipiac University poll in April found de Blasio's citywide job approval rating was 42% positive and 44% negative, with a wide racial gap: only 31% approval among whites versus 66% among African Americans and 40% among Latinos.
Conventional wisdom holds that de Blasio's unpopularity is due to his political aura: a grating personality, a tendency to be late for events, poor press relations and confounding habits like commuting by SUV to his faraway gym. Vox recently summarized de Blasio's deficiency as "one of style," because he "can come off as ... arrogant, stubborn and preachy" and "has a fractious relationship with the New York press."
But de Blasio's immediate predecessors as mayor, Michael Bloomberg and Rudy Giuliani, were even more imperious and combative. Rather than being seen as ineffectual, they were considered ruthlessly proficient, much like the current governor who often torments de Blasio.
The strange thing about it all is that de Blasio's mayoralty actually has been largely successful. He has pulled back on intrusive policing and crime has stayed at historic lows. He has added new worker protections and the local economy has soared. High school graduation rates are inching up and prekindergarten is now universal. While he's had some close calls on ethics and fundraising, he's so far escaped unscathed, although his presidential campaign may leave him with fresh legal questions about his management of political action committee funds.
Being testy in interviews might matter to the chattering class, but it's hard to imagine that it has caused working-class New Yorkers to turn against a mayor they overwhelmingly elected twice.
So here's a different explanation: When it comes to his core promise of reducing inequality and unaffordability, de Blasio is seen as unsuccessful because he has been unsuccessful. In 2013, when de Blasio ran for mayor complaining of the "tale of two cities," a household at the city's 80th percentile of income earned 6.2 times what a household at the 20th percentile did. In 2017, the last year for which data was available, that inequality ratio had risen to 6.7 times, according to the NYU Furman Center's analysis of American Community Survey data. In September, the Manhattan Institute noted that the city's Gini coefficient – the most widely used measure of income inequality – had also increased slightly during de Blasio's tenure.
In the 2013 Democratic mayoral primary, de Blasio upset former New York City Comptroller Bill Thompson and then-City Council Speaker Christine Quinn by articulating the widespread dissatisfaction with the growing gap between the haves and have-nots, and the financial pressure that was putting on even middle-class New Yorkers. It was the right decision politically, but a recipe for a disappointed electorate at the end of his tenure. "He put his finger on the key signature issue in the city and it's not going away," said Eli Dvorkin, editorial and policy director at the Center for an Urban Future, a think tank focused on enhancing economic mobility in New York City. "What he ran on twice – the tale of two cities – his successors are going to grapple with too. It's emblematic both of his political acumen and where he's perhaps fallen short."
The reason, though, has nothing to do with the time he's wasted on long commutes to the gym, his campaign stops in Iowa or any of the other foibles for which he's frequently lambasted on Twitter. It's because no mayor can fix the economic and educational inequality and chronic housing shortage that plagues the New York City region. The city government lacks the power to take money from rich people and give it to or spend it on the poor, to dictate where suburbanites or private-school parents send their kids to school, or to force localities across the region to provide their fair share of affordable housing. The city cannot raise taxes without the state government's approval, and it therefore cannot raise the funds to, for instance, embark on constructing the 181,000 units of new public housing that would be needed to house everyone on the system's waiting list. Indeed, the city can't even raise the revenue necessary to properly maintain its current public housing stock.
"If you're measuring inequality by the Gini coefficient, you'd have a hard time as mayor no matter who you were," said New York City Councilman Brad Lander, a progressive Democrat who represents de Blasio's former Brooklyn district. "New York City can't set its own minimum wage or reform its own rent laws, those being two things that the mayor was advocating for before the governor, but the city just isn't the crucial player on them."
Just as importantly, City Hall has no power over the suburbs, where a majority of the region's residents live. Many of those suburban towns are not even in New York state. And inequality is a challenge that pervades the whole metropolitan area. In 2017, rising inequality in the New York City region caused it to pass Miami and become the second-most unequal region in the country. (No. 1 is Bridgeport-Stamford in Connecticut, a nearby satellite of New York City.) A 2018 study found that New York is the most economically unequal state in the nation.
Even on the policies the city does control, such as where children in the city's public schools are sent, the risk that affluent parents will flee to those suburbs constrains the city's power – in practice, if not by law.
If de Blasio is to blame for his predicament, it isn't for his failure to close the yawning gap between rich and poor, but for ever pretending that he could.
This threat is not merely implicit. In September, when de Blasio expressed openness on WNYC to getting rid of the gifted and talented programs that disproportionately admit wealthy children and white children, an irate Upper West Side mother called in to threaten to leave town if he went through with it. "If my son had not tested well, I would be living in New Jersey," the caller said.
If de Blasio is to blame for his predicament, it isn't for his failure to close the yawning gap between rich and poor, but for ever pretending that he could. "Inequality is a national issue that no mayor can do anything about," said Ester Fuchs, a public affairs professor at Columbia University who served as an adviser to then-Mayor Michael Bloomberg. "The thing I would criticize de Blasio about is he put it out there as his main issue."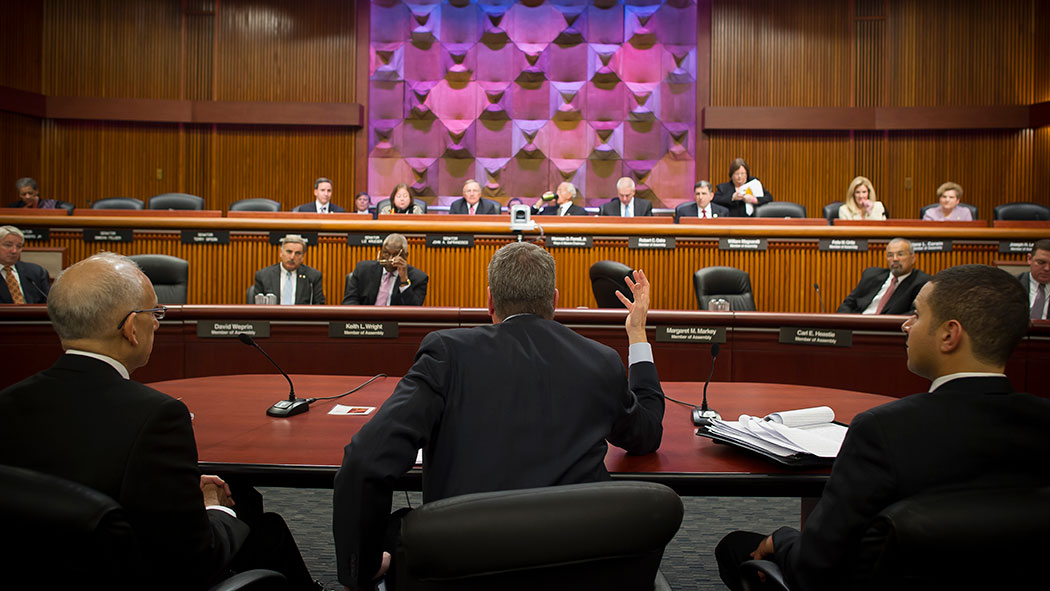 City Hall disputes the premise that de Blasio hasn't eased inequality, or at least its effects. "In 2013, the mayor identified an urgent issue plaguing New Yorkers and he's fought every day since to build a fairer city," de Blasio spokeswoman Freddi Goldstein said in a statement. "You can see that in the faces of parents dropping their 3- and 4-year-olds off for their first day of school; in the faces of residents unlocking the doors of their new affordable homes; and in the faces of our high school seniors who are graduating in record numbers. We're creating lasting change that will pay off for New Yorkers for years to come."
Still, an unflattering New York Times Magazine profile of de Blasio recently listed the city's ongoing troubles, framing them as the downside of the mayor's record: "a homelessness problem bad enough that roughly one child in 10 in New York public schools has no permanent address; a public-housing system so broken that a federal monitor was recently installed; a school system that remains among the nation's most segregated."
De Blasio can be faulted for poor decisions or managerial failures that have worsened these and other hardships, especially with regard to the New York City Housing Authority, which manages the city's public housing. But no mayor can fully address the region's affordable housing shortage and integrate the school system, which would require money the city does not have and pushing policy levers that are out of reach.
Even many nonspending decisions are in the state's hands, making it impossible for the mayor to enact, for example, key parts of his school integration agenda. Take de Blasio's proposal to revamp the admission process to the city's specialized high schools, all but one of which depend on a standardized test that has left black and Latino students shockingly underrepresented at the city's most prestigious public high schools. Replacing the test for the big three specialized high schools - Stuyvesant, Bronx Science and Brooklyn Tech - requires approval from the state Legislature, which has shown little inclination to pass such a bill. (The five newer specialized high schools, which are considerably smaller than the original three, use the same test, but their admissions process is not governed by the state - de Blasio hasn't changed their admissions process, even though he legally could.) Sure, the mayor could have worked with stakeholders to develop a compromise proposal that would have triggered less backlash and stood a better chance of passing in Albany, and he could have rolled out the idea with more savvy – such as by first consulting with the city's Asian American community, many of whom felt blindsided. But the power to determine admission to the most elite city schools is being controlled from Albany, by legislators who do not all hail from the five boroughs. Late last week, de Blasio admitted defeat, saying, "our plan didn't work."
The state could simply renounce its micromanagement of such matters. It only even took control of the three original specialized high school admission process with a law called Hecht-Calandra that the state Legislature passed in 1971 in order to fend off an earlier effort to diversify the schools. But letting the city set its own course on such a small matter is anathema to Albany's power-hoarding ways. "Given my druthers, I'd say repeal Hecht-Calandra and be done with it," said Assemblyman Michael Benedetto, who chairs the Education Committee, at a recent City & State event. "But it's kind of nice to be wanted, isn't it? People coming knocking on your doors and saying, 'Help us out here, come up with a solution.'"
"It goes back to Rockefeller and Lindsay. New York City mayors tend to get more publicity, but the governor has more power. So that has always rankled (governors)." – Dall Forsythe, Gov. Mario Cuomo's state budget director
Albany takes a similarly intrusive attitude toward the city's wish to raise taxes on very high earners and wealthy out-of-towners. De Blasio's "millionaires tax," which would increase income taxes by just over half a percent on individuals making $500,000 per year, or couples making more than $1 million, has majority support in the New York City Council, but it has been declared a non-starter by Gov. Andrew Cuomo. The pied-à-terre tax, which would have imposed a surcharge on homes worth more than $5 million that are unoccupied for most of the year, was rejected by the state Legislature as impractical after a lobbying campaign by the real estate industry.
De Blasio's critics often cite his inability to get the city's priorities passed in Albany. The New York Times Magazine identified as a central flaw in his tenure "the unnatural tension that has colored de Blasio's relationship with Gov. Andrew Cuomo." But veterans of city and state government said the tension is entirely natural. Mayors and governors have opposing interests, with each competing over finite pools of money, media coverage and political power. "It's important not to imagine this is something unique to de Blasio, or overly personalize it about the mayor and governor," said Dall Forsythe, a former state budget director under Gov. Mario Cuomo. "As far as I can remember, which goes back to (Gov. Nelson) Rockefeller and (New York City Mayor John) Lindsay, governors and mayors have fought with each other. The reasons are obvious: New York City mayors tend to get more publicity, because of the nature of New York City media, but the governor has more power. So that has always rankled (governors). Where they share power, like the MTA, both are always trying to take credit for what goes right and blame the other one for what goes wrong."
The MTA and the declining quality of subway and bus service during his tenure has proved especially nettlesome to de Blasio, since it is the governor who de facto controls the agency, and the state can overrule the city on virtually any subject. Even if de Blasio is a poor negotiator – he made a deal with the federal government on NYCHA that accepted federal oversight but gained no additional federal funding, and he backed a congestion pricing plan that gives the state control over city streets – he doesn't have much with which to negotiate. The de Blasio administration contends that he did get a good deal on congestion pricing, and perhaps in the context of his limited leverage, they aren't wrong: "Congestion pricing included principles the mayor fought for – a guaranteed lockbox for New York City riders, fairness for the outer boroughs and exemptions for people experiencing hardships – and (a memorandum of understanding) with the MTA on implementation to ensure city interests are protected," Goldstein said.
"There is some institutional greed in a way, where the state doesn't want to give up or cede power to the city." – state Sen. Brad Hoylman
Sympathetic state legislators said the mayor could have made a more sustained, timely and effective sales pitch for his priorities. (For example, with scrapping the specialized high school exam, he initially proposed it at the end of a busy legislative session.) But they also caution that the state starts from a premise of not wanting to let the city manage its own affairs and is reluctant to allow any tax increases. "Part of it is Albany's fault not taking up these issues, and part of it is the city's sales pitch not being very persuasive," said state Sen. Brad Hoylman, a liberal from Manhattan. "Overall, there's enormous resistance to raising taxes in Albany, as a starting point. And there's this overcompensation to prevent New York City from managing its own financial affairs by limiting their ability to raise taxes and not supporting their calls for a millionaires tax. I think there is some institutional greed in a way, where the state doesn't want to give up or cede power to the city."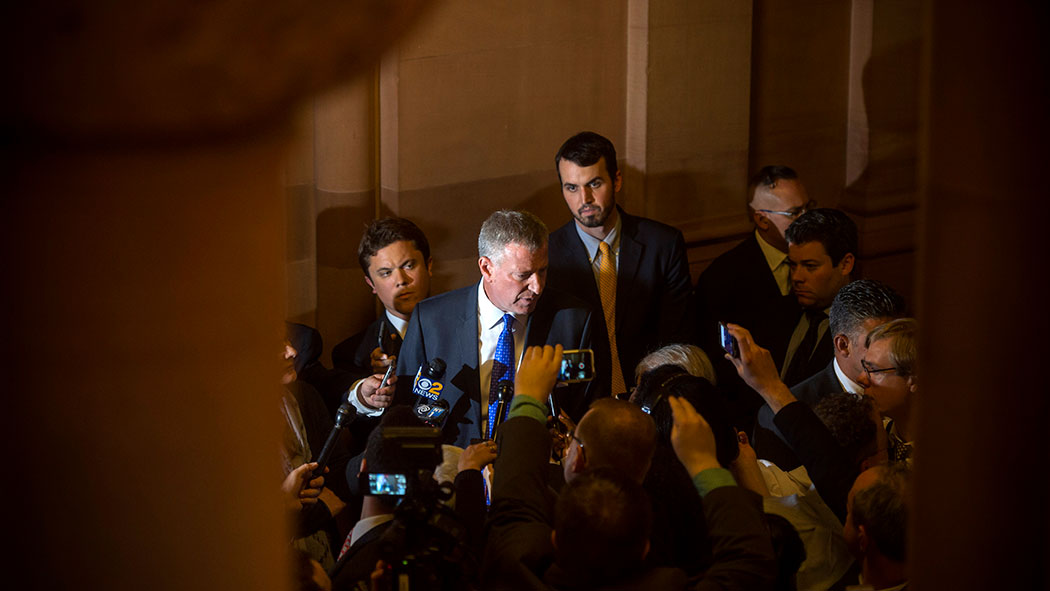 New York is not the only city facing growing inequality, as unionized manufacturing jobs give way to robots and offshoring – and the benefits accrue to elites in finance and technology. Meanwhile, the federal government has reduced taxes on the rich, cut social spending and deregulated corporations. It makes sense that de Blasio wanted to be president because only the federal government has the power to really address what he considers New York City's main problem.
That's why other cities with progressive electorates, extreme income disparities and high costs of living, including San Francisco, Seattle and Los Angeles, have proven similarly incapable of fixing inequality and its attendant miseries, such as homelessness. Even cities in countries with more redistributive national economic policies, such as Paris, London and Vancouver, struggle with inequality and its distorting effects on the housing market.
In other countries, however, cities have some options that the de Blasio administration does not. Vancouver, for example, passed a vacancy tax on absentee owners, which helped reverse skyrocketing housing prices. In 2014, Paris instituted a plan to stop displacement in gentrifying neighborhoods – CityLab called it the most radical Europe had seen – that gives the city government a right of first refusal whenever a property goes up for sale.
New York City doesn't even have the authority to untangle its incoherent property tax structure. Big property tax reforms would have to pass the state Legislature – as would such modest proposals as a vacancy tax, which would penalize landlords in expensive districts for holding out for a national chain or luxury boutique capable of paying astronomical rents instead of settling for less from a modest independent retailer. De Blasio has called on Albany to pass a vacancy tax, to no avail.
Historically, the most egregious example of Albany's interference may be the 1999 repeal of the commuter tax, in which the state Legislature and then-Gov. George Pataki took hundreds of millions of dollars from the city's coffers by eliminating a small income tax on suburbanites who work in the city. "It's the most painful example of the state making a decision that, to the city, seemed completely arbitrary and full of negative impacts," Forsythe said.
If one manifestation of inequality has come to define New York City in the 21st century, it's the astronomical cost of housing, which in turn has unleashed an epidemic of homelessness. When de Blasio took office, the homeless population was in the middle of a steep rise. It has finally leveled off at around 60,000 New Yorkers sleeping in the city's shelters at any given time, the highest homelessness rate the city has seen since the Great Depression.
De Blasio referred to inequality as a "crisis" in his 2014 inaugural address, but homelessness didn't pierce the widespread public consciousness until a few years later. Experts and advocates said de Blasio was slow to respond, and he waited too long to start building shelters and to begin undoing Bloomberg's counterproductive decision to stop giving housing vouchers to families in homeless shelters. "He restarted the voucher system, but I don't know why he didn't do it right away," said Quinn, the president and CEO of Win, which runs homeless shelters and supportive housing. "There was an initial moratorium on building shelters, but not building shelters doesn't make the homeless go away." Still, she credits him with launching an ambitious plan in 2017 to build new shelters – including in affluent neighborhoods, where resistance can be fierce. "I think the mayor deserves credit for the Turning the Tide plan," Quinn said. "It was brave to stand up in an election year and say we're going to build shelters in a diverse array of neighborhoods."
But actually solving homelessness requires building more apartments affordable to low-income New Yorkers, because the vast majority of homeless New Yorkers aren't "street homeless," they're just people who can't afford a home. The city's shortage of affordable housing is getting worse. Last year, New York City Comptroller Scott Stringer reported that the city lost 425,492 apartments renting for $900 or less between 2005 and 2017. De Blasio campaigned on a promise to build or preserve more than 200,000 units of affordable housing, which he has since raised to 300,000, and he is well on his way to doing so. The problem is that market-rate rents rose twice as fast as median wages between 2010 and 2017, and the proportion of housing that is affordable to New Yorkers dropped accordingly.
That's a reflection of a failure throughout the region, not just the five boroughs, to provide sufficient housing – especially at the lower end of the market. "It's really one housing market in the metropolitan region," said Moses Gates, vice president for housing and neighborhood planning at the Regional Plan Association, a research organization focused on the New York City tri-state area. "The citywide housing shortage is definitely a regionwide issue. When you're talking in terms of the relationship of access to jobs and the ability to afford housing, it's a problem that extends well beyond the city boundaries. And it's a problem that everywhere is trending worse."
Even within the city, the inability to raise taxes on the rich to fund new affordable housing development led de Blasio to use the city's power over zoning to try to close the affordable housing gap. By instituting the mandatory inclusion of affordable units in new developments in areas being upzoned or buildings getting a special permit for added density, he has spurred the construction of new affordable and market-rate apartments. But the mechanism is guaranteed to leave many of his supporters dissatisfied: upzoning is being blamed by activists for bringing real estate speculators to transitional neighborhoods, thus raising land values, while the affordable units created are often designated for renters making six-figures.
The most useful portion of this critique is that, instead of asking Albany to include affordable housing mandates in tax breaks for new construction, he should have asked Albany to eliminate that program altogether and used the additional property tax revenue to construct affordable housing. Even that suggestion, though, is moot without a state government willing to enact such a change – which was unlikely when the real estate-backed Republicans controlled the state Senate.
Likewise, the New York City Housing Authority's $32 billion backlog of deferred maintenance is the product of decades of declining state and federal investment. Repeated demonstrations of blatant incompetence at the authority – and a lack of oversight and accountability from City Hall – are to blame for some of its specific embarrassments, such as using expired dust wipes. But even the best management could not conjure tens of billions of dollars from thin air. Perhaps de Blasio's stronger approval among African Americans might reflect, in part, the tendency among beleaguered black voters to hold more realistic expectations than white liberals.
The mayor of New York City oversees a massive $93 billion budget, and he has broader powers than most mayors. Some veterans of city government believe that means the office could significantly mitigate inequality. "Anything the City Council can do, the mayor could do on their own," Quinn said. "Executive orders in the city of New York have the full breadth and depth of law."
While de Blasio cannot bring the top down, he has means of bringing the bottom up. "Poverty reduction, mayors can impact through workforce development, improving public schools and creating a business environment in which (companies) can create jobs," Fuchs said. "That creates economic opportunity. That's what cities have the tools to do."
On that front, de Blasio has not only launched universal pre-K and universal free school lunch, he also has worked with the City Council to pass a suite of protections for workers, including expanding mandatory paid sick leave, requiring employers to notify workers of scheduling changes, creating an hourly minimum wage for ride-hailing drivers and a raft of protections against workplace sexual harassment. His proposal to create retirement savings accounts for workers could enhance economic security for seniors for generations to come. Still, de Blasio's effort in 2014 to raise the minimum wage depended upon state government, which initially balked, only to have Cuomo eventually increase it and claim credit.
Workforce development experts noted that New York City is adding more jobs that are at the extremes – either high-paying or low-wage, rather than ones in the middle that the average native New Yorker can fill. The high-paying professional jobs often require advanced skills or higher education, and thus aren't accessible to some New Yorkers. "In terms of preparing New Yorkers for a changing economy, the mayor is right to celebrate the fact that high school graduation rates are at an all-time high," Dvorkin said. "But a high school diploma isn't enough to get ahead in New York City's economy anymore. This mayor, and the next one, will need to really focus on boosting college and career success, and building a much stronger pipeline across the K-12 system." Dvorkin said that means increasing funding for nonprofits that provide technical training or apprenticeships, such as Opportunities for a Better Tomorrow, which offers high school equivalency diploma classes and a masonry technician training program.
Across all the mayor's initiatives that have failed to get a greenlight in Albany, the common observation is an ironic one for someone so often accused of preferring talk to action – that he has been half-hearted in jawboning the state Legislature to pass his agenda. "He could've spent more time in Albany," Hoylman said. "It's hard to get on the same page as the mayor when the entreaties from the administration are so sporadic."
"When there was Republican control of the Senate, it was a sub-joke, 'If you really want something, ask him to say he doesn't want it, and maybe we can get it for you.'" – state Sen. Liz Krueger
City Hall said de Blasio lobbied the state hard this year, noting that he made numerous visits to Albany. But on some big issues, his engagement hasn't been consistent. Take the city's regressive property tax structure. It favors homeowners over rental buildings and dramatically underassesses the city's most valuable properties. Any plan to combat inequality through the tax code must reform it, and yet that power lies solely in Albany. For years, de Blasio did little besides occasionally mention the issue, only appointing a commission – which will release a report this fall – in 2018, a year after the city was sued by a coalition of landlords and civil rights groups, led by Martha Stark, a former city finance commissioner.
But it's not as if de Blasio appointing the commission sooner would have guaranteed that it would have passed. This month, Deputy Mayor for Housing and Economic Development Vicki Been said that she doesn't expect Albany to pass property tax reform during the mayor's term in office, although she later said the city would try to get it passed under de Blasio. State Sen. Liz Krueger, a liberal from Manhattan's East Side, thinks de Blasio could have adopted property tax reform earlier and more aggressively. Even so, she said, "It does seem that almost since (de Blasio) has been the mayor, certainly when there was Republican control of the Senate, it was a sub-joke, 'If you really want something, ask him to say he doesn't want it, and maybe we can get it for you.'"
With a progressive Democratic majority now empowered in the state Senate, that might be ready to change. "He tried early on to support Senate candidates and that did not end well, and he was punished as a result by the Republican Senate, so maybe he was a little gun shy from engaging with Albany," said Hoylman, referring to de Blasio's unsuccessful attempt to help Democrats win a state Senate majority in 2014, which only resulted in an investigation into his fundraising activities. "But now, he's got willing allies in the Legislature and I would encourage him to reboot his arguments about inequality and tax equity as a legacy for his administration."
Correction: This article originally neglected to note that five newer, smaller specialized high schools are not governed by Hecht-Calendra. 
Powered By
NEXT STORY: Impeaching Trump and Cuomo's breakup