New York City
School safety answers for the first day of school
What NYC is doing – and not doing – to keep students safe.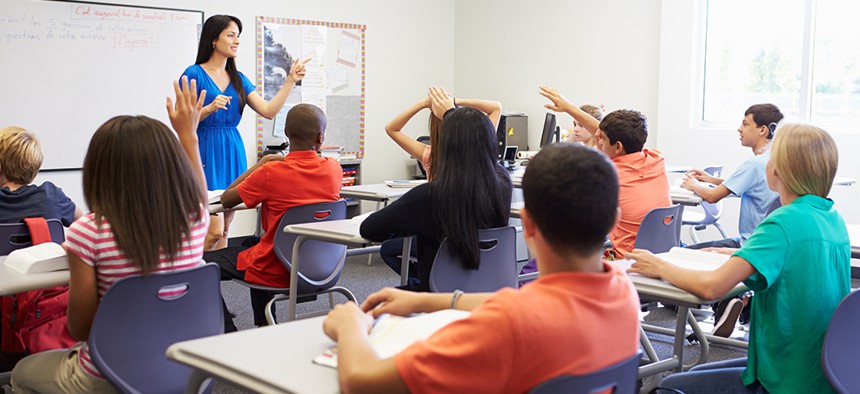 Thursday is the first day of school for New York City's 1.1 million students, not to mention teachers, staff and many anxious parents. The three R's of reading, 'riting and 'rithmetic will be on the top of some minds, but so will the S's of school safety – shootings, scanners and safety agents. 
City & State hosted a panel on school safety at our Education Summit on Aug. 15, with A+ Technology & Security Solutions President David Antar, New York City Department of Youth and Community Development Commissioner Bill Chong, New York City Council Public Safety Committee Chairman Donovan Richards and New York City Council Education Committee Chairman Mark Treyger. The audience submitted almost two dozen questions to the panelists, who only had time to answer a few. Here's a summary of their answers, with some additional information provided after the event by the city Department of Education.
What are New York City schools doing to keep kids safe? How can schools be more proactive in sharing safety protocols on a large scale with parents, students and partners? 
The Department of Education's General Response Protocol is available online and written in plain language. Each school building works with their safety committee to create its own plan that has to be approved by the NYPD, Department of Education deputy press secretary Miranda Barbot told City & State. Every school conducts four "age appropriate" lockdown drills and eight evacuation drills throughout the year, and details should be sent home to families at the start of each school year, along with the city's General Response Protocol.
New York City Councilwoman Adrienne Adams isn't convinced though, and sent a letter to the department last month, signed by 26 of her colleagues, requesting that it ensure all schools are prepared. Why so skeptical? A June audit from state Comptroller Thomas DiNapoli found serious weaknesses in schools' plans.
Is "age appropriate" possible? Somebody mentioned their 4-year-old in pre-K has to practice hiding in silence in a bathroom to hide from "a bad person." Are lockdown drills a necessary evil? Or do they do more harm than good?
"It's no different than when I grew up," said David Antar, president of a safety consultancy, A+ Technology & Security Solutions. "We had bomb shelters and we had drills that we would actually hide under desks. It is good training for the kids to let them face the real world that we're in right now."
Antar said that drills are important because people end up running into danger without them. "If you teach it to the kids at a young age, you're not traumatizing them," he said. "You're teaching them something that they need for the rest of their life."
New York City Council Public Safety Committee Chairman Donovan Richards agreed, saying there's nothing wrong with being prepared, and that it's wrong to point the finger at lockdown drills when gun violence is to blame. 
School staff are trained at the start of each school year on age-appropriate emergency responses, Barbot added, and teachers have designed lesson plans on emergency readiness which are conducted early in the school year, before any drills. 
The latest city budget funded 200 more social workers to work in city schools. What role will they play in promoting school safety?
"Far too often, the response to a child having a bad day at school is a call to EMS or to the NYPD, which can unintentionally cause trauma to children and their peers," New York City Council Education Committee Chairman Mark Treyger told City & State. "Adding more social workers gives schools an alternative to calling 911, and expert resources to address the underlying causes of behavioral problems."
Treyger said social workers can handle both rapid response in situations that require de-escalating techniques, and long-term work providing students emotional support. 
Getting more social workers in schools has been a pet project of Treyger's, and he said he has been in close communication with both the Department of Education and ThriveNYC on the implementation – and vowed to hold them accountable using data on suspensions, arrests and EMS calls in schools. 
OK, but there are 1,840 schools overseen the department.
Yes, and more than 700 of those schools don't have a full-time social worker, according to Treyger. The new social workers are a step in the right direction, he said, but there are still more school safety agents in city schools than guidance counselors, social workers and school psychologists combined. If advocates say the ratio for students to social workers should not be higher than 250:1, New York City has a long way to go, with its ratio somewhere around 850:1. 
Over 16% of New York high school students have seriously considered suicide. How are schools identifying students who may be at risk of harming themselves?
That's part of the importance of school social workers, Barbot said, who "will be able to provide care in times of immediate emotional distress and help them receive long-term care if necessary."
Treyger noted that the city budget also allocated more than $300,000 to Samaritans of New York, a nonprofit which partners with the DOE to provide suicide prevention education and training for teachers and school staff. He said the City Council also baselined funding for seven new Title IX coordinators who will work on department-wide strategies to eliminate gender and sex-based bullying, harassment, discrimination and violence. 
School safety agents play a role, too. What's the City Council doing to make sure they support students and work effectively with the police department when they must be called? 
School safety agents should defer to trained professionals like social workers, guidance counselors and psychologists when a student is in crisis, Richards said. The Council has pushed the NYPD to severely limit its presence in schools – as enshrined in a memorandum of understanding between the NYPD and DOE signed this summer. But when there's an emergency, Richards said, the NYPD "should keep school safety agents and administrators fully informed to coordinate an enforcement action that limits doing more harm to students while they are in school."
Metal detectors at school doors are always a hot topic. The NYPD still won't provide citywide data on which schools have them, but WNYC reported that a third of high school students go through them each day. What should the criteria be for which schools get scanners?
The City Council members each shared their reservations – or outright disapproval – of the scanners. Richards said they're necessary in some cases, but students shouldn't "feel like they're entering Rikers Island." Treyger, a former teacher at New Utrecht High School in Brooklyn, said students would show up to class 45 minutes late on random scanning days because they were stuck in line. "By the time they came into my class, they were frustrated, they were upset, they felt interrogated, and I lost a day of instruction," he said.
Barbot said scanners are added to schools "on a case-by-case basis" in concert with the NYPD. That includes part-time and full-time scanning in both middle schools and high schools. Schools can request to be added or taken off the list, but critics have said that process is too cumbersome to be a real option.
Social workers, social-emotional learning – it's all great, but it will take time. Why can't we have an armed officer guarding entrances to every school?
This idea has been pushed by Brooklyn state Sen. Simcha Felder – who posed the question to the panel – but it hasn't gained much traction. Why? "What's to stop us from all encountering a mass attack anywhere in New York City?" Richards asked. "Whoever is intent on causing damage and harm is going to find a way to do it." Black and brown communities are already over-policed, Richards added, and more armed guards only increases potentially negative encounters officers with students. 
Treyger agreed, saying national crises like school shootings shouldn't define or shape the city. "This is not a place to replay Fox News warfare games."
Powered By
NEXT STORY: Cuomo's aisle-crossing hires