New York City Council
Should New York City reconsider term limits?
Will former New York City Council members eyeing their old seats undermine the goal of term limits?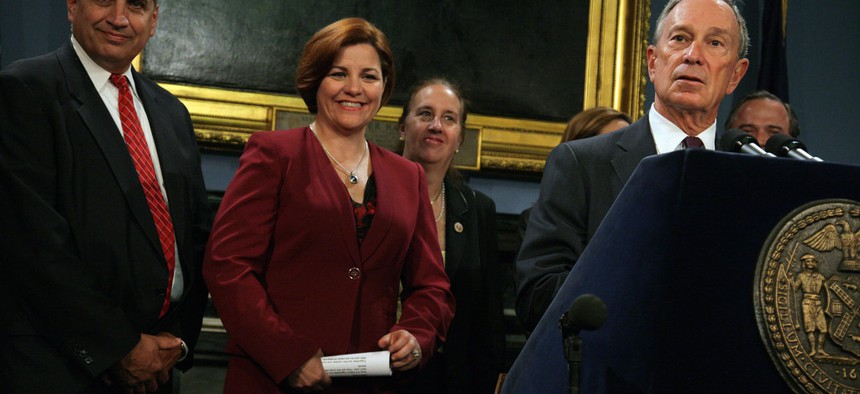 Term limits in New York City. To simplify a couple decades' worth of spirited debate: voters love 'em, politicians hate 'em. But as the calendar creeps toward 2021, Politico New York reported that a handful of former New York City Council members have found somewhat of a workaround. At least four – Tony Avella, Gale Brewer, James Gennaro and Domenic Recchia – are thinking about campaigning for the seats they once held, but were term limited out of. 
The practice isn't new. New York City Council members Karen Koslowitz and Bill Perkins are both on their second go-rounds at City Hall, and nationally, President Grover Cleveland was a trailblazer for non-consecutive terms in the late 19th century. 
But the related question of term limits never seems truly settled. During the 2017 race for council speaker, Councilmen Jumaane Williams and Ydanis Rodriguez backed a bill to extend term limits – to three, instead of two – as a way to curry favor with fellow members. They were rebuked, both lost the race and nobody has reintroduced the bill this session. 
In this week's "Ask the Experts" feature, we took a look at the complicated question of term limits and what it means for the New York City government. Four weighed in: Betsy Gotbaum, executive director of Citizens Union and former New York City public advocate; Amelia Adams, a consultant, president of Adams Advisors and board member for 21 in '21; Patrick Jenkins, a lobbyist and president of Patrick B. Jenkins & Associates; and Bruce Berg, professor of political science at Fordham University. Responses have been edited for length and clarity.
Does allowing former members to run again after a hiatus contradict the purpose of term limits?
Amelia Adams: New York City has done a lot in terms of democratization and has definitely made elections fairer. The campaign finance system we have now puts an emphasis on more broad grassroots support for candidates over support coming from smaller circles of high-dollar donors and special interests. Folks running for office again once they have reached their term limits ended goes against the gains and the spirit of our civic reforms here in New York City. The notion that one person can only represent a district is not progressive and almost sets up a placeholder system. 
Bruce Berg: The primary goals of New York City's term limits law were to bring fresh faces and ideas to the City Council and to decrease the role of professional politicians in local policy making. Allowing former council members to run again, even after a break, does appear to contradict the goals of term limits. Looking at recent City Council elections, however, many of the newly elected council members replacing the term limited council members have been former council staff, family members, or individuals who have already served in elective office at the state level. They are just as much professional politicians as those whom they replaced. So the goals of term limits have not been well served by its current iteration. Professional politicians are still being elected to the council, even if they are not incumbent council members. As a result, allowing former council members to run again, after a break, would not change, or harm, the workings of the council in any significant way. 
Patrick Jenkins: I don't think so. I am not particularly a fan of term limits. I think the voters should determine the terms of elected officials, particularly in a legislative body. In the state Legislature, there has been tremendous turnover without term limits. I think term limits for executive offices are different, if only to protect the sanity of the elected official in the office.
Betsy Gotbaum: No. I think if people think that they have something to offer and something to say, and they're doing it because of that reason – but if they're doing it because they can't get another job? I guess Tony Avella was a state senator, and he was beaten by John Liu. Maybe he can't get any other job! I don't know. And that's what worries me. What are the motives why these people are running again? In Gale Brewer's case, I can only say positive things. She's probably the best public servant I've ever come across in the whole city of New York. She's incredible and extraordinary and one should not lose her. But to go back and run for the council? That's her decision, and if she wants to do it, anything Gale wants to do, frankly, is great for the city of New York. 
The thing that worries me the most is the 8-to-1 match (for public campaign financing). I know that Citizens Union endorsed 8-to-1 match, but I'm very concerned about it. Because I think it's going to encourage a lot of people to run who probably aren't qualified and shouldn't be running.
Is the current system of two four-year terms the best option? Will it be changed in the next decade? 
Betsy Gotbaum: I think it can be changed, sure. You can change anything by doing a charter revision. I was very much for term limits. You kind of weed out people. The council passes legislation, they do some really good things. But some of them don't do anything, as you well know. You know, a lot of people blame me for de Blasio, because I didn't run for a third term, because I thought it was illegal, immoral and unethical. I would have won, and de Blasio never would have been public advocate and then he never would have been mayor!
Patrick Jenkins: I think it is fine. I don't see it changing at all.
Amelia Adams: To serve eight years is a privilege and is definitely enough time to have an impact. I don't foresee it changing in the future. 
Bruce Berg: Some have argued that the "institutional memory" and overall effectiveness of the City Council would be better served if term limits were extended to three, or maybe even four, four-year terms. It takes council members many years to become proficient as legislators and policy makers, and the current two four-year term limits law makes council members more dependent on council staff, and possibly outside groups for legislative advice and knowledge on specific policies. 
At present there is no movement, or group of wealthy individuals, interested in changing the term limits law. The council and mayor can always do this unilaterally, as was the case when Mayor Bloomberg and the City Council altered term limits in 2009, but this would probably anger many citizens and good government groups as well. 
Given there will be so much turnover in the City Council in 2021, would it be good for the council to consider electing a speaker who hadn't served the previous term?
Patrick Jenkins: That's up to the Council members to decide. I wouldn't have a problem with it. I think every member, newly-elected or returning, should be given consideration.
Betsy Gotbaum: No, not necessarily. I don't think there should be any rules about that. But how's the speaker race going to work now, that most of the political bosses seem to have lost so much power? How's that going to work? It's going to be a very interesting election.
Bruce Berg: The City Council is probably better served by the election of a speaker who is knowledgeable and experienced in the workings of the council. Since the implementation of term limits in 2001, the speaker has come from the pool of continuing incumbent council members, however small, and not newly elected members. This appears to be the custom. In addition, continuing/incumbent council members have an advantage in competing for the speaker's position in that they can begin campaigning and picking up support during their first term, long before the November election of new council members. Of course, the council is free to elect any one of their members as speaker, so if all of the newly elected in 2021 members want to vote as a bloc, they can control the speaker position. 
Amelia Adams: Having served a term in the council previously has serious advantages in gathering support to be elected speaker but doesn't dictate how you would lead a body. You have a clean slate almost in terms of your legislative record that cannot be picked apart. It can also make members worry because they do not know where you stand on issues. Members also do not know what it is like to work with you within the body, and that can hurt your chances of getting support. I worked for former Speaker Melissa Mark-Viverito both when she ran and served as speaker and you needed a completely different skill set as speaker. Her experience working with members ultimately led her to getting support to becoming speaker.