New York City
Should NYC students be excused for Global Climate Strike?
Would they be allowed to cut school to rally for a non-progressive cause?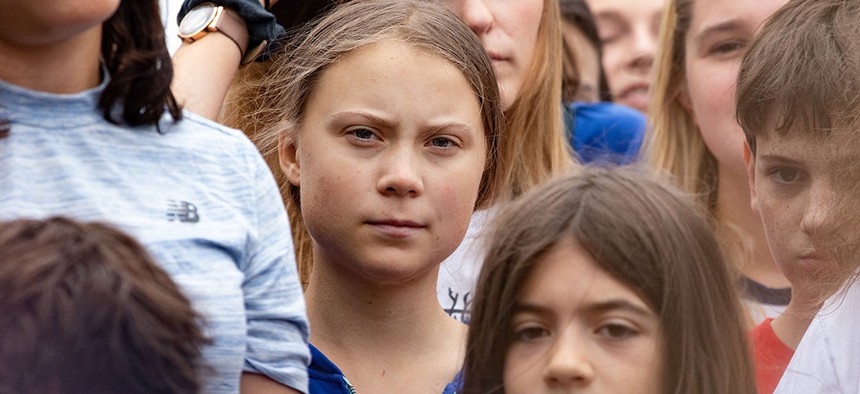 New York City is encouraging and allowing its gargantuan public school student body – about 1.1 million students – to leave school and take part in the Global Climate Strike on Friday. 
Both New York City Mayor Bill de Blasio and the city's public schools have announced that students will be excused to participate in the strike – which hopes to raise climate change awareness and advances specific policy demands, including a Green New Deal, biodiversity protection, respect for indigenous land rights and environmental justice. Weirdly, for a dramatic act of civil disobedience, school cutters will need to have permission from their parents. Younger students will need to leave school with a parent.
.@NYCSchools will be sharing guidance with parents, educators and students on how students will be able to participate in next Friday's events in the next few days. #ClimateStrike https://t.co/ALkuMyPJa1

— Mayor Bill de Blasio (@NYCMayor) September 12, 2019
We applaud our students when they raise their voices in a safe and respectful manner on issues that matter to them. Young people around the world are joining the #ClimateStrike this week—showing that student action will lead us forward.

— NYC Public Schools (@NYCSchools) September 12, 2019
It's estimated that students and adults will be taking part in coordinated marches and climate strikes in more than 2,500 events, across 150 different countries, spearheaded by 16-year-old Swedish climate activist Greta Thunberg – who will be delivering a speech at the United Nations Climate Action Summit on Monday. 
So far, only two cities have given its students explicit permission to participate in these strikes: New York City and Portland, Oregon. Not even Seattle, the most liberal city in Washington, the state run by former Democratic presidential candidate Gov. Jay Inslee, whose platform revolved around climate change awareness, is excusing its students' absences. 
Last year, New York City similarly allowed students to take part in the national March for Our Lives protest against gun violence, led by the student activists and gun violence survivors from Marjory Stoneman Douglas High School – where 14 students and three teachers were killed in a mass shooting on February 14, 2018. Students have not been officially encouraged to participate in the numerous other political marches that have taken place in New York since then.
Climate change has become an increasingly dominant issue, especially among young people, as its adverse impacts are increasingly seen and scientists warn of catastrophic consequences if the world doesn't dramatically reduce greenhouse gas emissions immediately. 
While some New York politicians and climate advocacy groups are cheering on the city's decision to let students join in on this global protest, a vocal minority is not convinced that this is the right move for the city's student body. The Daily News' editorial board published an op-ed on Thursday, admonishing the city's decision to give its kids the day off to participate in the march, saying that "schools are not for incubating an army of activists," but for learning. The editorial also questioned whether the city would give its students the greenlight to miss school for more conservative political causes, such as a pro-life march or "a rally against presidential impeachment." 
Republican New York City Councilman Joe Borelli, similarly questioned whether or not the city would allow students to participate in other political rallies that do not reflect a progressive agenda.
Dear @NYCCOIB, If school administrators are excusing absences for a political rally, must all political rallies be part of that policy, or is the @DOEChancellor/@NYCMayor et al using their office for political purposes? Serious Q. https://t.co/pOBaqrqqgz

— Joe Borelli (@JoeBorelliNYC) September 18, 2019
The right-leaning New York Post also took issue with the strike, questioning why educators aren't just teaching students whatever they might learn during the strike and how participation in the march will be verified as excused students might just – gasp! – skip the march to play hooky. 
Those opposed to students being excused from school to join the strike have a point – Hizzoner probably wouldn't give students the thumbs up to protest against abortion rights or another cause that didn't match his – and the majority of New Yorkers' – politics, as climate action does. 
And granting anyone permission to protest does kind of undermine the purpose of partaking in civil disobedience. But when New York City is itself severely threatened by climate change, and many New Yorkers are already suffering its effects, it's understandable that the people who will still be here when the impact of decisions made today is felt would want to make a statement – and that de Blasio would want to show his support for them.