New York State
The people who could overhaul New York's elections
Commissioners on the Public Campaign Finance Committee come from varied backgrounds and political patrons.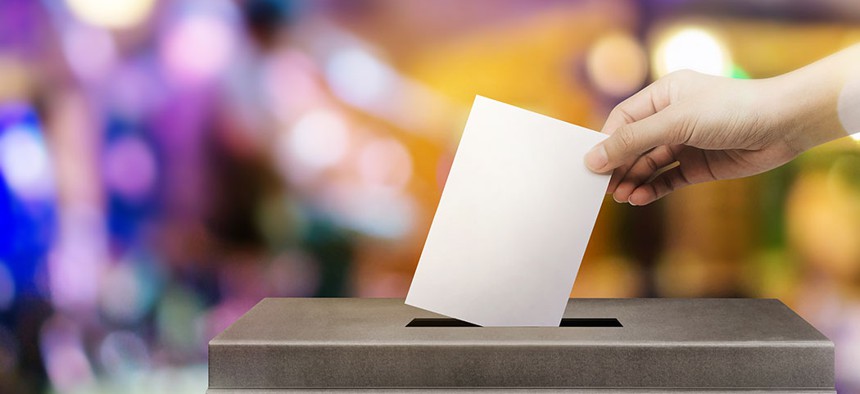 Following the Public Campaign Financing Commission's first meeting last month, the proceedings have been shrouded in mystery. The prime purpose of the commission is the potential creation of a public campaign finance system, but it will also examine the practice of fusion voting, which allows a single candidate to appear on multiple party lines on the ballot. 
The state commission does not have a website that provides details on when and how the public can testify, nor any information about the commission's timeline and goals for a layperson to find. An expert hearing, scheduled for Tuesday, was announced less than a week ago in a press release from the New York Department of State. This is a departure from the announcement naming the nine commissioners in July, which came directly from the governor's office. 
That expert hearing, which is set to begin at 10 a.m. at Borough of Manhattan Community College, will happen on the same day as its first hearing open to public comment, scheduled for 4 p.m. at the same location.
Despite the dearth of information so far, we do know who each of the commissioners are and who appointed them, which lends insight about what they may think about the issues they have been tasked to review. 
Gov. Andrew Cuomo's appointees
Cuomo named two members to the commission – Mylan Denerstein, his former counsel, and Jay Jacobs, chairman of the state Democratic Party. Although appointees are ostensibly independent, they often reflect the views of the person who named them. Cuomo pushed for public campaign finance in his executive budget, and when his proposal did not make the final cut, he proposed the current commission to tackle the issue instead. He has been less publicly vocal about the issue of fusion voting, but his feuding with the Working Families Party, which depends on it, has led to speculation that the governor wants to eliminate the practice. Jacobs, a close Cuomo ally, has been seen by many as a proxy for the governor on the issue. He is publicly opposed to fusion voting, though he has said he will keep an open mind. Denerstein, who has been a lawyer in private practice since she left Cuomo's office, could stick with Jacobs in how she votes and remain aligned with Cuomo's views. 
As for the task of creating a public campaign finance system, Denerstein helped lead negotiations when a bill in 2014 creating such a system came close to passing, a sign that she will vote in favor of robust campaign financing. Given Jacobs' position with the state Democratic Party, which is generally supportive of public financing, he is likely to also support some form of it.
State Majority Leader Andrea Stewart-Cousins' appointees
The state Senate has perhaps been the most vocal proponent of public campaign financing, so Stewart-Cousins' two appointees – DeNora Getachew and John Nonna – will likely reflect the desire for a strong system. Getachew is the executive director of Generation Citizen in New York, a nonprofit dedicated to getting young people civically engaged. But she has a long history as a government reform advocate and previously worked for political reform proponents Citizens Union and the Brennan Center for Justice, which are strongly supportive of publicly financed elections. Additionally, Citizen Union recently penned a joint letter with other good government groups asking the commission not to be "distracted" by other issues, like fusion voting. 
Nonna, meanwhile, is attorney for Westchester County and the co-founder of Democratic Lawyers Council, which states its goal is to help protect people's right to vote in part by advocating for reforms to the state's election systems. Although the group has no public position on public campaign finance – they told City & State they currently are studying it – creating a system seems in line with their stated goals. The group applauded the voting reform laws passed earlier this year. Stewart-Cousins, however, has largely avoided weighing in on fusion voting. However, her conference overwhelming supports the continuation of the practice.
Assembly Speaker Carl Heastie's appointees
Like Cuomo and Stewart-Cousins, Heastie appointed two commissioners as well – Rosanna Vargas, an associate law clerk to a Civil Court judge in the Bronx, and Crystal Rodriguez, chief of staff to Buffalo State College President Katherine Conway-Turner. Heastie's conference was more hesitant about the idea of public financing campaigns when the issue came up during budget negotiations, wary about the cost of the program and concerned about matters like independent expenditures, which are not given directly to a candidate. Heastie later said that his conference would consider a small-dollar matching program, but one that does not use public funds. Heastie would likely have chosen commissioners that would share his wariness, meaning that while Vargas and Rodriguez may be yes votes for public financing, they may advocate for a system that is less comprehensive than one that may be supported by Cuomo's or Stewart-Cousins' picks.
Neither Vargas' nor Rodriguez's current or past positions offer much insight into how they may come down on fusion voting, which Heastie, like the other Democratic leaders, has remained mum on. During the commission's first meeting, Jacobs successfully got a motion passed for all recommendations to be bundled into one piece of legislation. This means that any proposal on fusion voting will be decided jointly with campaign financing, so if any commissioner wants publicly financed campaigns, they may be forced to vote in favor of changes to fusion voting. If Vargas and Rodriguez are ambivalent to the notion, a strong push by Jacobs to eliminate the practice may result in the pair voting in favor simply because of the bundling. 
State Senate Minority Leader John Flanagan's appointee
Unlike the party in power, state Senate Minority Leader John Flanagan only was allowed one commissioner, David Previte, the former counsel to Flanagan's conference when it was still in the majority. As one of only two Republican voices on the commission, Previte will likely be one of the main opponents to proposals coming from the Democratic majority. Even in the first meeting, Previte was one of two commissioners to vote against a resolution favored by every Democrat – the motion to vote on all proposals as one piece of legislation. The other no vote was Kimberly Galvin, Assembly Minority Leader Brian Kolb's pick. Republicans generally oppose publicly financed campaigns.
Flanagan has no bone to pick with the prominent third party on the right, the Conservative Party – which has united with the WFP to sue the state in order to keep fusion voting – and he has not commented on fusion voting. 
Assembly Minority Leader Brian Kolb's appointee
Kimberly Galvin currently serves as co-counsel and co-director of the state Board of Elections' Campaign Finance Compliance Unit and used to serve as chief of staff to the Assembly's minority leader in the late 1990s and early 2000s. She has been with the state Board of Elections for over a decade, and her involvement specifically with campaign finance perhaps gives her a unique position on the issue of public financing. However, as one of only two Republicans on the commission, she will likely vote in lockstep with Previte in opposition to positions taken by the other commissioners. Galvin and Previte, however, may be able to compromise if members like Vargas and Rodriguez voice opposition to more ambitious proposals. And like Flanagan, Kolb hasn't taken a public stance on fusion voting, but conventional wisdom would say that Galvin would likely support keeping the practice unchanged.
Cuomo's, Stewart-Cousins' and Heastie's joint appointee
The ninth member of the commission, prominent election lawyer Henry Berger, who most recently served as New York City Mayor Bill de Blasio's special counsel, is something of a wild card, as he was picked by the three Democratic leaders in conjunction and therefore is not likely to represent any one person's interests over the others'. Certainly, in the case of public campaign finance, Berger is a reliable yes vote and will likely push for a strong system – he submitted written testimony in favor of a New York City Council bill that strengthened the city's matching funds system in 2016. Berger has not, though, made public statements about fusion voting and he could wind up being an influential voice one way or the other.