New York State
What Cuomo's earlier primary date proposal would mean
Progressives might be excited by Gov. Andrew Cuomo's plan to bump up presidential primary voting from late April to February, but there's a catch: Cuomo also wants to move legislative primaries, which could harm some insurgent candidates.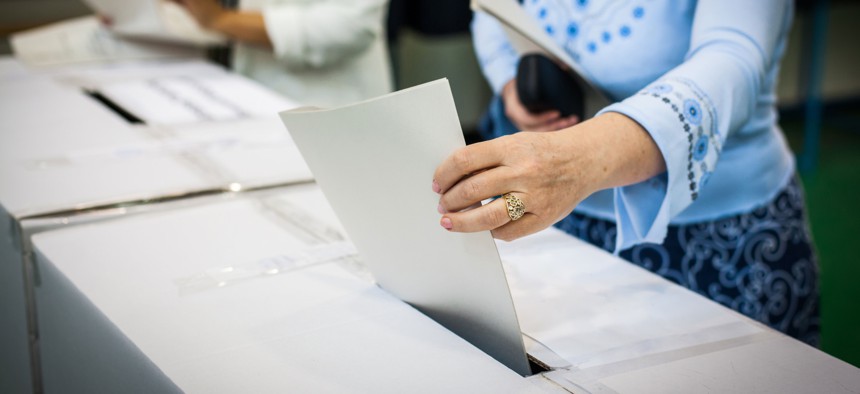 At first glance, progressives might be excited by Gov. Andrew Cuomo's plan to bump up presidential primary voting from late April to February, but there's a catch – Cuomo also wants to move legislative primaries to the same earlier date.
While Democratic voters would benefit from having more of an impact on the presidential selection process, this could make things a lot harder for congressional and state legislative challengers, NY1 reported, Thursday evening. 
New York's primaries for the Assembly, state Senate and Congress, are currently scheduled for June 23, 2020. Moving that date up about four months sooner, and doing so less than five months in advance, would throw a wrench in many insurgent candidates campaigning plans, as they need time to raise money, build a ground game and get their name out in the media. Had victorious challengers in the last cycle such as Rep. Alexandria Ocasio-Cortez and state Sen. Alessandra Biaggi been competing in a February primary, many of them might have lost. 
Those opposed to moving the primary dates also view this as a way to sway the presidential primary in favor of Vice President Joe Biden – the current frontrunner, whom Cuomo has endorsed – and to make it easier for incumbent candidates to win re-election.
#BREAKING: NY Governor @NYGovCuomo is twisting himself into a corporate pretzel to try and rig the primary in favor of @JoeBiden. https://t.co/4n7YBRWCId

— Jordan (@JordanChariton) September 6, 2019
This would be quite a twofer for @NYGovCuomo. Raises his importance in Bidenworld and helps entrench incumbent state legislators to boot. Leagislative leaders say it won't happen, but seems too perfectly, New Yorkily self-serving for it not to.https://t.co/Tb3lKc7hPc

— Graft Podcast (@GraftPodcast) September 6, 2019
NEW: Sources tell @NY1 that @NYGovCuomo is pushing @CarlHeastie and @AndreaSCousins to move New York's Presidential Primary date up to February 2020, along with the Assembly and State Senate Primaries. Legislative leaders throw cold water on idea.https://t.co/SoRpKSGCIE

— Zack Fink (@ZackFinkNews) September 5, 2019
For a long time, low voter turnout was thought to be the key to getting incumbents re-elected, but now that thinking has changed, NY1's Zach Fink notes, and higher voter turnout is considered key to getting candidates with better name recognition – who typically are incumbents – elected. Moreover, insurgent candidates in downballot races might find that their potential donor and volunteer base is too focused on helping their preferred presidential candidate to make time for a state legislative candidate. 
Nonetheless, progressive activists are not necessarily opposed to moving the primary date. Gus Christensen, No IDC NY's chief strategist told City & State he's not sure that combining primaries would necessarily protect incumbents, as a multitude of factors can sway an election.
"Alexandria Ocasio-Cortez won a low-turnout primary – but Ayanna Pressly won a high-turnout primary last year," Christensen said, referring to an insurgent candidate who toppled an incumbent member of Congress in Massachusetts. "It could go either way. It depends on the narrative in the election and it depends on the candidates. We believe that higher turnout in general is a very positive thing."
A lot would have to happen in order to move the legislative primary dates up. A special legislative session would need to be called – which Cuomo has done in the past, to extend mayoral control of public schools, and to urge Republican lawmakers to rethink their opposition to codifying the state's abortion rights – forcing lawmakers to return to Albany and vote on this measure. Petitioning to get on a ballot would then need to begin as soon as October.
Spokespeople for both Assembly Speaker Carl Heastie and Senate Majority Leader Andrea Stewart-Cousins told NY1 that moving the state legislative primaries up is not in "consideration whatsoever." But Cuomo doesn't need their support to change New York's presidential primary date.
The Legislature passed a bill to move the presidential primary date to April 28, in June, but it has yet to be signed by Cuomo. The governor has the right to veto this bill and change this primary date on his own accord.
New York's newly instituted early voting law and its currently scheduled April presidential primary date gave New York extra delegates – 81, to be exact – for satisfying the Democratic Party's 2020 goals of including more voters. That would make New York the second largest state at the Democratic National Convention. 
"We got a 10% increase because we selected a primary date in April and another 15% bonus because we will be in sync with neighboring states of Pennsylvania and Connecticut," state Democratic Chairman Jay Jacobs told the Buffalo News in May.
Moving the primary date up would result in the loss of these extra delegates – almost one-third of the delegates New York would have had – and would likely result in New York facing a penalty from the DNC, George Albro, New York Progressive Action Network's downstate co-chair, told City & State. On the other hand, early primary states such as New Hampshire get to choose from a larger field of candidates and draw outsized media coverage. Historically, New York's late primary has meant that the field has been drastically reduced and the nomination clearly headed towards the eventual winner by the time the Empire state votes. So, New York would arguably have more influence with fewer delegates but an earlier chance to weigh in. (All-important Iowa, New Hampshire and South Carolina actually have very few delegates.) 
Albro also feels that this move is a power grab on Cuomo's part, to secure a nomination for his Biden and prevent left-wing voters who are currently independents or registered with a third party from joining the Democratic Party in time to vote. A new bill passed by the Legislature – which is still waiting on a Cuomo signature – that would have allowed voters to register or re-register as a Democrat by February 14, in time for the April primary, would prevent voters from registering in time for a February primary,
This gives voters "used to voting for establishment candidates, rather than voters who look outside of the establishment, more power, which hurts progressives and maintains the status quo," according to Albro.