New York State
Where New York's House members stand on impeachment
Where do New York's House members stand on impeachment?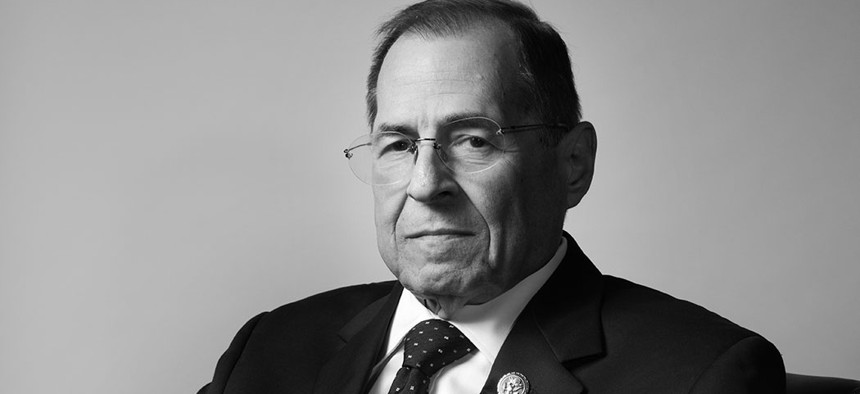 The call for impeachment against President Donald Trump has reached a fever pitch in the past few days in response to reports that the president chose to withhold military aid from Ukraine in an attempt to pressure the Ukrainian government to investigate former Vice President Joe Biden and his son. 
House Speaker Nancy Pelosi announced an official impeachment inquiry Tuesday evening. At the moment, at least 200 House Democrats have come out publicly in support of the move, 19 of whom are representatives from New York. Just last month, this number was only 13. 
The representatives from New York who have just recently come out in favor of impeachment proceedings include Reps. Antonio Delgado, Hakeem Jeffries, Sean Patrick Maloney, Joseph Morelle, Gregory Meeks and Thomas Suozzi. 
Here is a list of New York's congressional delegation and their positions on impeachment, as of Sep. 24.
In favor of impeachment proceedings: 
Yvette Clarke (D)
Rep. Yvette Clarke tweeted in May 2017, "We have to remove @realDonaldTrump from the White House as soon as possible. #Impeach45." She had been open to impeachment for a long time and is quoted at a town hall in February 2017, "I will say to you, it won't be long."
Antonio Delgado (D)
Before releasing a statement Tuesday, Rep. Antonio Delgado had not taken an official stance on impeachment, having said on "NY Now" that he did not run for Congress to impeach the president and would wait to make a decision until after congressional investigations had more information.
But in Tuesday's statement, Delgado said, "The President used the power of the presidency to pressure a foreign government to help him win an election. This, by itself, is an impeachable offense." 
Eliot Engel (D)
At the end of July, Engel released a statement outlining his support for an official impeachment inquiry. He said, "The American people want, and deserve, the truth. Mr. Mueller's testimony provided ample evidence that the President committed obstruction of justice, and I believe the House must pursue a formal impeachment inquiry." He also indicated that the House Foreign Affairs Committee would be looking into the Trump Campaign's relationship with Russia and possible violations of the Emoluments Clause.
Adriano Espaillat (D)
Rep. Adriano Espaillat first called for Trump's impeachment in May 2017. Following the release of the Mueller Report and Mueller's subsequent testimony before Congress, Espaillat released statement restating his support for an impeachment inquiry into Trump. Espaillat had previously held a forum with Tennessee Rep. Steve Cohen in 2018 to show his support for impeachment.
Brian Higgins (D)
Rep. Brian Higgins has indicated his support for an impeachment inquiry based off of the Trump administration's unwillingness to cooperate with Congress' investigations thus far. In a statement, he said, "This action cannot and should not be taken lightly. Over our history, the House has commenced impeachment proceedings 60 times, and has voted to impeach 19 federal officials: 15 federal judges, two presidents, one senator, and one cabinet member. While this process is difficult, it is necessary to preserve both our democracy as well as the role of Congress as a co-equal branch of government."
Hakeem Jeffries (D)
Rep. Hakeem Jeffries told MSNBC in May that he wanted more information from Special Counsel Robert Mueller's investigation before taking any further steps towards impeachment, less than two weeks ago the congressman indicated that he had changed his mind. In a tweet posted Sept. 12, Jeffries said that he had voted yes on a resolution adopted by the House Judiciary Committee in favor of an impeachment investigation. 
Nita Lowey (D)
Following the public testimony of former Special Counsel Robert Mueller, Lowey released a statement in favor of impeachment proceedings. She made clear that she supports Congress' role in conducting oversight of the executive branch, saying, "The House Judiciary Committee should move forward with an impeachment inquiry. I will continue to strongly support the important efforts of Democrats on the House Judiciary, Intelligence, Oversight, and other committees who are working to hold President Trump accountable to the American people and believe an impeachment inquiry will strengthen our hand in uncovering the truth. As Chairwoman of the House Appropriations Committee, I will also continue to work to ensure effective oversight of this administration."
Carolyn Maloney (D)
At a rally in Foley Square in June, Rep. Carolyn Maloney said that after much thought and deliberation she was in favor of beginning impeachment proceedings. She said, "I do not say this lightly. Impeachment is going to be a painful ordeal for our already divided nation. But, given the evidence we've seen of numerous violations of public trust and democratic norms, our commitment to the Constitution demands our action." She also said that the president's public statements about accepting opposition research from a foriegn power factored into her thinking.
Sean Patrick Maloney (D)
In April, Rep. Sean Patrick Maloney told MSNBC that the president likely "deserved to be impeached," but that an impeachment inquiry could be "counterproductive" for Congress and impede Democratic efforts to get the president out of office in 2020. On Tuesday, Maloney reversed his stance. 
"I have had a high bar for putting the country through an impeachment inquiry, especially so close to an election. But these allegations go to the heart of the oath I took. There comes a time to put your country first. Unless the Intelligence Committee immediately receives both the whistleblower complaint, and the recordings of any calls – and they dispel these charges – I am prepared to pursue an impeachment inquiry of the President. The old Trump song and dance won't cut it this time," said Maloney in a press release. 
Gregory Meeks (D)
After teetering on the edge, Rep. Meeks appeared on CNN Tuesday stating his support for an impeachment inquiry. "I think that the line has been crossed," said Meeks.  
Grace Meng (D)
At the end of June, Rep. Grace Meng tweeted, "When I was sworn into Congress, I took an oath to support and defend the Constitution of the United States. In this regard, I believe it is my duty to seek out truth for the sake of my constituents and our nation, and thereby call for an impeachment inquiry." In a longer statement also shared on Twitter, she expressed her concern over 10 potential instances of the president obstructing justice laid out in the Mueller Report. 
Joseph Morelle (D)
Tuesday afternoon, Morelle released a statement expressing concern about a "disturbing pattern of unlawful behavior" presented by Trump. After having long been against the prospect of impeachment, in response to this week's news, Morelle said that he believes it is in the national interest that the House moves forward with the impeachment process.  
Jerrold Nadler (D)
Nadler had been difficult to pin down on the issue of impeachment until August, when he told CNN's Erin Burnett that the investigation into the president's alleged effort to obstruct justice were formal impeachment proceedings. In mid-September, while speaking with WNYC's Brian Lehrer, Nadler had said that he personally thinks that the president should be impeached, but he also acknowledged that impeachment proceedings couldn't go forward without the support of the public. 
Alexandria Ocasio-Cortez (D)
Rep. Alexandria Ocasio-Cortez tweeted her support for Michigan Rep. Rashida Talib's impeachment resolution in April. The freshman congresswoman told ABC more recently that support for impeachment was growing, even among members of the Democratic caucus in swing districts. She reiterated that it is her belief that an inquiry be opened to hold the president accountable. Following the ABC interview, she responded directly to Trump on Twitter, saying, "Opening an impeachment inquiry is exactly what we must do when the President obstructs justice, advises witnesses to ignore legal subpoenas, & more."
Kathleen Rice (D)
In a series of tweets in May, Rep. Kathleen Rice said, "Congress has a moral obligation to put our politics aside and take action. We need to start impeachment proceedings." A week later, she added, "Robert Mueller made it clear that it was DOJ policy, not a lack of evidence, that prevented him from charging the President with a crime."
José Serrano (D)
Rep. José Serrano reached a conclusion on his position on impeachment in July. His office released a lengthy statement, where he said, "I make this statement with a heavy heart. As one of the few current Members of the House who served during the last impeachment proceedings in 1998, I am particularly aware of the wrenching nature of this constitutional process. It puts deep strain on our institution and on our democracy. To take steps towards impeachment is to understand that the threat to our nation is so great, and the ability to find recourse elsewhere is so slim, that we have no other choice. In my opinion, we have now reached that point."
Thomas Suozzi (D)
Up until Tuesday, Rep. Tom Suozzi had been against moving forward with official impeachment proceedings. But in a decisive tweet posted Tuesday morning, Suozzi announced his support for impeachment, saying "inaction would give this president (and future presidents) assurances that their misdeeds are immune from punishment." 
Paul Tonko (D)
In a tweet-storm at the beginning of June, Rep. Paul Tonko said that based on the findings in the Mueller Report, Congress was obligated to open an impeachment inquiry into the president, saying, "After careful review of the evidence and testimony currently available, and in service to my oath, it is my judgment that Congress needs to accept the baton being handed to us by now former Special Counsel Mueller and open an impeachment inquiry to more fully assess the Constitutional implications of seemingly criminal actions by the President and his campaign, and to determine whether formal impeachment charges need to be filed."
Nydia Velázquez (D)
Rep. Nydia Velázquez shared a video on Twitter explaining in depth her reasons for calling for an official impeachment inquiry. In conclusion to her statement she said, "I've long viewed impeachment as a last resort -- not just because it is politically divisive, but also because such a course of action must be grounded in the facts. Today, given the facts available, I believe an impeachment inquiry is the only path forward. Congress has a solemn duty to hold this President accountable and I intend to live up to that duty."
Velázquez pointed to her call for a special counsel investigation, and efforts to protect the integrity of the special counsel office prior to calling for impeachment. She also indicated that her constituents were highly concerned about the information in the Mueller Report.
Do not support or do not support right now:
Anthony Brindisi (D)
Rep. Anthony Brindisi is the only Democratic member of Congress from New York who has not released a press statement regarding President Donald Trump's reported actions regarding Ukraine. But in the past, he has made it clear that he does not support an impeachment inquiry. 
In a video from "NY NOW" in May, he said, "I am not in favor of impeachment. I think we need to move forward here and try to look at issues that we can find compromise on."
Chris Collins (R)
In a statement published by The New York Times, Rep. Chris Collins said that he is not in support of impeaching the president. "There was no collusion between President Trump's campaign and Russia, nor was there evidence to support an obstruction charge against the President," said Collins. 
So far, Collins has not released any statements in regard to President Trump's controversial phone call with Ukraine. 
Tom Reed (R)
In an email from Rep. Tom Reed's communications director Will Reinert, Reinert confirmed that Reed is opposed to impeachment. 
"In all the mayhem resulting from impeachment talk, hard working people in New York are losing," said Reinert. "Democrats would be much better served if they worked with Republicans to pass a bill to lower the cost of prescription drugs and ratify USMCA to boost jobs instead of trying to overturn the results of the 2016 election."  
Max Rose (D)
Rep. Max Rose told Politico in May that he thinks that pursuing an impeachment inquiry heightens the risk of Democrats losing control of the House in 2020. He urged his fellow members of Congress to not get distracted by impeachment and keep working toward legislative solutions for their constituents.
In a press release posted Tuesday, Rose stood by his previous stance, saying that he opposes a partisan impeachment process, adding that it would only deepen partisan divisions and not solve them.
Elise Stefanik (R)
Rep. Elise Stefanik, although not afraid to be critical of the president on social media, having called out his tweets for being "denigrating and wrong," continues her stance against impeachment. Despite her unwavering position, she does believe that lawmakers should be given access to the whistleblower complaint made against the president.
Lee Zeldin (R) 
Rep. Lee Zeldin this week used Twitter to question the validity of the Mueller Report, as well as to challenge the most recent calls for impeachment. 
Awaiting a Response: 
John Katko (R)
At the moment, Rep. John Katko has not released a statement directly opposing impeachment proceedings against the president and he has not responded to an inquiry about his stance. 
Peter King (R)
Like Katko, Rep. Pete King has also not released a statement clarifying his stance and he has not responded to an inquiry about his position. 
Historically, King has been a strong defender of Trump. In late August, the president personally called out King on Twitter after he supported the president during an interview on Fox News. 
Clarification: This story has been updated to include Rep. Adriano Espaillat's earliest call for Trump's impeachment.
Powered By
NEXT STORY: Asbestos in NYC is more common than you think