Donald Trump
All the times Michael Bloomberg has considered running for president
The former New York City mayor has been deliberating for more than a decade.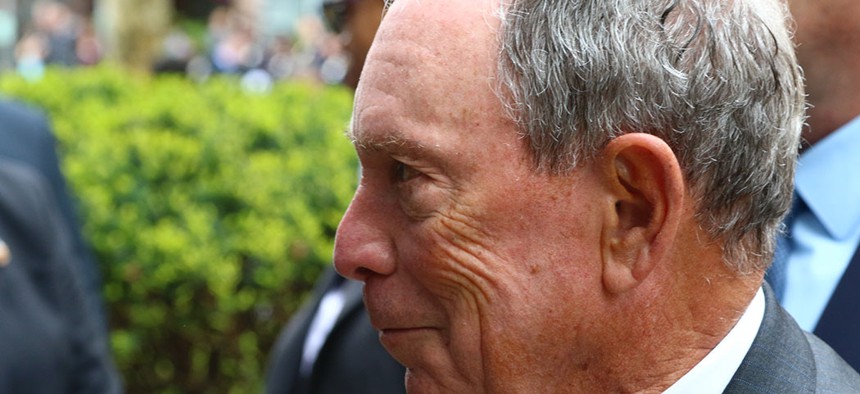 Michael Bloomberg, the former three-term mayor of New York City who has repeatedly been a rumored candidate for president, is reportedly considering jumping into the crowded 2020 race – again.
Bloomberg has indicated to those close to him that if former Vice President Joe Biden continues to flounder in the face of U.S. Sen. Elizabeth Warren's rising popularity that he is seriously considering getting into the 2020 presidential ring as a Democratic candidate, sources told CNBC. But something drastic would need to happen in order for Bloomberg to get into the race, such as Biden dropping out ahead of the presidential primary.
Bloomberg, 77, was elected mayor as a Republican and later as an independent by heavily outspending his opponents. But, prior to his political career, he was a registered Democrat. He has given to and endorsed candidates from both parties, but more often has supported Democrats than Republicans. And in October 2018, Bloomberg registered as a Democrat, once again.
Though, as history suggests, it's doubtful that Bloomberg will end up running. This campaign cycle will be the fourth in which he has reportedly considered a run. Here's a timeline of Bloomberg's past presidential aspirations.
2008
In 2007, the Republican mayor switched his party registration to independent. During the 2008 election cycle, he reportedly played with the idea of running for president as an independent. Despite publicly denying that he held presidential aspirations, rumors continued to gain traction in the media. In early 2008, two veteran political consultants, a Republican and a Democrat, formed the Committee to Draft Michael Bloomberg to recruit Bloomberg to run for president. The independent committee contended that Bloomberg's name recognition, independent political affiliations and large personal fortune made him well positioned to run as an independent.
In February 2008, Bloomberg wrote an op-ed in the Timestitled: "I'm Not Running for President, but … ." In the article, he encouraged breaking away from partisanship and striving for unity.
Sources close to the then-mayor said he decided not to run after the major parties nominated candidates – John McCain and Barack Obama – who were relatively appealing to independent voters, narrowing his already difficult path to victory.
2012
During the 2012 election, there was speculation that Bloomberg would announce his candidacy. And in late 2010, the Committee to Draft Michael Bloomberg announced it would again attempt to persuade Bloomberg to mount a presidential run.
In November 2012, Bloomberg penned an op-ed for Bloomberg View endorsing President Barack Obama. Reportedly, he previously indicated in private he believed Mitt Romney would be better at running the country, but added that he disagreed with Romney on too many social issues. In the immediate aftermath of Superstorm Sandy, Bloomberg cited the president's policies on climate change – and the GOP's climate science denial – in his endorsement of Obama.
2016
In early 2016, amid an already chaotic race, Bloomberg for the first time confirmed he was thinking of running for president. After four months of discreetly building a foundation from which to launch his campaign as an independent, he announced he would not be running, again in an op-ed on Bloomberg's website. He wrote that "an independent candidacy would split the Electoral College and allow Congress to elect an extremist" in Donald Trump. He admitted that while he believed he could win some states, it would not be enough to win. Bloomberg feared that in a three-way race, a candidate would not win a majority of Electoral College votes and the decision would be thrown to Congress. Bloomberg's analysis foreshadowed his statements at the time that he would run only as a Democrat. By recognizing that his views were closer to the Democratic Party's and that he would compete only in blue or purple states, Bloomberg saw that an independent campaign would actually help Republicans.
2018-2019
In June 2018, the New York Post reported that the billionaire media executive was mulling over a Democratic primary bid. In an interview with The New York Times after a gun control event in Seattle, Bloomberg divulged that he now believes only a major-party nominee can win the presidency. He told the Times that he couldn't see himself running for president as a Republican because of his former party's current positions on social issues, such as abortion rights and gun control, and therefore his only path to the high office was as a Democrat.
In 2018, Bloomberg aligned himself with Democrats in the midterm elections by pledging $80 million to Democratic congressional campaigns in an effort to flip the House of Representatives.
According to the Times, Democratic leaders and many of the people closest to Bloomberg were skeptical that he would actually go through with it. While Bloomberg did ultimately end up re-registering as a Democrat in October, all of his presidential ambitions appeared to fall by the wayside over the next few months. In March 2019, Bloomberg announced in an op-ed that he would not be pursuing the presidency in 2020 and would instead be focusing his attention on combating climate change and gun violence.
October 2019
On Oct. 14, it was revealed that Bloomberg is considering joining the heated 2020 presidential race if Biden continues to lose favor with Democratic voters, as new polls have suggested that Warren is gaining traction.
Sources close to Bloomberg told CNBC that Biden would have to drop out of the race before Bloomberg would jump in. But Biden's campaign has given no indication that it's ready to give up – it just announced a big fundraising push in Super Tuesday primary states.
Though, Bloomberg's presidential consideration is likely less about Biden's shortcomings and more about Warren's rise in the polls. The billionaire has made it clear that he disagrees with the senator's anti-corporate stances and her wealth tax plan. When asked about Warren's wealth tax proposal in January, Bloomberg said it might be unconstitutional and likened it to socialism. "It's called Venezuela," he said.
Sure, Bloomberg may still have his team of political advisers on retainer, but knowing him, it's doubtful that he'll actually enter the 2020 race.