New York State
All the ways Democrats have tried to obtain Trump's tax returns
A timeline of the numerous attempts made to procure the president's well-kept financial records.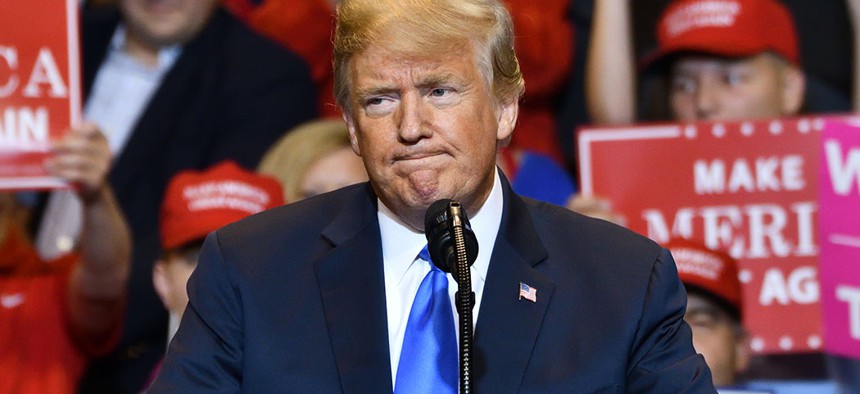 President Donald Trump has been ordered to turn over eight years of tax returns, after blocking numerous attempts to hand them over.
Federal Judge Victor Marrero blocked Trump's request to withhold his taxes on Monday, rebuking Trump's argument that sitting presidents are protected from all criminal investigations – as are those who associate with them, such as family and those who work with him.
Marrero fired back at Trump's claim in a 75-page ruling, calling his argument "repugnant to the nation's governmental structure and constitutional values." The judge also wrote that the president is not above the law and must comply with the request for his tax returns.
In August, Manhattan District Attorney Cyrus Vance Jr. filed the subpoena request for eight years of Trump's personal and professional tax returns, which was blocked temporarily last week after Trump's attorneys brought attention to some "significant constitutional issues" with the request.
Vance wanted Trump's state and federal tax returns as part of an investigation into whether Trump or his business violated any New York laws when the president's former attorney and fixer Michael Cohen made payments to adult film actress Stormy Daniels ahead of the 2016 election. Daniels alleged that Cohen paid her $130,000 to keep quiet about an affair she had with the president – which the president has denied.
This latest ruling may result in Trump eventually handing over his tax returns, which House Democrats have made numerous attempts to obtain since last year, issuing many subpoenas, opening up several inquiries into the president's murky financial dealings and even passing a few laws. Here are several attempts made by Democrats to gain access to Trump's financial records:
State Attorney General Letitia James subpoenaed Deutsche Bank and Investors Bank
In March, state Attorney General Letitia James subpoenaed Deutsche Bank and Investors Bank to obtain records of The Trump Organization's dealings – including a failed attempt to buy the Buffalo Bills football team in 2014. James made the decision to file the request in light of Michael Cohen's congressional testimony in February, when Cohen alleged that Trump inflated his assets in financial statements as part of the proposed purchase.
James is also investigating three other Trump Organization projects, including the Trump International Hotel in Washington, D.C., the Trump National Doral golf resort outside Miami and the Trump International Hotel and Tower in Chicago. In her subpoena, James asked to see loan applications, mortgages, lines of credit and anything else connected to these projects from Deutsche Bank. While the focus of James' inquiry is not clear, the attorney general can fine and penalize businesses for fraud.
House Oversight and Reform Committee subpoenaed Trump's accounting firm
The president's accounting firm, Mazars USA, was subpoenaed in April by the House Oversight and Reform Committee to hand over a decade's worth of Trump's financial statements. This request also followed Cohen's congressional testimony.
Though the president protested the subpoena, a federal judge ruled in May that he could not block the committee's request. But Mazars USA has yet to deliver the requested documents.
House Ways and Means Committee subpoenaed the Treasury Department and IRS
In April, the House Ways and Means Committee sent the U.S. Treasury Department and Internal Revenue Service a subpoena for the president's personal and business tax returns from 2013 to 2018 – despite the Treasury's previous refusal to do so. Neither the Treasury Department nor the IRS complied with the committee's request, resulting in a lawsuit by the committee in July, which Trump asked to have dismissed in September.
House Financial Services and Intelligence committees subpoenaed Deutsche Bank
Congressional Democrats on both the House Financial Services and Intelligence committees issued a subpoena to Deutsche Bank along with several other banks, including JPMorgan Chase, Bank of America and Citigroup, in April as part of an effort to obtain information regarding Trump's personal and business finances.
Deutsche Bank, because of its extremely close ties with Trump over the past 20 years, has become a central focus for House Democrats, who are eager to piece together Trump's heavily concealed finances, along with the German bank's Russian business dealings. And, in April, it was discovered that some of the bank's senior managers were embroiled in a $20 billion Russian money-laundering scheme.
"Much has been reported about how Deutsche Bank has been a pathway for criminals, kleptocrats and allies of Mr. Putin to move illicit funds out of Russia," Rep. Maxine Waters said at a hearing regarding several banks that have done business with Russia. "But recent information shows that some of your institutions have also been providing services for Russian individuals or entities that may be engaging in questionable transactions."
NY law allowed congressional committees to request state tax returns
In July, New York passed a law that would allow three congressional committees to request copies of tax returns from the state Department of Taxation and Finance.
After the law was signed by Gov. Andrew Cuomo, Trump filed a lawsuit in federal court in Washington, D.C., to prevent his New York taxes from being obtained by the House. House officials immediately filed a motion to dismiss Trump's lawsuit, or have it brought to federal court in New York – leaving Trump and his opponents at a standstill.
California law required candidates to disclose their federal taxes
California enacted a new law in July that would force anyone running for public office who wants to appear on a primary ballot to share five years' worth of federal tax returns – including the president. The new law was blocked by a federal judge, who found it to be unconstitutional.
Vance subpoenaed Trump for his tax returns
In August, Vance filed a subpoena for eight years of Trump's personal and professional tax returns. Though the district attorney's request was initially blocked last week, a federal judge ruled on Monday that Trump must comply with Vance's request – but we're not holding our breath, since the ruling has already been appealed.
Powered By
NEXT STORY: Is Hollywood exploiting New York?