New York City
Andy King faces penalties and an about-face on public campaign finance
Rounding up the week's political news.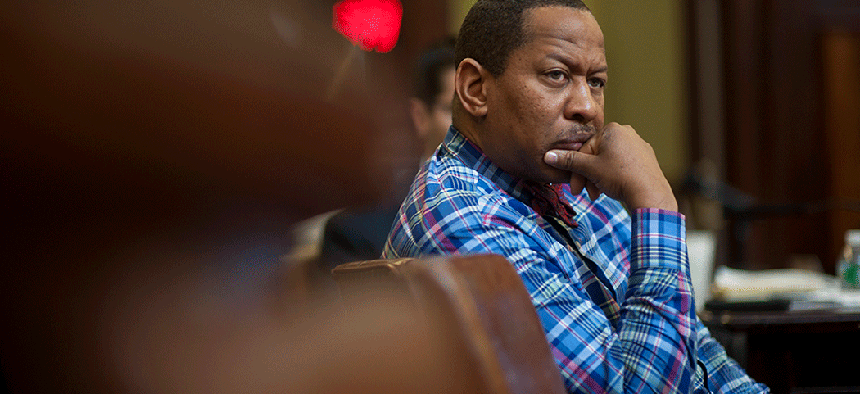 The Bronx has been getting some out-of-town visitors, and residents are not happy. Tourists are flocking to a flight of stairs in the Highbridge neighborhood that were featured in the comic book film "Joker." The movie includes an iconic scene in which the title character dances down the stairs, shots from which were featured in both the trailers and posters. Now, tourists are clogging the stairs – regularly used by residents just trying to get around – to snap pics recreating the scene or simply documenting that they visited the "Joker stairs." Bronxites are, understandably, frustrated with the interlopers, with many bemoaning the fact that most had probably never set foot in the Bronx before, and never would again. And apparently, they're not even spending money.
Andy King faces NYC Council discipline
New York City Councilman Andy King is facing some serious penalties for equally serious allegations. The City Council Standards and Ethics Committee released a scathing report following a lengthy investigation, substantiating four charges that had been made against King. They included retaliating against a staffer who had filed a sexual harassment complaint, using taxpayer money for his wife's daughter's wedding and improperly allowing his wife to conduct official office business, including hiring staff. The committee recommended that King face a 30-day suspension, a $15,000 fine, removal from his committee chairmanship and the appointment of a monitor in his office for the rest of his term. Both Mayor Bill de Blasio and City Council Speaker Corey Johnson have called on King to resign. City Councilman Jimmy Van Bramer went one step further, saying the council should expel him. The suspension would be an unprecedented step for the council to take, as would expulsion.
About-face on public campaign finance
The state commission tasked with instituting a public campaign financing system took an unusual step in its most recent meeting, voting to consider prohibiting matching funds for donations to a candidate from outside their district. The move reverses a vote taken at the commission's previous meeting to allow out-of-district donations to be eligible for public matching funds. Ostensibly, the about-face came in part from the testimony of a Long Island Uber driver named Roger Meadows. He suggested only matching donations from a candidate's district and instituting higher rates for lower dollar amounts. The commission ultimately decided to look at a 20-to-1 matching system for in-district donations only, adopting part of Meadows' suggestion. That would be much higher than the suggested 6-to-1 or 8-to-1 ratios experts have suggested, which would mirror New York City's public campaign financing system. The Fair Elections for New York campaign denounced the vote and the apparent lack of transparency around the decision to hold it, which reportedly happened before the public hearing.
Trump lawyers claim total presidential immunity
In the latest chapter of Manhattan District Attorney Cyrus Vance Jr.'s ongoing attempts to obtain President Donald Trump's tax returns, the president's lawyers made a bold assertion. Remember that time during the campaign when Trump said he could shoot someone in the middle of Fifth Avenue and not lose voters? Well, his lawyers now say that if he did, he couldn't be charged while still in office. The stance is part of their overarching argument that a sitting president cannot be charged with or even investigated for a crime. Both New York City Mayor Bill de Blasio and the New York City Police Department responded by saying that Trump would be arrested if he shot someone. The case is currently being decided in a federal appeals court, and the case could make it all the way to the U.S. Supreme Court.
Landmark climate change court case begins
State Attorney General Letitia James has begun a landmark climate change court case against Exxon Mobil Corp., the first climate fraud lawsuit to make it to court. James is accusing the company of misleading investors about the financial costs of climate change and is trying to get Exxon Mobil to pay as much as $1.6 billion in restitution. The court case represents the culmination of years of examination that began under former state Attorney General Eric Schneiderman.
New York City mental health services get a boost
Following the beating deaths of four homeless men in Manhattan, de Blasio announced a $37 million investment into expanded services for the seriously mentally ill. It includes pairing police officers with trained mental health professionals when responding to calls of people in crisis, with the goal of reducing the number of deadly encounters between the police and the mentally ill. However, advocates for people with mental illnesses criticized the mayor's response as too weak.