New York City
Andy King suspended from City Council for ethics violations
Twelve members voted for him to be expelled instead.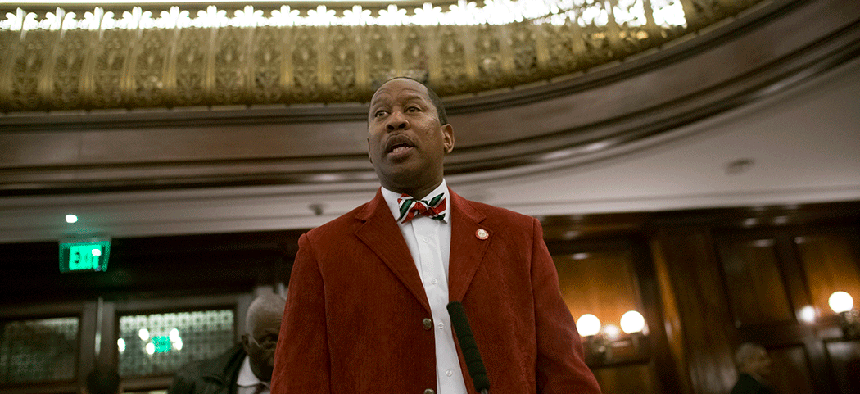 New York City Councilman Andy King will be suspended for 30 days without pay, following a nearly unanimous vote of his colleagues in the New York City Council. The Council voted 44 to 1 on Monday afternoon to approve the sanctions recommended by the Council Committee on Standards and Ethics, which included the suspension, an action unprecedented in recent Council history. 
King was the only vote against the resolution. Six others either abstained or weren't present for the vote. 
Beyond the suspension, King will be removed from all his committee assignments, fined $15,000 and ordered to undergo sensitivity training. An outside monitor will also be placed within his office for the remainder of his term, which expires at the end of 2021. 
The committee had substantiated numerous charges against King, a Democrat who represents neighborhoods in the Northeast Bronx including Co-Op City. King was found to have harassed and retaliated against staffers and used government resources for his personal gain, among other charges. King has previously been sanctioned for sexually harassing a staffer.
Many councilmembers didn't think the punishment went far enough and argue King should no longer serve on the Council. City Councilman Jimmy Van Bramer, a progressive candidate for Queens borough president, brought an amendment to the floor calling for King to be expelled from office. That vote failed, 12 to 34, with even New York City Council Speaker Corey Johnson voting against it, despite Johnson having called on King to resign late last week.
New York City Mayor Bill de Blasio and New York City Comptroller Scott Stringer also called for King to resign. Stringer, like Johnson, is running for mayor in 2021. Two other leading mayoral candidates, Bronx Borough President Ruben Diaz Jr. and Brooklyn Borough President Eric Adams appear to have been silent on King's case, and did not respond to a request for comment on Monday, nor did New York City Public Advocate Jumaane Williams.
Given time to speak ahead of the vote, King didn't apologize or attempt to explain why he disputed the charges against him. Instead, he complained about the disciplinary process, claiming that the committee didn't give him a chance to adequately make his case, noting at one point that the committee didn't inform him of a hearing, and he had to find out about it from City & State. In a petition to delay the Council's vote filed Monday morning in a Manhattan court King argued that he was being denied his constitutional right to due process. But that attempt to delay the Council's vote failed. 
King may yet get to defend his honor in court. Johnson raised the possibility of further charges being brought against King outside of the Council. He confirmed at a press conference ahead of the vote that the Council had referred King's disciplinary case to "some agencies," while declining to give specifics. 
Johnson also emphasized the weight of King's punishment. "No councilmember in the history of the modern body has ever seen a sanction like this," he said.