New York State
Collins rescued the GOP in Western New York
One congressional seat and up to two state Senate seats are now firmly in Republican hands.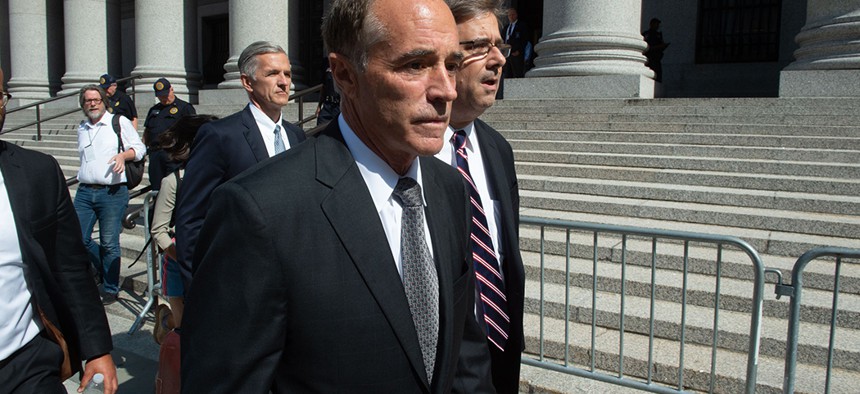 The resignation of Rep. Chris Collins is going to save Republicans a lot of trouble in shoring up their political position in Western New York – especially when it comes to the state Legislature, where two incumbent Republicans have already thrown their hats in the ring to replace the scandal-plagued four-term congressman.
Collins has been under indictment for alleged insider trading for the past year. Until he reached a plea deal with prosecutors and announced his resignation yesterday, he was planning to run for reelection for a fifth term next year. That could've damaged the party's electoral chances because state Sens. Chris Jacobs and Robert Ortt had already planned to give up their legislative seats to run for Congress and there was no guarantee that they could beat Collins – whose nomination could have in turn endangered the GOP's hold on the seat in the 2020 general election. Those concerns are now moot because Gov. Andrew Cuomo suggested on Tuesday that a special election will soon be held to choose a replacement for Collins in New York's 27th Congressional District, which stretches from near Buffalo to the Rochester suburbs. 
This decision by the governor, whose legal ability to leave the seat empty until the next regularly scheduled election remains unclear, could be considered a gift to the GOP. Not only will Republican party leaders be able to choose a candidate who is not at risk of going to prison – a fact that led Collins to nearly lose the heavily Republican district to a Democratic challenger in the 2018 midterm election – the GOP will also be able to avoid the potential loss of two incumbent state senators in the process. 
Though a date has yet to be set for the upcoming special election, it would likely be held sometime in the coming months. The governor could theoretically drag his feet, as was the case when former Rep. Louise Slaughter, a Democrat from Rochester, died last year in March and a special election was not held until November. This time around though, Cuomo appears to be considering a much shorter timeframe. "I would be inclined to have it sooner rather than later," Cuomo said in an Oct. 1 appearance on WAMC. "2020 is a long time away, and Western New York deserves a seat." A spokesman for Cuomo said that the administration is reviewing options and looking for opportunities to schedule the special election at the same time as other local elections to keep costs down, though it is too late to schedule a special election for November.
State law allows local party leaders to choose candidates in special elections, a fact that can benefit the GOP in two important ways. Any fight over a replacement will likely happen behind closed doors as potential candidates jostle for the nomination, sparing the party of a divisive public primary. Even more importantly, a special election means that state Sens. Chris Jacobs and Robert Ortt can run for reelection if either of them fails to get the party nomination in the special election. A new state law that consolidated the state and federal primaries would have meant that both of them would have had to give up their legislative positions in order to run in the 2020 congressional primary for the general election. Ortt and Jacobs did not respond to requests for comment by publication time. 
At this point, it is unclear who party leaders will pick to be their candidate. Collins only announced his resignation on Monday. He was expected to enter a guilty plea Tuesday to charges related to insider trading after maintaining his innocence for more than a year. Federal prosecutors had accused Collins, who sat on the board of the Australian biotech company Innate Immunotherapeutics, of alerting his son, Cameron Collins and Cameron Collins' prospective father-in-law Stephen Zarsk that the company had failed an important drug trial before that news became public so that they could sell of their stock in the company. Cameron Collins and Zarsk are expected to reverse their not guilty pleas as well. 
In addition to Jacobs and Ortt, Medal of Honor winner David Bellavia has also been considering a primary challenge to Collins. Though Bellavia has relatively little political experience, his military heroism and name recognition – he is the first living person to receive the medal since the Vietnam War – could make him a formidable candidate, though Bellavia lost the 2012 GOP primary to Collins. His nomination by party leaders would mean that Jacobs and Ortt could run for reelection next year. Ortt said on the Capitol Pressroom on Oct. 1 that he could re-evaluate his candidacy depending on who else might join the race. "He is certainly very well-known in the district," Ortt said. "I'm not going to say 'I'll run' except if this person gets in the race (but) we'll reevaluate anytime anybody gets in the race or gets out."
If Ortt receives the nod from party officials, then it would likely have no bearing on the GOP's ability to keep his seat, considering the heavy Republican lean in a district where Ortt won reelection by 74 percentage points last year. Jacobs, however, won reelection by a much narrower margin – 56% to 44% over Democratic challenger Carima El Behairy. With Democrats now holding 40 of the 63 seats in the state Senate, Jacobs staying in Albany could make it harder for Democrats to win a supermajority in the chamber in 2020, which would allow Democrats to potentially override future gubernatorial vetoes in both chambers.
It is unclear whether Jacobs or Ortt would choose to stay in the state Legislature if they are not chosen by party leaders to run for Collins seat. The Democratic takeover of the chamber after the 2018 elections has made a state Senate seat less attractive for any Republican and both Jacobs and Ortt could run for other positions rather than simply filing for reelection for the state Senate. Jacobs has been mentioned by a controversial Republican political consultant in the area as a potential candidate against Democratic Rep. Brian Higgins in the 26th Congressional District in Buffalo. 
Whoever ends up being the choice of party leaders for the special election will likely cruise to victory against their Democratic opponent. Registered Republicans outnumber Democrats 191,600 to 149,986 in the district.
Outgoing Grand Island Town Supervisor McMurrary Nate McMurray, the 2018 Democratic candidate in the 27th Congressional District, appears to have an edge in getting the party's nomination for the special election, considering his name recognition and fundraising. He lost to Collins by a razor-thin margin last year and has not stopped running for the seat ever since. McMurray might have won over some Republicans last year because of their dissatisfaction with Collins, but that support will not come easy moving forward. His outspoken support for impeachment and photo-op earlier this year with New York City Rep. Alexandria Ocasio-Cortez will likely turn off many Republicans. Now that he cannot run against Collins, McMurray's chances of winning a seat in Congress are more remote than ever – making him the biggest loser of all following Collins resignation.