New York State
Cuomo can't stop subtweeting de Blasio
The governor's never-ending campaign of pettiness.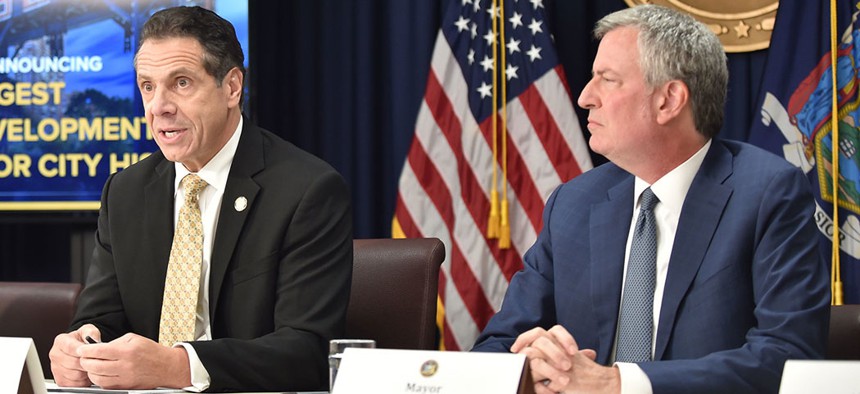 It's hard to remember now, but Gov. Andrew Cuomo and New York City Mayor Bill de Blasio were pals once. It seems so long ago. These days, they're somewhere between frenemies and arch nemeses – and Cuomo, the one with all the real power, won't ever let de Blasio forget it, by finding petty ways to one-up or overshadow the mayor. A subtweet, but in real life.
The most recent example came as the city was planning statues honoring historic New York City women. De Blasio's wife, first lady Chirlane McCray, decided against building a statue of Mother Frances Cabrini – beloved by the city's Italian-American community and the first naturalized American citizen to be canonized by the Catholic Church – despite the fact that she received the most votes in an online poll. The decision angered some prominent Italian-Americans, with actor Chazz Palminteri even calling McCray racist. De Blasio, who is Italian himself, stuck by his wife's decision. 
So what does Cuomo do? On Columbus Day (itself at the center of a controversy between those who criticize Christopher Columbus' legacy and Italian-Americans who say the day honors their cultural heritage), the governor announced that the state would pay for a statue of Mother Cabrini. Sure told de Blasio, didn't he?
Here are other times that Cuomo has not-so-subtly thrown shade, one-upped or simply snubbed de Blasio.
Women's World Cup ticker tape parade
After the U.S. women's national soccer team won the World Cup over the summer, de Blasio announced New York City would honor the team with a ticker tape parade down the Canyon of Heroes in the Financial District. Before the parade began, de Blasio held a press conference espousing the need for gender equality in pay. Not to be outdone in acts of performative feminism, Cuomo signed into law bills meant to help close the gender wage gap and held his own pre-parade press conference at the same time as de Blasio's. The governor then mosied his way onto a parade float – a different one than de Blasio.
Di Fara tax struggles
When beloved Brooklyn pizzeria Di Fara was seized by the state for unpaid taxes, de Blasio vowed that he would "do anything" to get the joint slinging pies again, because he's #relatable and totally loves eating pizza with his hands like a real New Yorker. De Blasio's decision instead started a debate about whether government should step in to help private businesses facing legal problems – so Cuomo decided to pile on, too. The governor pointed out that the mayor has no authority to forgive unpaid state taxes, and that while the mayor is free to shell out $200,000 to settle the debts, he would never spend that much for pizza. While Cuomo was correct about de Blasio's power, there was really no reason to get involved other than to take a shot at Hizzoner.
Oh deer
There is no issue too small for Cuomo to step on de Blasio's toes. In 2016, a deer somehow made its way into Harlem, capturing the hearts of New Yorkers and becoming a minor celebrity. Unfortunately for the buck, after spending a couple weeks adored by its new fans, its fate was sealed when it wandered into a public housing complex, where it was tranquilized and captured. The de Blasio administration announced the animal would be euthanized, but the same evening, Cuomo's administration said that it would help the city relocate the deer instead, despite a state policy that explicitly said the state should not do that because the chance of survival is so low. The governor and the mayor went at it through public statements, as did their surrogates. Ultimately, Cuomo came out on top, but the deer died before it could taste freedom again. The apparent cause of death? Stress. Same here, deer.
Sorry your housing is bad
The New York City Housing Authority has had its share of problems – lead paint, broken heaters, you name it – and de Blasio has rightly gotten flak for how his administration has handled management. But NYCHA is still a city-run agency in conjunction with the federal government – the state effectively has no involvement. But when Cuomo got invited to tour a housing complex in the Bronx at the height of its heat and hot water issues in 2018, he took it upon himself to apologize to tenants for the poor conditions – never mind that as governor, he had never really waded into the problems facing tenants in the city's public housing. In fact, Cuomo for years never made good on a promise to deliver hundreds of millions of dollars of state funds to the beleaguered authority. Of course, de Blasio was out of town the day of the visit. And a month later, Cuomo, smelling fresh as a daisy because his hands were clean of NYCHA dysfunction, declared a state of emergency.
Tit-for-tat press conferences
Sometimes, de Blasio can be petty, too. In August, Cuomo held a press conference in Manhattan to announce a new anti-terrorism initiative. New York City attendees included City Council Speaker Corey Johnson and Rep. Hakeem Jeffries, but the mayor didn't get an invite. Although there's no way to prove that de Blasio's actions were taken in retaliation, the mayor just so happened to hold his own press conference at the same time, in a different borough – his first to allow off-topic questions in weeks. Coincidence?