New York City
Giuliani becomes more ensconced in impeachment inquiry
NYC's former mayor may soon face another subpoena request tied to the White House.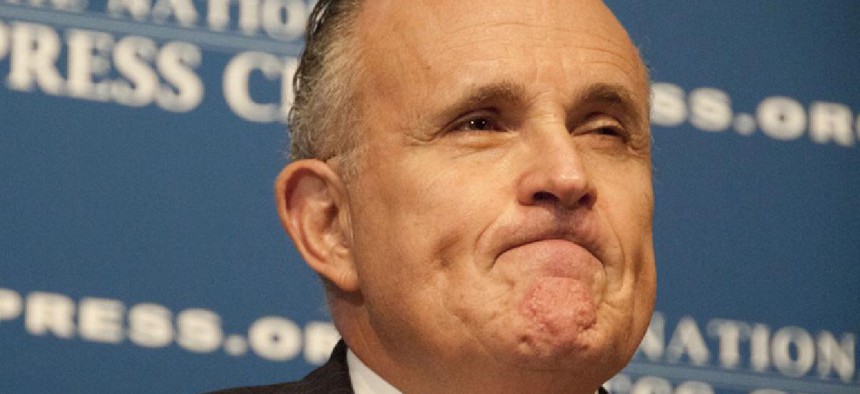 Former New York City Mayor Rudy Giuliani may become embroiled in another subpoena request, as the House of Representatives' impeachment inquiry gains traction.
House Democrats announced on Wednesday morning that they will subpoena the White House for documents relating to Trump's interactions with Ukraine as a part of their impeachment inquiry, if they do not voluntarily receive the documents they've requested. The House is seeking all documents connected to Trump's call with Ukranian PresidentVolodymyr Zelensky in July, in addition to records of meetings between current and former White House staff, Trump and his personal pro bono attorney Giuliani. 
"The White House's flagrant disregard of multiple voluntary requests for documents – combined with stark and urgent warnings from the Inspector General about the gravity of these allegations – have left us with no choice but to issue this subpoena," wrote House Oversight Committee Chair Elijah Cummings, Intelligence Chair Adam Schiff and Foreign Affairs Chair Eliot Engel in a memo, informing the House Oversight Committee that they will be drafting a subpoena to the White House.
The White House is expected to be subpoenaed on Friday if it fails to provide the House with the documents they've requested before then.
The House Intelligence Committee also sent Giuliani a subpoena request on Monday, asking Trump's attorney to hand over all of his correspondence with Ukraine by Oct. 15. The former mayor responded to the subpoena on Twitter, stating that he had concerns regarding the request, as he claims it "raises significant issues concerning legitimacy and constitutional and legal issues." 
I have received a subpoena signed only by Democrat Chairs who have prejudged this case. It raises significant issues concerning legitimacy and constitutional and legal issues including,inter alia, attorney client and other privileges. It will be given appropriate consideration.

— Rudy Giuliani (@RudyGiuliani) September 30, 2019
House Intelligence Chair Adam Schiff said that he expects Giuliani to comply with the subpoena request considering he is a "key figure in all of this, by his own admission," during a press conference, Wednesday morning.
While Giuliani has argued there was nothing shady about his interactions with Ukraine officials, it was revealed on Wednesday that he has hired Miami-based attorney Jon Sale, who acted as an assistant Watergate prosecutor under special prosecutors Archibald Cox and Leon Jaworski, to represent him. 
"This subpoena is very complex because it raises a lot of issues – including privilege and constitutional issues – so it requires serious analysis," Sale told the Miami Herald on Tuesday. "There's a lot of work involved here."
It's no surprise that Giuliani has hired himself an attorney, as the impeachment inquiry he is entangled with continues to gain momentum. And it's possible that as Giuliani's new attorney may soon be assisting Giuliani in what he vaguely threatened on Twitter on Wednesday: suing House Democrats "for trampling on the constitutional rights of citizens." 
On the other hand, as New Yorkers know, Giuliani has long been prone to bluster and exaggeration, so don't expect to see a court filing from him too soon.