New York City Council
New jails plan approved and Cuomo drops the N-word
Rounding up the week's political news.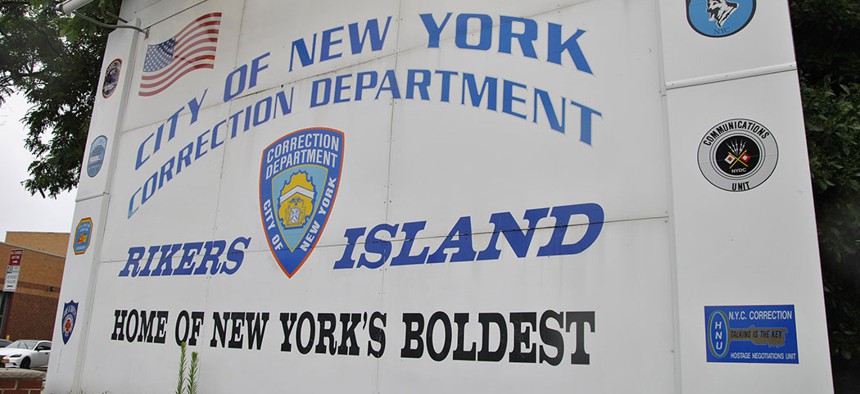 What's a week in New York City without its intrepid subway chief thinking about leaving? According to Politico New York, Andy Byford submitted his letter of resignation last week, but officials have been trying to convince him to stay. Rumors have abounded for months that Byford would step down over his tensions with Gov. Andrew Cuomo, who seems to treat him like some mid-level bureaucrat unworthy of his time rather than the internationally renowned transit expert that he is.
The MTA's powers of persuasion are apparently quite formidable, as Byford has reportedly rescinded his letter. The subways are safe for now, it appears.
New jails plan approved
After years of planning, debate and horse trading, the New York City Council has officially approved Mayor Bill de Blasio's plan to close the Rikers Island jail complex and open four new borough-based jails in its stead. Under the plan, the four jails would be able to house a combined 3,544 inmates, significantly fewer than the 15,000 that Rikers can hold. The capacity of the new jails is down from original estimates – which stood at 4,600 people – as part of a deal struck to make them smaller to appease local City Council members. The city revised its estimated daily jail population by 2026, when Rikers is set to close, from 4,000 inmates to 3,300, which it said allowed for the jails to be smaller than originally planned. Key City Council members – those whose districts the jails will be located in – got other concessions as well, including additional affordable housing and a new community theater.
Cuomo drops the N-word
A Cuomo made it onto TMZ, but it's not the one you may think. Rather than Chris Cuomo of cable news fame, it was Gov. Andrew Cuomo who found himself on the celebrity tabloid site. What for? Well, he used the N-word on live radio, during one of his regular appearances on WAMC's "The Roundtable." Host Alan Chartock asked Cuomo about a recent New York Times story about Cuomo delaying Medicaid spending that suggested he was being influenced by a powerful hospital group. Rather than answer the question, Cuomo immediately pivoted to the paper's use of the N-word in a recent op-ed about anti-Italian racism. He quoted the piece's use of the phrase "n----r w-p," which was at one point a slur used against southern Italians. Although some black leaders – like Assembly Speaker Carl Heastie – did not take issue with Cuomo's use of the word, others were less forgiving. After the fact, Cuomo remained mum on the incident and his office did not release a transcript of the interview as it usually does.
Double jeopardy loophole closed
From now on, any Trump associate from New York convicted of a federal crime can no longer rely on a potential pardon to keep them out of prison. Under a new law signed by Cuomo, the state's so-called double jeopardy loophole has been closed, allowing prosecutors to pursue state-level charges if someone receives a federal pardon for a criminal conviction. However, the scope is fairly narrow and only allows the state to step in if there is determined to be a conflict of interest for the president. That is, the state cannot unilaterally decide to prosecute anyone from New York who has been pardoned. The law also does not apply to anyone already convicted of a crime, or someone who has already entered a plea. This means that people like former Trump campaign chairman Paul Manafort – who has been convicted – and former Rep. Chris Collins – who has pleaded guilty – cannot face state charges if they are pardoned.
AOC endorses Bernie
U.S. Sen. Bernie Sanders has been having a tough time recently – he suffered a heart attack, he's starting to stagnate in the polls and U.S. Sen. Elizabeth Warren is emerging as the progressive candidate to beat, evidenced in part by attacks against her during the most recent Democratic presidential debate. So Rep. Alexandria Ocasio-Cortez's decision to endorse him couldn't have come at a better time. She planned to officially announce the endorsement alongside Sanders at a rally at Queensbridge Park over the weekend. A new Siena College poll found that Warren is tied with former Vice President Joe Biden at the top among New York Democrats at 21%, with Sanders following at 16%. Ocasio-Cortez's backing may help in New York and nationally among progressives on the fence between Warren and Sanders.
Powered By
NEXT STORY: The votes against NYC's new jails