New York City
Unprecedented suspension from New York City Council likely for Andy King
The Bronx Democrat is accused of harassing and retaliating against staffers.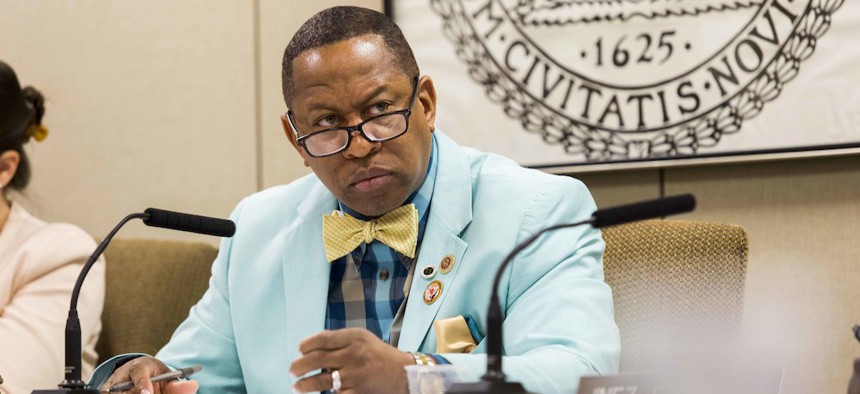 New York City Councilman Andy King could be the first lawmaker in recent memory to be temporarily suspended from the City Council, pending a vote next week. 
The City Council's Committee on Standards and Ethics announced Tuesday it had substantiated four charges against King for harassing and retaliating against staffers, disorderly conduct and violating the conflicts of interest policy. 
The committee is recommending that King be suspended, fined and removed from his committee assignments and that a monitor be placed in his office for the rest of his term. Those recommendations are unusual: recent punishments for Councilmembers' infractions have typically been milder, such as being removed from a committee chairmanship. 
King is a Democrat who represents much of the Northeast Bronx, including Co-Op City. He was first elected in a 2012 special election to replace former City Councilman Larry Seabrook, who was automatically booted from the Council after being convicted on corruption charges. Known for wearing brightly colored blazers and bow ties, King is term-limited at the end of 2021 and – at least for now – chairs the committee on Juvenile Justice. His office did not immediately respond to a request for comment. 
As of Tuesday evening, details on the case were in short supply. Standards and Ethics Committee Chairman Steve Matteo, a Republican from Staten Island, runs a tight ship and leaks are rare. The length of the recommended suspension and the cost of the fine were not made public. 
The severity of the committee's findings seem to partly reflect frustration with King's alleged efforts to undermine the investigation itself, as well as the seriousness of the underlying charges. While Matteo spoke for some six minutes about the case at Tuesday's meeting in Lower Manhattan, he left many details unsaid about the charges against King. Matteo said a redacted version of the committee's report would be made public by the end of the workday Wednesday, after King's attorneys and other Council members had a chance to review it first. 
King did not cooperate with the investigation, which was opened in March, Matteo said. Instead of preparing for a scheduled September hearing, "King appears to have spent that period suspending or attempting to fire his staffers who were cooperating or potentially could cooperate with our investigation," Matteo said. Matteo called the witnesses who testified against King to the committee "credible and damning" and said the five-member committee was unanimous in its decision that all four charges were substantiated by a preponderance of the evidence. 
Matteo was clearly frustrated with King's lack of cooperation, saying he made "a mockery of this committee and the Council's rules and policies."
King had already been reprimanded by the committee this session. He was ordered in Feb. 2018 to undergo sensitivity training after sexually harassing a staffer. Matteo said this 2019 investigation had been opened following complaints of retaliation and harassment related to that case, but that the investigation soon widened. "During interviews," Matteo said. "allegation after allegation and problem after problem surfaced in the functioning of Councilmember King's office. 
The Council will meet early next week – separate from their regularly scheduled meeting on Wed. Oct. 30 – to review the findings and vote on King's punishment. Per Council rules, sanctions on members need approval from two-thirds of the 51-member body. 
The Council is all but guaranteed to adopt the committee's recommendations, said Ken Fisher, a lobbyist with Cozen O'Connor and a former City Councilman who chaired the Committee on Standards and Ethics in the early 1990s.
"It's unlikely that they would have made the recommendation if it wasn't something that the speaker was prepared to support," Fisher said. 
Whether or not King will publicly defend himself depends largely on whether there's any potential of prosecutors bringing legal charges against King for the alleged conflict of interest violations. If so, Fisher said, "that's going to make it more difficult for him to come out swinging."
Fisher could not recall any time a member had been temporarily suspended from the Council. In 2017, Queens City Councilman Ruben Wills was automatically removed from the Council upon his felony conviction on corruption charges. The Committee on Standards and Ethics had suspended its open investigation into Wills while the case made its way through court.
Powered By
NEXT STORY: Who might contend to be Herroner in 2021?