Criminal Justice
Bloomberg renounces stop-and-frisk
Appearing at a black church in Brooklyn, the former NYC mayor addressed a liability in the Democratic presidential primary.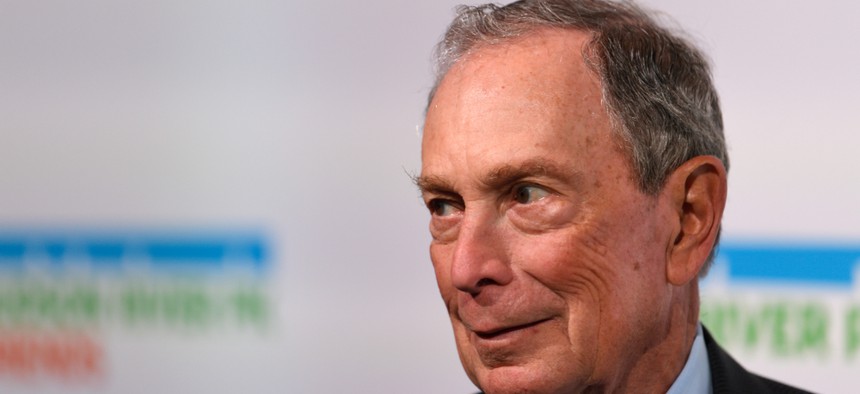 Former New York City Mayor Michael Bloomberg disavowed his role in stop-and-frisk policing during an appearance at a predominantly black evangelical church in Brooklyn on Sunday. Following his recent submissions for ballot access in the Democratic presidential primaries in several states, it is the latest sign that the three-term mayor is preparing to announce a run for the 2020 Democratic Party nomination. 
In remarks to hundreds of worshippers at the Christian Cultural Center in East New York – a megachurch led by Rev. A.R. Bernard, who served as an advisor to Bloomberg during his time as mayor – Bloomberg said that reducing gun violence was a top goal of his past administration. However, he added that he regretted that he had not acted quicker to reduce the use of stop-and-frisk once it became evident that searches of New Yorkers were not as vital to reducing violent crime as he had assumed. 
"I got something important really wrong. I did not fully understand the impact back then that stops were having on the black and Latino communities," Bloomberg said. "I now see that we could and should have acted sooner and acted faster to cut the stops. ... I was wrong."
Bloomberg, however, stopped short of a full apology and repudiation of stop-and-frisk by focusing on his regret of its unintended effect on people. "Our focus was on saving lives," Bloomberg said. "The fact is, far too many innocent people were being stopped while we tried to do that. The overwhelming majority of them were black and Latino. That may have included, I'm sorry to say, some of you here today. Perhaps yourself or your children, or your grandchildren, or your neighbors, or your relatives."
During Bloomberg's first term, the number of reported instances of NYPD officers stopping and frisking New Yorkers – overwhelmingly black and Latino men – skyrocketed during Bloomberg's first term and peaked in 2011. He grudgingly began to decrease the practice after a federal judge ruled it unconstitutional – a ruling that he criticized as "dangerous." The ex-mayor was still defending his administration's use of stop-and-frisk earlier this year. 
His remarks at the church marked the first time that Bloomberg has admitted error for his aggressive use of the controversial police tactic. The sudden flip-flop is due to the fact that Bloomberg's record on stop-and-frisk threatened to be a dealbreaker for African-Americans, Latinos and white progressives whose votes are essential to any aspirant to the Democratic presidential nomination. 
Though he remained coy about his presidential aspirations, the former mayor added on Sunday that he intended to continue reaching out to the black community. "I don't know what the future holds for me but I can say this: I will not stop working to reduce gun violence," he said. 
The pivot was rhetorically deft: Bloomberg always has positioned his support for aggressive policing as part of a commitment to combating gun violence – the frisking in stop-and-frisk is primarily to find illegal handguns. He presided over dropping violent crime rates as mayor and has supported activist campaigns for stricter gun control laws, two political assets among Democratic voters he undoubtedly will tout on the campaign trail if he runs. 
Stop-and-frisk is just one example of how his past as a billionaire businessman and centrist mayor elected as a Republican and then later as an independent create liabilities for his presidential prospects now that he has rejoined the Democratic Party. 
It isn't the only obstacle to his campaign that he has recently tried to overcome. While Bloomberg is unlikely to apologize for his wealth anytime soon and he has yet to recant any of his past political support for big business, former mayoral spokesman Stu Loeser recently told The New York Times that Bloomberg's long history of crude remarks about women was "disrespectful." 
His comments on stop-and-frisk on Nov. 17 were the strongest sign yet that he hopes to improve relations with minority voters in order to mount a credible campaign.
A key reason for Bloomberg entering the Democratic primary is the perceived weakness of former Vice President Joe Biden. Bloomberg reportedly decided not to run earlier this year because Biden appeared to have a lock on centrist voters. But sluggish fundraising and a lackluster performances at times on the campaign trail have made Biden appear to be more vulnerable than he initially appeared. However, Biden has maintained his dominance in polling of black voters even as candidates like Sens. Bernie Sanders and Elizabeth Warren have consolidated their support among progressive voters. South Bend, Ind. Mayor Pete Buttigieg meanwhile has drawn support away from Biden among white moderates, especially in Iowa where polls show Biden at risk of finishing fourth. 
If Bloomberg is to cast himself as a centrist alternative to Biden, then he will have to show that he can win support from black voters. Black voters are often more moderate than white Democrats, which could help Bloomberg gain their support if Biden's campaign continues to struggle. Bloomberg's efforts to get on the ballot in Alabama and Arkansas signal that he will compete in states where there are sizable populations of black voters, while bypassing some early primaries in heavily white states such as New Hampshire. While it remains to be seen whether he can woo them in large numbers, his speech at the Christian Cultural Center on Nov. 17 was generally well-received by the audience. 
Bloomberg, who is Jewish, is just the latest 2020 candidate to make an appearance at a black church as part of efforts to better appeal to a key Democratic constituency. Buttigieg recently appeared at a church in South Carolina, as has Warren. Sanders famously struggled at one 2016 event at a black church where he sought to dispel notions that he couldn't appeal to minority voters. Since his last unsuccessful primary campaign, in which Hillary Clinton dominated among black voters except for those under 30 years old, Sanders has stepped up his African-American outreach, through surrogates, a tour of historically black colleges and an increased focus on racial justice. While Sanders has shown some evidence of making inroads among voters of color, he also has been criticized for half-hearted outreach efforts, such as when he held a rally next to the Queensbridge housing projects but did little – according to some residents – to inform the neighbors and encourage their attendance.  
Rev. Bernard could continue to play a role in a future Bloomberg campaign. In remarks to his congregation, Bernard notes that Bloomberg "often visited us as mayor" despite his political differences with many in the black community. However, he will have to visit many more black churches to smooth over relations with a community that was disproportionately targeted by his law enforcement policies. Luckily for Bloomberg, there is no better place to ask for forgiveness than a church.