Roger Stone
Roger Stone's conviction, Peter King's retirement, National Grid's dilemma
Trump loyalist Roger Stone was convicted, Rep. Peter King announced his retirement and Gov. Andrew Cuomo went after National Grid.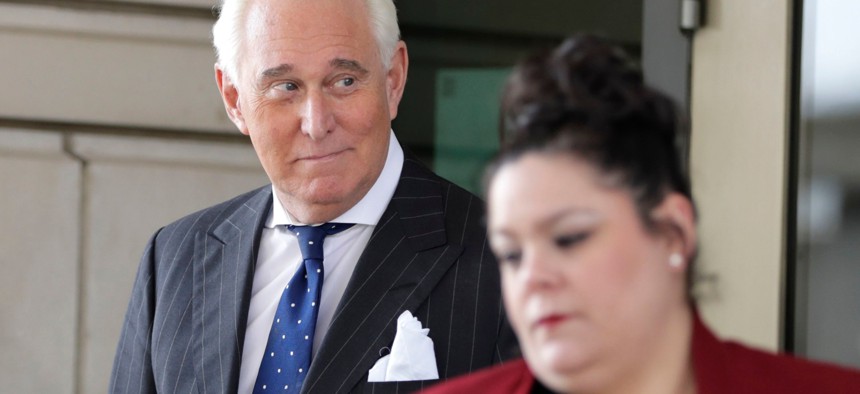 With the New York City public advocate race over and done, City Councilman Joseph Borelli has turned his attention to a new endeavor: the secession of Staten Island. He and fellow City Councilman Steven Matteo are proposing a so-called Stexit, which was last attempted in 1993. Even though Staten Islanders voted overwhelmingly to leave the city at the time, the resolution went nowhere and the island remained a borough. The prospect remains just as unlikely today, but hey, maybe if they're successful, the Staten Island City Council can become a real thing – and Borelli can be the new city's public advocate.
Roger Stone convicted
Roger Stone, a longtime friend and former adviser to President Donald Trump, was found guilty of obstructing a congressional investigation into Russian interference in the 2016 presidential election, lying to Congress and witness tampering. Prosecutors had argued that Stone did so in order to protect Trump. The verdict brings back into the spotlight Russian efforts to bolster Trump's candidacy as Congress moves forward with its impeachment inquiry over whether the president tried to pressure a foreign power into investigating one of his political rivals in a way that could influence the upcoming 2020 election. Stone is just the latest former Trump ally to be convicted of lying to federal investigators.
Cuomo blasts National Grid 
Gov. Andrew Cuomo has already threatened to take away Con Edison's license to operate in the state, and now he's turning his attention to National Grid. The governor gave the utility an ultimatum: provide natural gas to those who are asking for it within two weeks, or lose its license. National Grid and the state have been locked in a battle over a proposed natural gas pipeline that the state blocked earlier this year. The utility said that without the pipeline, it doesn't have access to enough gas for new hookups on Long Island and in Brooklyn and Queens, and has imposed a moratorium. Cuomo also threatened legal action against National Grid, saying the company is breaking the law by not providing new gas hookups.
Pete King abdicates
Add Rep. Pete King to the list of Republicans who won't be returning to Congress in 2021. The longtime Long Island lawmaker announced that he has decided to retire after more than a quarter century in office. King was known as a moderate who worked across the aisle and was willing to split with his party, notably over Superstorm Sandy relief, the cap on state and local tax deductions and funding for first responders of the 9/11 terrorist attacks. However, King is also a staunch supporter of President Donald Trump and was accused of demonizing Muslims after 9/11. His retirement has kicked off what will surely be a contentious race to replace him in an increasingly Democratic district, as Republicans fight to keep one of their few congressional seats downstate.
Amazon anniversary
It's been one year since Amazon announced that it had chosen Long Island City, Queens, as one of two locations for its new headquarters, which set off months of protests that ultimately led to the company backing out of its agreement with the state. The property that almost became home to Amazon's New York base has remained undeveloped since the company pulled out in February, but that may soon change. City officials and developers interested in the site have been engaging about its future and are set to host a public meeting. Mayor Bill de Blasio is expected to take a lesser role this time around, although some community members remain wary of new development.
Churro madness
The arrest of a woman selling churros in the New York City subway sparked widespread condemnation from city officials and advocates, with renewed calls for lifting a cap on vendor licenses. In a video that went viral, several police officers surrounded the woman and asked her to leave the station before handcuffing her and confiscating her churro cart. Although the woman was not arrested – she was issued a summons at the police station and released – the actions spurred a backlash. The woman, who is not licensed to sell food, had been issued several summonses before for selling things in the subway, which is illegal. De Blasio, who defended the police officers involved, proposed that the MTA should allow vendors to sell in designated areas within subway stations.
Green Light lawsuit dismissed
A federal judge ruled that the state can issue driver's licenses to undocumented immigrants, dismissing a lawsuit from Erie County Clerk Michael Kearns. But that didn't mark the end of the fight over the new state law. After the ruling, Kearns said he is appealing the decision to dismiss his suit. Additionally, Rensselaer County Clerk Frank Merola filed his own lawsuit and is seeking an injunction to prevent the law from taking effect next month. Although the cases are very similar, Merola makes several new arguments that differentiates his lawsuit from Kearns'.