New York City
De Blasio's history of campaign finance scandals
New York City Mayor Bill de Blasio is no stranger to fundraising scandals, even if the allegations never fully stick, and last week saw fresh headlines relating to some of them. Here is a rundown of the times de Blasio's fundraising has gotten him into hot water.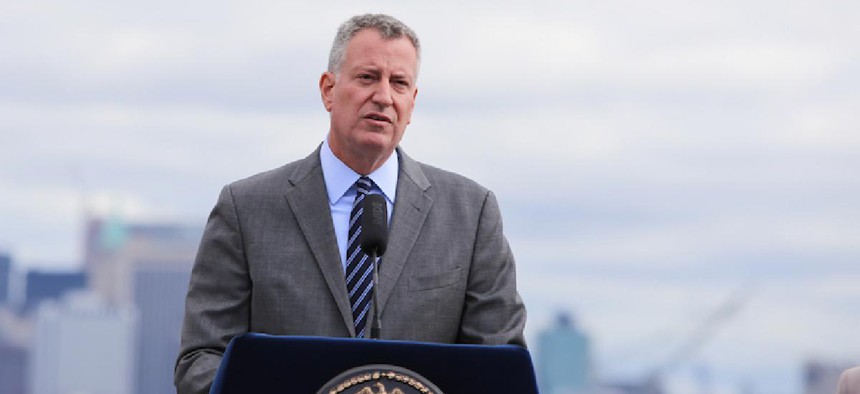 New York City Mayor Bill de Blasio is no stranger to fundraising scandals, even if the allegations never fully stick. On Wednesday, the state Joint Commission on Public Ethics reached a new settlement with a real estate developer over a questionable donation to the mayor's nonprofit Campaign for One New York, which has since been shut down. The settlement came after the state reached deals with several other developers for similar donations earlier this year. 
De Blasios' fundraising practices make headlines even when technically they're above board for all involved, like a spring fundraiser hosted by Suffolk Construction in Boston, a company that is currently looking to expand its business in New York City and recently hired de Blasio's former public housing commissioner Shola Olatoye. De Blasio did not publicize the fundraiser and did not disclose the host when asked by reporters. Everything was still above board, he later argued, even if the lack of transparency made it seem like de Blasio was, as WNYC's Brian Lehrer said, "violating the spirit" of his promise not to accept campaign cash from donors with business before the city. Here are the other times de Blasio's fundraising tactics have gotten him into hot water:
Federal campaign finance investigation
In 2013, de Blasio set up a nonprofit called the Campaign for One New York to support his agenda. The now-defunct organization came under federal investigation for possible campaign finance violations in 2016. Federal prosecutors from the Southern District of New York subpoenaed thousands of emails and documents from the mayor, his aides, donors to both his 2013 mayoral campaign and the Campaign for One New York to see if donors received favorable treatment from the de Blasio administration. The investigation led to the indictment of two de Blasio donors who became cooperating witnesses – restaurateur Harendra Singh, who admitted to attempting to bribe the mayor through straw donations made to his actual campaign account, and real estate developer Jona Rechnitz, who pled guilty to conspiracy charges and later testified about his close relationship to de Blasio and other benefits as a result of his donations and fundraising. At the investigation's conclusion in 2017, federal prosecutors did not press charges against de Blasio, but did say that he acted on behalf of donors who sought favors.
Rivington House lobbying
De Blasio and his administration received extensive scrutiny from both New York City Comptroller Scott Stringer and the city Department of Investigation for how the city handled the sale of Rivington House, a former nonprofit health care facility, which is now being developed for residential purposes. A for-profit nursing home company, Allure Group, bought the property in 2015 and paid the city $16 million to lift a deed restriction that required the property to remain a nonprofit health care facility, with the expectation that the company would instead build a for-profit nursing home. Instead, Allure sold the property to Slate in 2016, which plans to convert the building to residential use and build condos. The city admitted that it had been "misled" by Allure. Prominent lobbyist and frequent de Blasio donor James Capalino represented both the original owner and Slate. Capalino steered $40,000 to de Blasio 2017 reelection campaign and cut a check for $10,000 to Campaign for One New York after pressuring the city to change the deed.
State campaign finance investigation 
The state also investigated the Campaign for One New York, although it took a more narrow purview and focused specifically on de Blasio's fundraising efforts on behalf of state Senate Democrats in 2014, which was only one part of the federal inquiry. State prosecutors, in conjunction with federal prosecutors, sought to determine if de Blasio attempted to circumvent campaign contribution limits by giving donations solicited by de Blasio to smaller county committees, which have no contribution limits. Rechnitz testified that both Ross Offinger, a former campaign fundraiser for de Blasio, and the mayor personally asked him to donate over $100,000 to bolster those efforts. Like in the federal investigation, Manhattan District Attorney Cyrus Vance Jr. did not press charges against the mayor in 2017, but did say that while there was not enough evidence to indict de Blasio, his actions "appeared contrary to the intent and spirit of the laws that impose candidate contribution limits."
JCOPE lobbying investigation
The state Joint Commission on Public Ethics also looked into de Blasio's Campaign for One New York for nearly three years, trying to determine if donations made to the nonprofit were in fact illegal gifts to the mayor himself. It has not yet drawn any conclusion as to whether the organization violated state lobbying laws, although The City reported the probe is still ongoing. JCOPE did reach a settlement with top lobbyist and de Blasio ally James Capalino in 2018, who agreed to pay $40,000 without admitting any wrongdoing. Capalino had personally donated $10,000 to the Campaign for One New York, and solicited another $90,000 from several of his clients, then scheduled a breakfast meeting with de Blasio and the clients who made donations. That meeting was not listed on de Blasio's disclosure of lobbying meetings. JCOPE also reach a $10,000 settlement with New Yorkers for Clean, Livable, and Safe Streets, a group that donated to the Campaign for One New York and lobbied de Blasio to ban horse carriages in the city, for failing to file as a lobbyist.
City conflict of interest investigation
In a previously undisclosed report from the city Department of Investigation obtained by The City, investigators found that de Blasio violated conflict of interest rules by seeking donations for Campaign for One New York from individuals or organizations seeking favors from his administration after repeated warnings that he stop. Those included developers Toll Brothers and Park Towers. Toll Brothers saw positive movement with a development shortly before de Blasio asked for donations, and Park Towers received millions in tax credits and tax breaks related to a Brooklyn development after writing a $50,000 check to Campaign for One New York. This came at the conclusion of a two-and-a-half year probe that ended in October. The report also questioned de Blasio's process for vetting donors, which the DOI found to be lacking. It also offered the most insight into de Blasio's fundraising practices and his personal involvement in contacting donors. 
Controversial real estate deal
New York City recently purchased 17 buildings from the Podolsky brothers, a pair of landlords infamous for their many building code and rent law violations, for $173 million. Many scrutinized the deal because the final price was so much higher than the $50 million city for which officials had originally appraised the property. An ensuing private appraisal, kept secret by the city, put the value at $143 million, leaving questions about both the increased value and how the city reached its final number. The lawyer representing the Podolskys, Frank Carone, is a long-time ally of de Blasio who emails show had influence in City Hall and donated the legal limit of $5,000 to de Blasio's Fairness PAC, which the mayor is using the explore a presidential run, during the real estate negotiations. He also solicited donations from others on behalf of de Blasio shortly before the deal closed as well. 
JCOPE real estate donors investigations
The state ethics watchdog also looked into a series of dubious donations to Campaign for One New York from various real estate developers who had business before the city. In one announcement, JCOPE revealed it had reached settlements with Toll Brothers, a Park Towers Group affiliate and Brookfield Properties, each of which paid fines ranging from $15,000 to $30,000 after the agency found they had made illegal gifts. The donations from these developers, who were seeking favors from the city, were also the subject of a city Department of Investigation probe. Another developer, Douglaston Development, also agreed to pay the state $10,000 to settle an investigation into a donation one of its executives made after the company got land and money from the city, and a phone call from one of the mayor's aids.
Powered By
NEXT STORY: With Peter King retiring, who will replace him?