New York State
Here's why some NYC inmates may be released early
What to know about the misunderstood new bail reform law.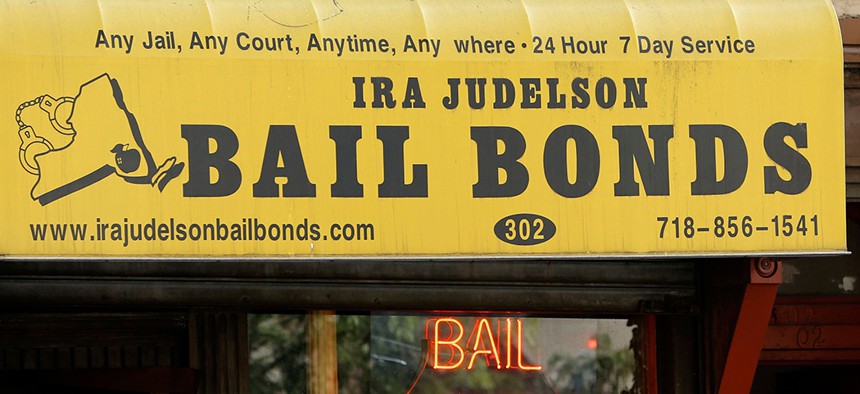 New York Gov. Andrew Cuomo and New York City Mayor Bill de Blasio have responded like caricatures of themselves to the news that approximately 900 New York City inmates may be released from jail before the state's new bail-reform takes hold in January.
The de Blasio administration, in an effort to one-up Beto O'Rourke in the failed presidential candidate who tries to freak out Republicans sweepstakes, is talking about giving those accused of crimes Mets tickets and other goodies to incentivize them to make their court dates , now that they won't be in jail or risk losing any bail bond by not showing up. Meanwhile, Cuomo's office is denying any knowledge of the potential early release of inmates, even though he signed the law that made the crimes of which they are accused ones that will now lead to pre-trial release without bail and appointed the official who would release them. So, Cuomo's bending over backwards to appease conservative voters and de Blasio's going out of his way to look like he coddles accused criminals. Oh, and then there's President Donald Trump, of course, sensationalizing it all with fear-mongering false claims about rising crime. 
So sad to see what is happening in New York where Governor Cuomo & Mayor DeBlasio are letting out 900 Criminals, some hardened & bad, onto the sidewalks of our rapidly declining, because of them, city. The Radical Left Dems are killing our cities. NYPD Commissioner is resigning!

— Donald J. Trump (@realDonaldTrump) November 5, 2019
Cuomo spokesperson Jason Conwall, told the New York Post on Monday, that the governor is unaware of the "OCA (Office of Court Administration) or the city's plan regarding early releases in their local jail system.'' 
But other New York politicos aren't buying it. "Who appointed the head of OCA? It's hard to imagine someone who once claimed, 'I am the government' isn't aware of what state agencies are doing," state Assembly Minority Leader Brian Kolb told the Post.
It's all pretty confusing, so here's a rundown of what's actually happening with New York's new bail reform.
What does the new bail reform do?
The new bail reform, part of the state's 2020 budget which was signed by Cuomo this spring, prevents those accused of misdemeanors and non-violent crimes from sitting in jail due to an inability to afford their bail. 
The new reform also ensures defendants the right to a speedy trial – opposed to waiting for great lengths of time before seeing their day in court – and an overhaul of the state's discovery process, which mandates that prosecutors inform defendants of evidence and information found ahead of their trial. 
These reforms were largely inspired by Kalief Browder, who was held within the Rikers Island jail complex for allegedly stealing a backpack for three years (two of which he spent in solitary confinement), in 2010 at the age of 16. The case was ultimately dropped, and Browder was released. Browder died by suicide in 2015, when he was 22 years-old.
When does the new bail reform go into effect?
The law, which made it into the state's 2020 budget is set to go into effect Jan. 1, 2020. In the new year, cash bail requirements will be lifted for anyone charged with a misdemeanor or nonviolent crime.
So, why are inmates getting released ahead of January?
The new law is retroactive, so those currently behind bars are able to apply to have their bail lifted and be released. The state's court officials estimates that 16% of the city's pre-trial inmates – about 880 inmates – would be eligible for release under the state's new reform.
The state's Office of Court Administration, however, is developing a plan "to stagger the release of defendants starting in mid-December," according to Lucian Chalfen, a spokesman for the Office of Court Administration, in an attempt to keep the office from being overwhelmed by applications come January. Judges will have the authority to prevent certain inmates from being released until the reform's start date, should they feel it necessary. 
It's also likely that any inmates released from jail early will be enrolled in the city's Supervised Release Program, which includes meetings with caseworkers ahead of trials. "What we anticipate, especially with folks who are currently incarcerated on bail, is that judges are likely to opt for supervised release," Stan German, executive director of New York County Defender Services in Manhattan, told Gothamist.
As of 2017, 91% of those enrolled in the city's program showed up for their court dates, WNYC reported.
OK, but why are inmates getting free Mets tickets? 
City Hall, which is working with the criminal justice nonprofit, the Criminal Justice Agency, will be offering released inmates an array of tickets – among them Mets tickets – and gift cards in an effort to encourage defendants to make their court dates, according to the New York Post. 
Offering incentives is an effective strategy for ensuring compliance with legal requirements, according to some public policy experts. "Providing incentives for meeting case-specific goals of supervision is a powerful tool to enhance individual motivation and promote positive behavior change," states a 2008 Pew Center policy brief.
But not everyone is on board with this controversial approach, which offers goodies to people accused of – and therefore, at least sometimes guilty of – crimes, while giving nothing to law-abiding New Yorkers for staying out of trouble in the first place. "You're literally rewarding them for committing a crime,'' an unnamed senior staffer in Manhattan Criminal Court told the Post.
Staten Island District Attorney Michael McMahon also expressed his frustrations with providing those accused of committing crimes with gifts. "We are reaching the point of the absurd when those who are accused of serious offenses are free to roam the streets or even rewarded with gifts while the rights of victims continue to be ignored," he told the Post.
Powered By
NEXT STORY: New York City ballot questions approved overwhelmingly