New York City
Katz, Williams and the rest of the Democrats win in NYC
Republicans barely even put up a fight on Tuesday.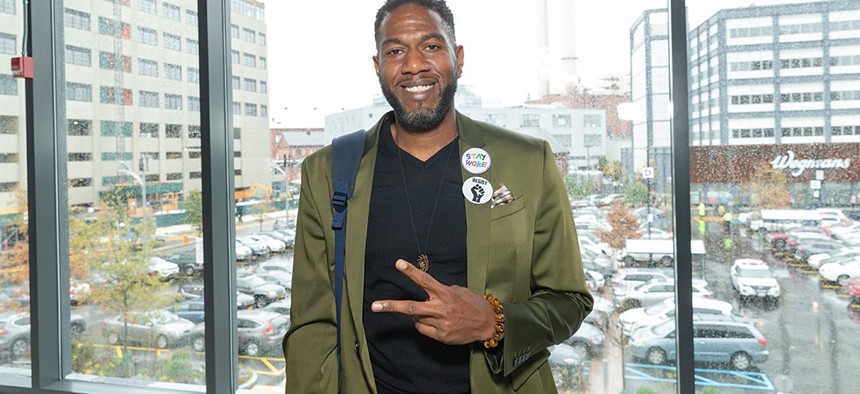 The sky was blue, the sun set in the west and Democrats won all the seats up for grabs in New York City's general election Tuesday night. But the expected outcomes doesn't mean the results were insignificant. Queens officially elected its first new district attorney in three decades with Melinda Katz, the first woman to hold the office and Jumaane Williams won another two years as public advocate. And in an era when elections for local prosecutors have been getting unprecedented attention, district attorneys in both the Bronx and Staten Island officially won re-election in uncontested races.
Much of the attention in this off-year election went to the charter revision proposals. All five questions passed, and you can read about them here. 
But here's what else happened in five boroughs.
New York City Public Advocate
Jumaane Williams (D – incumbent): 77%
Joseph Borelli (R, C): 20%
Devin Balkind (L): 2%
(Results with 85% of ballot scanners reporting)
Williams, a progressive Democrat and self-proclaimed activist/elected official saw himself as perfect for this job, essentially a publicly sanctioned critic of the mayor. Voters felt the same way, letting him stay in the office he first won in a February special election crowded with fellow Democrats. From his office at 1 Centre Street, the Brooklynite is first in the line of succession if something happens to New York City Mayor Bill de Blasio. And Williams may stay there for a long time. Since Williams was first elected in a special when Letitia James vacated the office to become state attorney general, this term doesn't count towards the city's two-term limit. That means, with voters' permission, Williams could stay in this office through 2029. And he just might, given his insistence he doesn't want to run for mayor.
Republicans will be keeping a close eye on New York City Councilman Joe Borelli's next move. He didn't campaign too hard for this seat, knowing it was a lost cause, but the Trump-supporting Staten Islander is rumored to be interested in a run for Congress. 
Queens District Attorney
Melinda Katz (D): 74%
Joseph Murray (R): 25%
(Results with 91% of ballot scanners reporting)
After an apparent election night loss in the Democratic primary, followed by six weeks of vote counting, taking a slim lead and fighting over it in court before her opponent, Tiffany Cabán conceded, Melinda Katz had nothing to worry about in the general, with an easy, dominant victory over her Republican opponent, attorney Joseph Murray. Katz's win brings Queens its first new district attorney since 1991, ushering change into a prosecutor's office long considered to be the most punitive in the five boroughs. Katz has been Queens borough president since 2014 and she served in the City Council and the Assembly before that. She's promised to make progressive reforms, investing more in crime prevention and sending fewer people to jail. Following the tense primary race with the Democratic Socialist-supported Cabán, Katz will have many Queens residents eager to hold her accountable to those promises. Her election will also officially kick off a race to replace her as Queens borough president – a seat others have been eyeing for months.
Staten Island District Attorney 
Michael McMahon (D – incumbent): 98%
(Results with 86% of ballot scanners reporting)
McMahon first won the seat in a hotly contested 2015 race. This time, the moderate Democrat didn't have an opponent, even in New York City's last Republican stronghold.
Bronx District Attorney 
Darcel Clark (D): 99%
(Results with 77% of ballot scanners reporting)
Clark, a Democrat, also first took office in 2015, easily beating a Republican opponent after avoiding a Democratic primary by being nominated by the county party. Clark won another four-year term by running unopposed in both the primary and the general. 
New York City Council District 45
Farah Louis (D – incumbent): 93%
David Fite (Libertarian): 2%
Anthony Beckford (Liberal): 5% 
(Results with 76% of ballot scanners reporting)
Much like Jumaane Williams, whose election to public advocate opened up this City Council seat he once held in Central Brooklyn, Farah Louis easily won re-election Tuesday night after winning a hotly contested special election earlier in the year, in May. Louis, a Democrat, has had an easy transition, having worked as a Council aide since 2013.
Judicial Races
Judicial elections are rarely interesting in New York City, with party leaders, rather than voters, usually directing the outcomes. But a few races were worth noting. Margarita Lopez Torres, a former critic of the machine-controlled system, was officially elected in an uncontested race as a Surrogate Court judge – a powerful position overseeing the administration of estates.
In Queens, Assemblywoman Michele Titus was elected in a civil court judge. She'll have to leave the Legislature, meaning there will be a special election for the Southeast Queens seat in early 2020. 
And, as if the emphasize the voters' lack of power in judicial races, Wyatt Gibbons won a seat on the Queens Supreme Court in an uncontested contest. After he lost a June Civil Court primary to Lumarie Maldonado-Cruz, the Queens Democratic Party nominated him for the other seat. "They took care of me," he told Gothamist.