New York State
Key New York figures involved in the impeachment inquiry
Learn who's spearheading and overseeing the inquiry.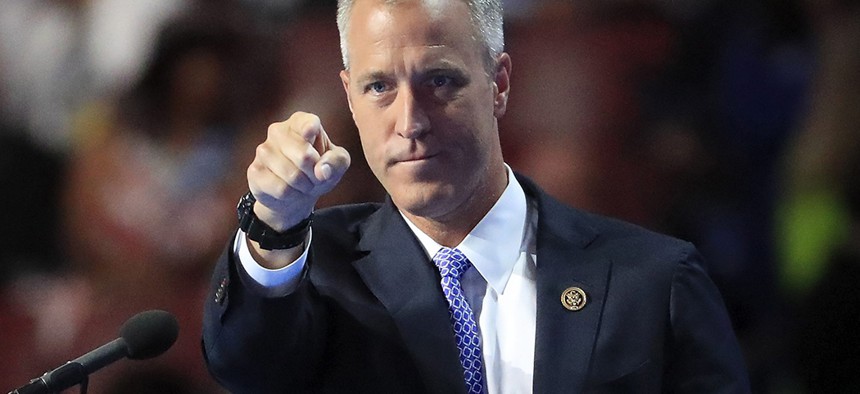 New York politicians have been key in leading the impeachment inquiry into President Donald Trump's alleged effort to extort a bribe – in the form of an investigation of a domestic political rival – from the Ukrainian government. The House of Representatives' public impeachment hearings kicked off on Nov. 13, giving everyone a chance to hear testimony from key witnesses, after the House conducted closed-door interviews for the past month.
New York Democrats have been at the forefront of investigating Trump. On Thursday, Rep. Sean Patrick Maloney excited liberals with his incisive questioning of Ambassador to the European Union Gordon D. Sondland.
Meanwhile, New York Republicans – most recently Rep. Elise Stefanik – have been at the front lines of president's . Here are a few New York lawmakers who have and will continue to play a key role in the impeachment inquiry.
U.S. Senate Minority Leader Charles Schumer
U.S. Sen. Chuck Schumer initially opposed the launch of an impeachment inquiry until the transcript between Ukrainian President Volodymyr Zelensky and Trump was released on Sept. 25, in which Trump asked Zelensky to investigate Vice-President Joe Biden and his son Hunter in exchange for U.S. military aid. "This document absolutely validates the wisdom of Speaker (Nancy) Pelosi's decision to open up a formal impeachment inquiry," Schumer said during a press appearance, adding that he is in full support of the inquiry.
The House is still in the midst of its now-public impeachment hearings but should the House vote to impeach Trump after its hearings conclude, the Senate will be expected to hold its own impeachment trial to determine whether the president will be impeached. The fate of Trump's impeachment verdict will then be in the hands of the Republican-controlled Senate, which Senate Majority Leader Mitch McConnell has already stated will acquit Trump.
Schumer, a lifelong Brooklynite is urging Senate Democrats to continue to hound McConnell – who will determine how the Senate's trial is conducted – to hold a fair trial and put party politics aside, should the House vote "yes" on impeachment. "There's no reason we can't come up with an agreement. .… I'm open to trying to be fair and down the middle and letting the facts come out and be nonpartisan," Schumer told Politico. "There's no reason we can't come up with good, fair and honest rules."
Rep. Jerry Nadler
House Judiciary Committee Chairman Jerry Nadler, who represents Manhattan's West Side and a slice of South Brooklyn, has been in hot pursuit of an impeachment inquiry into Trump, well before special counsel Robert Mueller's report on Russian interference in the 2016 presidential election was released in May.
In March, the Judiciary Committee launched an investigation into Trump's business, campaign, presidential transition and White House administration, expected to be a step toward a formal impeachment inquiry. The committee sent out 81 letters requesting that organizations and individuals tied to Trump and his administration to provide the committee with various documents and information for its investigation – but the requests were largely ignored. 
The committee requested the president's 2016 campaign manager, Corey Lewandowski, who reportedly attempted to interfere with Mueller's report, testify before them. In September, Lewandowski reluctantly appeared before the committee, which ended up being a complete disaster. Lewandowski refused to answer most of the committee's questions and contested the validity of the committee's investigation. Many House Democrats were disappointed in Nadler's handling of Lewandowski and felt he should have held him in contempt of Congress for his behavior at the hearing. 
It is believed that Pelosi chose to let House Intelligence Committee Chairman Adam Schiff take the lead on the House's impeachment inquiry as a result of the Lewandowski debacle. "Nadler has totally screwed up his attempt at impeachment," Rep. Matt Gaetz, who serves on the Judiciary Committee, told The New York Times. "So now you see Nancy Pelosi calling Adam Schiff out of the bullpen to throw impeachment screwballs."
Public impeachment hearings commenced on Wednesday, with witnesses testifying before the House Intelligence Committee but the hearings will soon be conducted by the Judiciary Committee. Now, House Democrats are fearful that Nadler will repeat the mistakes he made during the Lewandowski hearing.
Rep. Elise Stefanik
Republican Rep. Elise Stefanik stole the spotlight during the House Intelligence Committee's questioning of Marie Yovanovitch, the former U.S. ambassador to Ukraine, last Friday when she continuously butted heads with Committee Chairman Adam Schiff. 
At one point during the hearing, Republican Ranking Member Devin Nunes attempted to yield time to Stefanik which Schiff denied, to which Nunes accused him of "gagging the young lady from New York." 
Stefanik's doggedness during the hearing and her questioning of Yovanovitch, asking the former U.S. ambassador about the Obama administration's concerns over Hunter Biden's role at Ukranian oil company Burisma, made her the GOP's breakout star, much to its delight.
Rep. Alexandria Ocasio-Cortez
The freshman congresswoman from the Bronx has been a big supporter of launching an impeachment inquiry into Trump's behavior and even criticized the Democratic Party for not pursuing impeachment more vigorously. "At this point, the bigger national scandal isn't the president's lawbreaking behavior – it is the Democratic Party's refusal to impeach him for it," Ocasio-Cortez said on Twitter.
Ocasio-Cortez also joined the House Oversight Committee in January, which has been leading the charge on investigating Trump's involvement with Russia and Ukraine. "We have the opportunity to act now to prevent a profoundly destabilizing action and intervention in our democracy before it happens," Ocasio-Cortez said during an appearance on CNN's "Cuomo Prime Time," in September. "And I think that is a profoundly urgent action that we need to take right now."
Rep. Eliot Engel
Chairman of the House Foreign Affairs Committee Eliot Engel has been investigating Trump's interactions with Russia and Ukraine to get a comprehensive understanding of the president's alleged misdeeds. Engel also joined numerous members of Congress calling for a formal impeachment inquiry in July, two months prior to the House's launch of the impeachment inquiry. 
"Questions about the abuses and corruption of this Administration require Congress to press ahead with its investigations and follow the facts where they lead us," Engel said in a press release, before details of Trump's interactions with Ukraine had come to light. "As Chairman of one of the six House committees looking into possible acts of wrongdoing in the executive branch, I've pushed to get answers about Trump's cozy relationship with Vladimir Putin, unconstitutional emoluments the President has received, and the President's deep conflicts of interest around the world."
On Oct. 31, Engel, whose district includes parts of the North Bronx and southern Westchester, delivered a short speech in support of opening up the impeachment hearings to the public. "I thank the gentleman and rise to support moving forward to the next, open phase of this impeachment inquiry – so that the American people can hear from witnesses… see the evidence… and understand the troubling story of what's taken place in this Administration," Engel said on the House floor.
Rep. Carolyn Maloney
Following the death of House Oversight Committee Chairman Elijah Cummings, Rep. Carolyn Maloney from Manhattan's East Side was appointed acting chairwoman of the Oversight Committee which has been at the forefront of the House's impeachment inquiry. House rules dictate that whoever has the most seniority is appointed as the interim chairperson if there is a sudden vacancy. 
On Wednesday, Maloney was elected Chairwoman of the Oversight Committee by House Democrats, securing her position and making her the first woman to ever lead a preeminent investigative panel. The congresswoman is now one of three chairs heading up the House's impeachment inquiry.
Rep. Lee Zeldin
The Republican congressman from Long Island has gained considerable media attention for his fierce opposition to the House's impeachment inquiry into Trump and for appearing in seven impeachment deposition transcripts 550 times – more than any other Republican. Zeldin made numerous attempts to drive the depositions away from Trump's actions, focusing instead on the Biden family's alleged misdeeds.
Rep. Anthony Brindisi
Rep. Anthony Brindisi, from Central New York, is one of six Democratic House members who have not endorsed the House's impeachment inquiry.
During a closed-door Democratic caucus with Pelosi, the upstate congressman – who flipped a historically Republican seat in 2018 – reportedly said that there's no constitutional reason why the House needs to vote on authorizing an impeachment inquiry, arguing that doing so could be a boon to Republican House members, the Times reported.
Rep. Hakeem Jeffries
House Democratic Caucus Chairman Hakeem Jeffries also serves on the House Judiciary Committee, which is actively investigating Trump's alleged attempt to coerce Ukraine into investigating his political opponent. "Well, we're very clear that the president has admitted to breaking the law," Jeffries, who hails from Central Brooklyn, said during an appearance on NPR's "All Things Considered." "He endeavored to compel a foreign leader, the president of Ukraine, to investigate a political adversary solely to benefit the president's reelection. That is unlawful. He acknowledged doing so." 
Rep. Sean Patrick Maloney
The congressman won applause on Wednesday, after his questioning of the Ambassador to the European Union Gordon D. Sondland led Sondland to admit that Ukraine investigating the Biden family would have benefited Trump. 
Rep. Sean Patrick Maloney persistently asked Sondland, during his hearing before the House Intelligence Committee, who would have benefited from Ukraine investigating the Bidens, until he finally acquiesced. 
"Well, presumably the person who asked for the investigation," Sondland initially said, in response to Maloney asking who would have benefited from the investigation. 
Maloney then continued to press Sondland, forcing the ambassador to clearly spell out who would have benefited. After another back-and-forth, with Sondland alluding to Trump but not explicitly saying his name, he eventually admitted that "President Trump would benefit,"