New York City
Protests of churro ladies' arrests won't help them as much as changing laws
NYC has failed to reform its vending laws. Perhaps its elected officials should do something about that.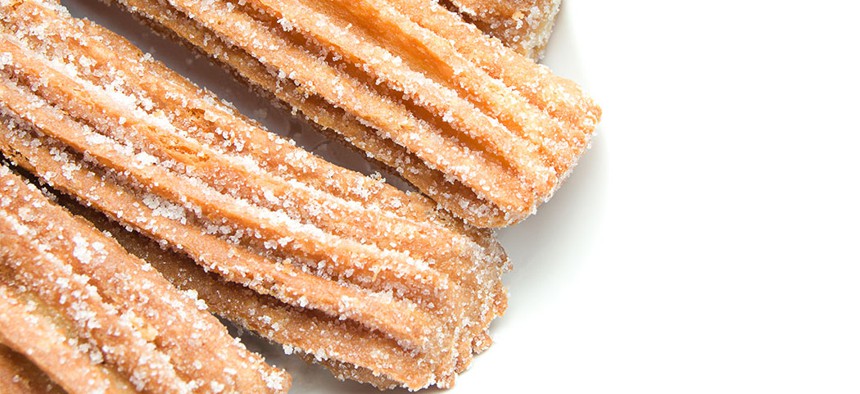 Last Friday, a woman identified as Elsa was surrounded and handcuffed by four New York Police Department officers, in what initially appeared to be an arrest, for selling churros on a New York City subway platform. 
The encounter was filmed by an onlooker and the video quickly went viral on Twitter. Soon after, high-profile politicians such as New York City Council Speaker Corey Johnson and Public Advocate Jumaane Williams and even second-tier presidential candidate Julian Castro spoke out against the police for arresting her.
The police shouldn't be agents of fear and intimidation—and language barriers shouldn't eliminate someone's rights.

She's not making threats, she's making a living. https://t.co/yow8EuIh4Y

— Julián Castro (@JulianCastro) November 9, 2019
A reminder that what happened to Elsa at broadway junction was not an isolated incident.

I'll say it again: invest in transit repairs and economic opportunity for our communities, NOT the policing of low income riders and hardworking NYers trying to make a living. https://t.co/1p7i63XrFV

— Alessandra Biaggi (@SenatorBiaggi) November 11, 2019
See Sofia's video & thread below.

The way that these officers treated this woman, and the cruel things they say to her, is unacceptable. It's a snapshot of criminalizing poverty.

I'm especially upset to see this happening in our neighborhood, at Broadway Junction. https://t.co/aDcS9oQ0IB

— Julia Salazar (@JuliaCarmel__) November 9, 2019
Another incident that raises serious questions about the increased police presence in our subways.

This kind of enforcement doesn't make anyone safer. https://t.co/fJLUj0YQ0r

— Scott M. Stringer (@NYCComptroller) November 9, 2019
Over-policing our subways isn't going to solve anything. We can keep the subway safe without harming people just trying to earn a living. https://t.co/dtFz9JkTTl

— NYC Council Speaker Corey Johnson (@NYCSpeakerCoJo) November 10, 2019
There's so many policies that are oppressive to certain communities - but so often, we don't do the hard work of untangling & addressing them—

We send police. We criminalize. It's too much for police, and it's too much for a woman selling churros, just wanting to make a living. pic.twitter.com/3gf3GxM2v5

— Jumaane Williams (@JumaaneWilliams) November 12, 2019
So is this what our 500 additional transit cops are choosing to pursue? Terrorizing someone who's just trying to make a living? This is excessive and heartless. https://t.co/1NWiXzyN94

— Antonio Reynoso (@CMReynoso34) November 9, 2019
I've gotten many thousands of complaints about subway service. About public safety. About safe streets. About housing affordability.

Literally no one has ever complained to me about unlicensed churro-selling https://t.co/nYpJe0AVDW

— Brad Lander (@bradlander) November 11, 2019
As public defenders in NYC, these are some of the 1st cases you ever pick up. I've represented dozens of folks accused of selling churros, elote, hats, scarves, etc. All just trying to make a living. It's past time to decrimalize poverty. https://t.co/rN4KpZ0NrO

— Tiffany Cabán (@CabanForQueens) November 11, 2019
After a second woman was seemingly arrested for selling churros on Monday, state Sen. Julia Salazar – in whose North Brooklyn district both arrests occurred – spearheaded a protest against the increased police presence on the subway which she alleges is "criminalizing poverty." Over the summer, New York Gov. Andrew Cuomo directed 500 officers to patrol the subways in an effort to crack down on fare evasion and address homelessness in the subway.
Riders are coming together to stand with street vendors, subway riders, and elected leaders to say NO to criminalizing poverty, and to say NO to 500 new cops.

INVEST IN RIDERS INSTEAD!! https://t.co/CDISGghfSS @VendorPower @JuliaCarmel__ @SalazarSenate pic.twitter.com/Ch2xuPRNO7

— Riders Alliance (@RidersAlliance) November 11, 2019
While calling attention to the injustices faced by vendors who are just trying to make a living is a worthy endeavor, a cynic might call it performative virtue signaling. The laws against illegal street and subway vending were occasionally enforced before the encounters were recorded and turned into viral social media sensations, but only now is vendors' plight a cause célèbre.
If New York lawmakers actually want to help these vendors, they need to change the legislation that makes it illegal to sell goods in the subway, not just lambaste the city's police force for enforcing the laws that are on the books. 
It is illegal to sell food in the subway system. But – as is evident by the abundance of vendors like Elsa who can be found selling everything from churros to sliced up mangos in the subway – enforcement is erratic and subway food vending flourishes. Legalizing a churro cart would require changing several laws, which currently prohibit selling food without a license from the city Health Department, commercial activity in the subway system without authorization from the MTA and obstructing the flow of foot traffic in subway stations. Eliminating licensing for food vendors might raise legitimate public health concerns, especially about increasing the risk of food poisoning. 
Elsa had received 10 summonses within the past six months for vending in the subway, according to the NYPD's transit unit. Despite being handcuffed at the subway station, she was not jailed – she was only served a summons. "This unauthorized vendor was given a warning and told to leave the station," a spokesperson for the NYPD told Gothamist. "She returned a short time later. Officers attempted to issue her a summons but discovered she had two open warrants. She was handcuffed, issued a summons, and taken to court to answer for her warrants."
Nicole Gelinas, a senior fellow at the Manhattan Institute, questioned the motive of lawmakers opining about the churro vendors' arrests, asking whether lawmakers are protesting the "general policy of unlicensed vending in subway or just saying random nice-sounding things?" 
Not sure what the point is here. Calling for general policy of unlicensed vending in subway or just saying random nice-sounding things? Better to mostly ignore both the low-grade lawbreaking and the low-grade enforcement. https://t.co/DPYqMen7xB

— Nicole of Hell's Kitchen (@nicolegelinas) November 11, 2019
Gelinas also remarked that, "Rules can be improved and discretion used, but this is still a lot of embarrassing politician drama over not very much." 
Protestors have been directing their outrage toward Cuomo, for sending in the extra cops, the NYPD, New York City Mayor Bill de Blasio (who defended the NYPD's actions) and misguided enforcement practices. Considering how many tickets Elsa was given, the NYPD's priorities do seem peculiar. These incidents also have understandably gotten more attention because they closely follow viral videos of the department's sometimes stunningly aggressive handling of fare beaters.
New York City has a cap placed on street vending permits, which has created an expensive black market for the permits, led to widespread illegal vending for those who cannot obtain permits and perhaps led some vendors into the subways. Now that police enforcement has ramped up considerably in the subway, it is becoming a far less hospitable environment for vendors looking to skirt the law.
State Sen. Jessica Ramos, fed up with years of inaction by the city to fix the vendor cap mess, has introduced a bill that would lift the cap on street vending completely. If city officials such as Johnson and Williams are so distraught by the arrest of these vendors, you'd think they wouldn't want to wait for the state to change the city's own laws. 
If lawmakers really want to put their churro where their mouth is, they need to focus on creating and passing bills that actually benefit street vendors.