New York City
Reports: NYPD Commissioner James O'Neill is resigning
NYC's top cop since 2016 will be joining the private sector. Chief of Detectives Dermot Shea will be taking over.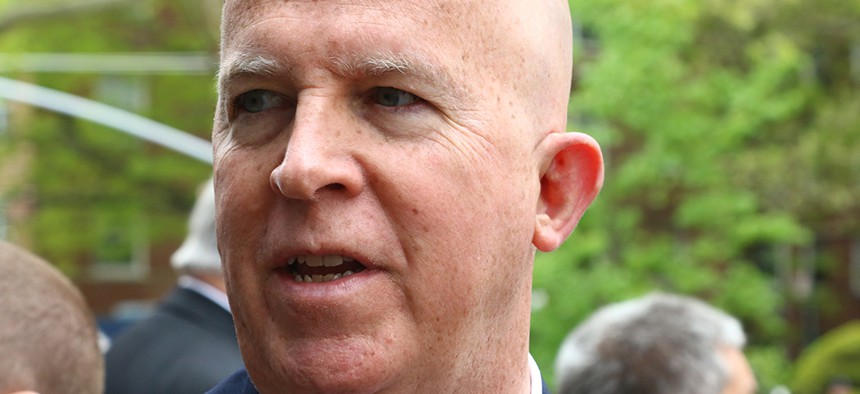 NYPD Commissioner James O'Neill is resigning from his position and leaving the department. Chief of Detectives Dermot Shea will be taking over as commissioner, according to sources with knowledge of the decision. 
O'Neill's departure from One Police Plaza has been rumored for months. Even as New York's crime statistics remained at record lows, he faced constant criticism from both criminal justice reformers on the left, who thought his department was too harsh on minor crimes and that he didn't hold cops who commit acts of brutality accountable, and from the right-leaning police unions who decried his closeness to New York City Mayor Bill de Blasio. The Police Benevolent Association gave him a symbolic vote of no confidence in August, following his firing of Daniel Pantaleo, the officer punished in the 2014 death of Eric Garner.
But New York City Councilman Donovan Richards, who has oversight over the NYPD as chairman of the Public Safety Committee, said O'Neill's retirement is a loss to the city.
"He's done a hell of a job taking the department in a different direction," Richards said. "He also was accessible. He opened up his office to advocates who disagreed with him. That's his legacy."
O'Neill is white, and Richards is disappointed to see Shea, who is also a white man, take over the department, where a slim majority of employees are people of color. Though the department has struggled to diversify its leadership, O'Neill's number two, First Deputy Commissioner Benjamin Tucker, is a black man.
Richards was also worried that Shea would not continue O'Neill's shift towards "neighborhood policing." 
"I'm not positive that Chief Shea will carry out the reforms that are much needed to bring the department to the next level. I hope he proves me wrong," Richards said. "His history hasn't shown me that he will shift the needle on policing the way that he should.""
O'Neill is expected to announce his resignation at a 2 p.m. press conference Monday at City Hall. He is expected to take a job in the private sector, but details on where are not yet clear. The previous NYPD commissioner, Bill Bratton, resigned in August 2016 to take a job as a private sector security consultant at Teneo. 
O'Neill has been the department's top cop for three years, since O'Neill's departure. He's a native Brooklynite who has been with the NYPD since 1983. 
Powered By
NEXT STORY: Has Trump made upstate great again?