New York State
Rudy Giuliani's erratic behavior, continued
The former New York City mayor continues to make head-scratching headlines.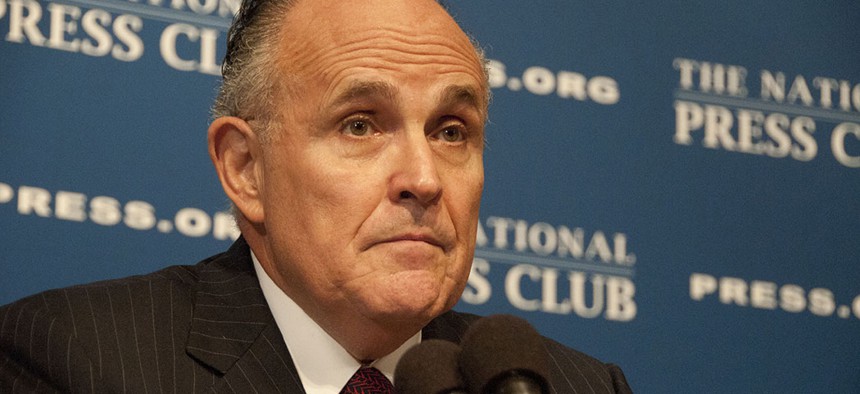 Former New York City Mayor Rudolph Giuliani's behavior has been even weirder than usual lately, if such a thing is possible.
Since his Sept. 19 appearance on CNN's "Cuomo Prime Time," in which he admitted to asking Ukraine officials to dig up dirt on the Biden family, catalyzed the impeachment inquiry into President Donald Trump, you'd think he'd be laying low – but that's just not how Giuliani rolls.
Within the past month, Giuliani has been chatting with journalists via Twitter and text, making incoherent comments and giving out his passwords, while remaining a contemptuous presence throughout the House of Representatives impeachment inquiry – which will begin going public this week.
Here are a few instances of Giuliani's most perplexing recent actions:
Answering prank texts from reporters
Despite his contentious relationship with the press, Giuliani sure has taken a shine to responding to reporters' text messages – even when they're clearly facetious. 
Freelance reporter Talia Lavin messaged the former mayor on Oct. 11, asking if he had committed any "big crimes" that he'd be willing to discuss with her, clearly in jest – but Giuliani responded to her prank texts. Lavin chronicled her unsurprisingly strange back-and-forth with Giuliani on Twitter. 
hE RESPONDED
good to know the president's lawyer responds to prank texts
our nation is run by senescent crime goons pic.twitter.com/CVi7ETPTF8

— Talia Lavin, girl reporter (@chick_in_kiev) October 12, 2019
Defying his Congressional impeachment subpoena
In mid-October, Giuliani's personal attorney Jon Sale – a former Watergate prosecutor – sent a letter to Congress alerting them that he would not be providing the documents subpoenaed by the House. "If they enforce it, then we will see what happens," Giuliani told ABC News, in regards to his congressional subpoena.
Butt dialing an NBC reporter
We've all made a butt dial or two, but Giuliani's recent butt-dialing fiasco has got to be among the world's worst. 
On Oct. 16, Giuliani made the mistake of accidentally calling an NBC reporter Rich Schapiro, who he had previously spoken to for a story regarding his connection to a fringe Iranian opposition group. 
The call was made late in the evening when Schapiro was asleep and thus did not pick up his phone. In the morning Schapiro awoke to a voicemail from the former mayor, in which Giualini appeared to be speaking with someone else overseas dealings and a need for cash, clearly unaware he was leaving a voicemail. 
But this wasn't Giuliani's first time butt-dialing Schapiro, who left him another message on Sept. 28, while the reporter was tending to his young daughter at her birthday party. In the three minute voicemail left on Schapiro's phone, Giuliani was heard trashing the Biden family, turning his attention specifically toward Hunter Biden. "And the Ukraine, they're investigating him (Hunter Biden) and they blocked it twice," Guiliani is heard saying in the voicemail. "So what the president was (unintelligible word), 'You can't keep doing this. You have to investigate this.' And they say it will affect the 2020 election."
Giving a random password to a Salon reporter
Salon reporter, Roger Sollenberger, who had communicated with Giuliani while working on another story, received a strange text from Guiliani on Oct. 4, that appeared to convey a password of some kind. 
Though Sollenberg was not able to use the password to hack into any of Giuliani's personal accounts, the technological blunder sent him down a rabbit hole to try to determine which associate Giuliani was speaking with while butt dialing.
Is considering running an impeachment podcast
It was learned on Monday that Giuliani is considering creating a podcast devoted to analyzing the public impeachment inquiry hearings slated to begin this week.
Giuliani was overheard discussing his podcast plans with an associate at lunch on Saturday, by two people, who then tipped off CNN. According to what they heard, Giuliani is interested in creating a four- or five-part series that provides an in depth look at the impeachment process, ahead of the Senate trial. 
"Many Americans want to hear directly from Rudy Giuliani," Giuliani spokeswoman, Christianné Allen, confirmed to CNN that Giuliani had discussed the podcast idea at lunch on Saturday. "He is considering several options, in consultation with Jay Sekulow and the legal team, regarding the best way to move forward. As of now, they have not decided on the strategy but are getting very close."