New York State
The Summer of Andrew gave way to the Fall of Cuomo
Unflattering news about Medicaid, JCOPE and mid-year finances are haunting the governor.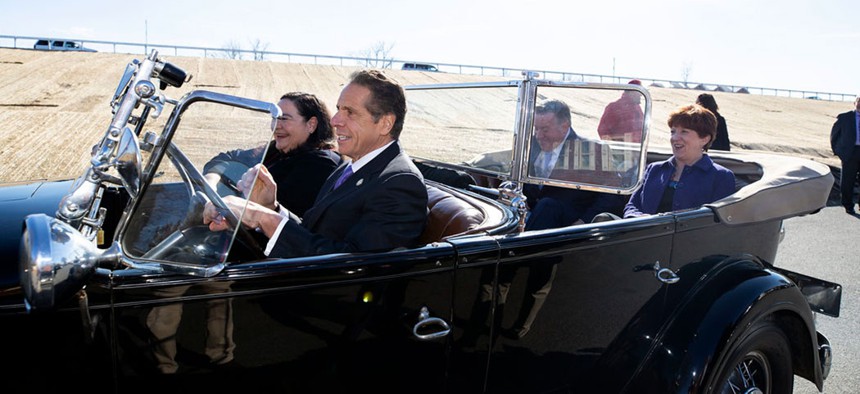 With all the political storms now swirling around the Capitol, Gov. Andrew Cuomo is likely looking back to the past Summer of Andrew with a fair amount of nostalgia. Sure, he recently broke up with longtime girlfriend Sandra Lee, but once he settled into his taxpayer-funded bachelor pad at 138 Eagle Street in Albany, he moved on with his life in some of the most fun ways a three-term incumbent can: He worked on his jump shot. He went water-skiing and palled around with biker buddies in the Catskills. He even got to indulge in one of his favorite pastimes (did someone say capital projects?) by opening up the second span of the Kosciuszko Bridge between Brooklyn and his native Queens. Sure, the past legislative session ended on a rough note for the governor when lawmakers passed a landmark rent reform package, but once the summer sun was out, the talk of the Albany press corps was that things were going the governor's way. It almost seemed that summer was going to last far beyond its nominal end in late September. 
But the Summer of Andrew has finally given way to the Fall of Cuomo in recent weeks. First came the talk of a troublesome multibillion dollar structural deficit in the state Medicaid program. The next hex on the gubernatorial mojo came after Halloween when the Cuomo administration missed a legally-mandated deadline by waiting until late November to release a mid-year financial update. The Summer of Andrew gasped one of its last breaths in early November when the governor trumpeted the opening of a new exit ramp near Albany International Airport by taking a ride in a 1932 Packard owned by Franklin Delano Roosevelt. One week later, the Times Union published a bombshell story alleging that the governor had meddled in the workings of the Joint Commission on Public Ethics. 
Suddenly, the governor just was not into hanging out with the media anymore though, he has maintained a high profile in the past year, granting numerous radio interviews, especially to WAMC's Alan Chartock. The only media appearance put in by Cuomo in the past week – an unusually long streak for Cuomo – was an interview about a recent vaping death with Long Island News Radio host Jay Oliver. 
It is understandable that Cuomo would not want to talk with the press about Medicaid, JCOPE or mid-year finances, because all of these issues may sow doubt about his professed commitment to fiscal discipline and ethics. 
Take Medicaid: The state has had great success in the past five years in expanding access to health insurance while also adding state funding for long-term care of elderly people. This costs a lot of money and state spending on Medicaid has increasingly exceeded the sum budgeted for it. The Cuomo administration got along in recent years through a little budgetary sleight of hand whereby it would shift payments from one fiscal year into the next. Now, he has to hope that he somehow finds $3.5 billion on the sidewalk somewhere. 
Then there is JCOPE. Another pesky journalist found out that Cuomo reportedly called Assembly Speaker Carl Heastie to complain about how Julie Garcia, one of his appointees to JCOPE, voted at a meeting that just so happened to occur around the time the commission was considering an investigation into former aide and brother-from-another-mother Joe Percoco. An aide for Heastie subsequently pestered Garcia about how she voted. If Cuomo was in fact up to no good, then he will be helped by the secrecy laws that prevent Garcia from discussing the matter in detail. A spokesman for Heastie, Michael Whyland, also threw Heastie's aide – who has been identified as Howard Vargas, executive counsel to Heastie – under the bus. The Times Union reports that Whyland said Vargas was working "without the speaker's knowledge. We don't know what motivated him to make the call." Somehow, the state inspector general could not get a hold of Cuomo and Heastie to ask them questions during an investigation that ultimately could not substantiate allegations of malfeasance. Cuomo spokesman Rich Azzopardi told the Times Union that Cuomo did not have "any inappropriate conversations about JCOPE" with Heastie and noted Heastie's similar denial to the paper in an email to City & State. "You cannot write about the JCOPE thing without making clear that BOTH the governor and the speaker said this didn't happen," he said in an email. "I answered every question posed by the Times Union."
As for Medicaid? Azzopardi reiterated statements from the administration that the ongoing Medicaid funding deficit will be a "major focus" in the coming months. "Silly insidery intrigue aside, as anyone who has seriously covered this administration knows, this time of year, the governor, senior staff and commissioners hunker down to prepare for next year's budget and state of the state address," Azzopardi said. "It's been the same pattern for nine years."
But Cuomo's low profile in November can hardly be ignored. At some level, the sometimes supra-human governor appears more human the longer he avoids dealing with these issues by answering questions from the press. If you were the governor, would you want to talk about all this? That's what staff are for. The governor also undoubtedly has a lot to do nowadays to prepare his state budget proposal and his birthday (Happy 62!) – always a great time to raise a little campaign money at a time to show people (especially political rivals) that he's still the king of New York politics. 
Cuomo will also likely be helped in that effort in the upcoming week with the release of a report from the public finance commission that will outline how a state system for publicly-financed political campaigns will work. The possible inclusion of provisions that will spell the death of minor political parties like the Working Families Party could bring a smile to Cuomo's face – on the down low, of course, because he loves fusion voting, right? Any outrage over the findings will also focus on state legislators who will have until the end of the year to pass any legislation that would supersede the commission's findings, which would otherwise become law. 
Once January rolls around, he will get to use his formidable budgetary powers to reassert his dominance of the media narrative around his governorship. The Summer of Andrew might have given way to the Fall of Cuomo, but who's to say that we are not just weeks away from a Winning Winter?
Powered By
NEXT STORY: Bloomberg enters Democratic primary