2020
All the former mayor's men – and a woman
The old Michael Bloomberg City Hall and campaign hands working to win him the presidency.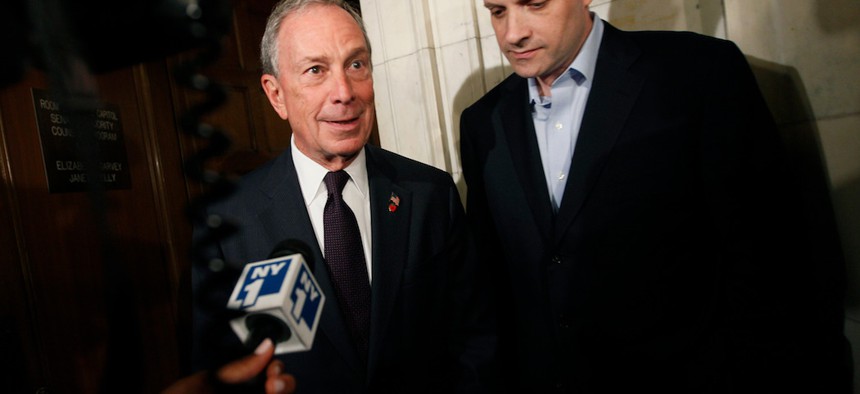 After many years of considering a presidential run, former New York City Mayor Michael Bloomberg has officially hit the campaign trail, bringing some of his most trusted aides and advisors along for the ride.
Everyone on Bloomberg's campaign team, from what we can glean, has either worked with him at one of his organizations, steered one (or more) of his mayoral campaigns or assisted him at City Hall. The billionaire is no doubt a loyal employer, who values those who have stuck by him throughout his political career – and most importantly, helped him score three mayoral terms.
The Democratic candidate is likely to face numerous hurdles this time around, considering his controversial mayoral record, championing of Republican legislators and limited time before voters start casting ballots. But maybe getting the ol' band back together is exactly what he needs to win big. Here are a few of Bloomberg's aides and advisors who are working on his presidential campaign: 
Kevin Sheekey
The former mayor's longtime advisor has worked closely with Bloomberg since 1997, when Bloomberg hired Kevin Sheekey to be his Washington lobbyist. Sheekey ran Bloomberg's mayoral campaigns in 2001 and 2005, and has remained one of his top political advisers – and is currently operating as Bloomberg's campaign manager.
"Whether Mike runs or not, he really wants to advance the science of how you target voters," Sheekey told The Wall Street Journal in January, when Bloomberg's potential run was still being speculated about. "One of the country's best technology entrepreneurs ever is going to make sure that whoever wins the Democratic nomination is going to all have the support they'll need to win a general election and beat Trump."
Howard Wolfson
Though Howard Wolfson was averse to Bloomberg for many years and helped his political foes fight in the mayoral campaigns against him, he came around in 2009, when he became one of Bloomberg's chief campaign strategists, helping him clinch his third term as mayor. Wolfson has amicably stood by Bloomberg's side ever since. 
When questioned about why Bloomberg took so long to enter the 2020 presidential Democratic primary, Wolfson, who is currently advising his campaign, told NBC News that they're launching a "broad-based, national campaign." Wolfson also told the Times that Bloomberg "is prepared to spend what it takes to defeat Donald Trump."
Stu Loeser 
Stu Loeser worked as Bloomberg's press secretary while he was mayor from 2006 until 2012. During his tenure at City Hall, Loeser was known for fiercely protecting the mayor's reputation, doggedly refuting any negative charges levied against him, and acted as one of his most trusted senior advisors. Despite stepping down from his post seven years ago, Loeser is once again acting as a spokesman for Bloomberg, at least informally. 
In mid-November, The New York Times published a report detailing allegations that Bloomberg has a propensity for making crude and inappropriate remarks about women. The report mentioned a 1998 deposition in which Bloomberg was questioned about a saleswoman who accused her manager at Bloomberg L.P. of harrassing and raping her. Bloomberg was asked what it would take for him to believe a rape accusation during his deposition, to which he replied: "an unimpeachable third-party witness." Loeser, who was cited in the report as Bloomberg's current spokesperson, defended Bloomberg and said that his comment was made during a hostile deposition. "That's not what he believes," Loeser told the Times.
Patricia Harris
Patricia Harris, a longtime aide at both Bloomberg L.P. and City Hall, became the first woman in New York City to be appointed first deputy mayor. Though she is currently operating as the chief executive of Bloomberg Philanthropies, Harris will be advising Bloomberg as he hits the campaign trail, according to the Journal. 
Bill Knapp
Bill Knapp has produced political ads for all three of Bloomberg's mayoral campaigns and has taken a leave of absence from his Democratic strategy firm SKDKnickerbocker – which is currently working on former Vice President Joe Biden's presidential campaign – to focus on Bloomberg's campaign.
Doug Schoen
Democratic strategist and Fox News contributor Doug Schoen, who previously worked as a pollster for Bloomberg's mayoral campaigns, announced on Tuesday that he will officially be working on Bloomberg's presidential campaign. Schoen also terminated his representation of Ukranian oligarch Victor Pinchuk – who was briefly investigated during a probe into Russia's possible election-interference – upon learning of Bloomberg's presidential bid.
"As soon as Mayor Bloomberg made it clear that he would be formally announcing his candidacy," Schoen told the Daily Beast, "I terminated my professional relationship with Mr Pinchuk and filed the (Foreign Agents Registration Act) termination you referenced."
Powered By
NEXT STORY: The biggest dead-end job in politics