Monserrate's Senate defenders: Where are they now?
Of Hiram Monserrate's defenders, most went to prison. Others are running for office.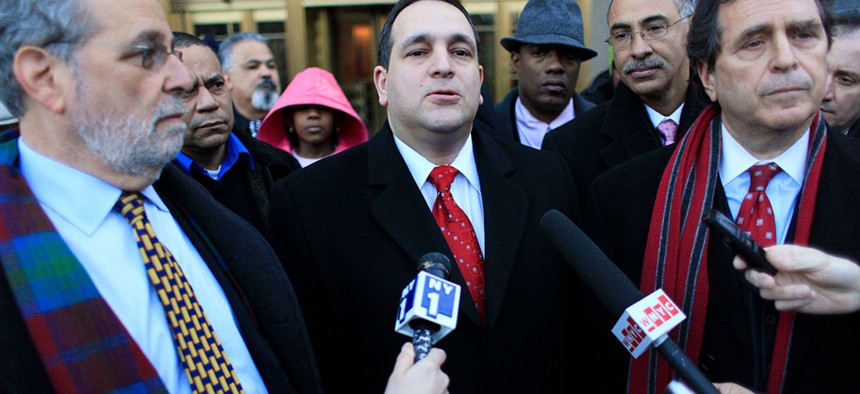 No elected official dared to vote against suspending New York City Councilman Andy King from the legislative body – except King himself. After all, the Bronx Democrat had been credibly accused of harassment and retaliation against staffers, and it wasn't the first time. In fact, some council members didn't think the 30-day suspension was enough of a punishment, and pushed at the Oct. 28 meeting to have him expelled. That vote failed, 34-12.
Many Council staffers, in solidarity with King's employees, also wanted King kicked out of the Council, rather than temporarily suspended. They held a November rally calling for greater punishment and activists joined in solidarity. 
"Andy King should have been expelled from the City Council, and every councilmember who voted not to is complicit," Queens activist Aaron Fernando tweeted.
The scene brought to mind a similar vote, nearly 10 years ago, in February 2010, when New York's state senators were faced with the decision of whether to expel one of their own.Hiram Monserrate, then a state senator from Queens, had been arrested more than a year earlier and charged with assault. He was accused of slashing his romantic partner in the face with broken glass amid a fight. After his partner recanted her story, the felony charges were dropped down to a misdemeanor. He was found guilty in October 2009, and sentenced to 250 hours of community service and a year of domestic abuse counseling.
A felony conviction would have automatically booted the Democrat from the Senate, but the lesser misdemeanor charge meant his professional fate was in the hands of his fellow Senators. A bipartisan ethics committee recommended a vote on whether to expel Monserrate, and, if that failed, a vote to censure him.
The politics at the time were, needless to say, complicated. The Democrats held the majority by just two seats, 32-30, and removing a senator from office would have left neither party with a true 32-vote majority. But Monserrate wasn't exactly a loyal Democrat. He played a central role in the infamous 2009 Senate coup, breaking with his party to benefit Republicans while bringing the Legislature's work to a halt. 
So, under serious pressure to discipline Monserrate, the Senate ran with the committee's recommendations, and scheduled a vote to expel Monserrate. It passed overwhelmingly, 53-8, and Monserrate was kicked out of the Senate. 
Who were the eight votes in favor of Monserrate? The senators were bonded in agreement at the time, but many are in wildly different places a decade later. Four of them spent time in prison, while three others are leading candidates for higher office.
Eric Adams
The then-Brooklyn state senator defended his 2010 vote supporting Monserrate by claiming that he only wanted to expel Monserrate if his conviction were upheld following the appeals process. "To suggest that my vote denigrates women is wrong-headed," he protested at the time. Adams was elected Brooklyn borough president in 2013, re-elected in 2017, and is now a leading candidate for mayor of New York City in 2021. 
Rubén Díaz Sr.
The Bronx reverend was Monserrate's most vocal defender during the expulsion vote, calling the rest of his colleagues hypocrites. Diaz was elected to a City Council seat in 2017, despite his history of offensive comments, mostly against the LGBTQ community. He's now a leading candidate for the South Bronx congressional seat being vacated by Rep. José E. Serrano.
Martin Dilan
The Brooklynite avoided major controversy while serving in the state Senate until 2018, when he was defeated by Julia Salazar, a young member of the Democratic Socialists of America who criticized Dilan for taking so much real estate money in a district full of left-leaning renters.
Pedro Espada Jr.
The Bronx senator was serving as majority leader at the time of the vote, and argued in the chamber that the Senate wasn't respecting Monserrate's right to due process. Espada was ousted as majority leader in December 2010 after being indicted for stealing from a government-funded nonprofit. He was found guilty in 2012 and served nearly five years in prison. 
Carl Kruger
The Brooklyn Democrat resigned from the Senate in 2011 just before pleading guilty in a complex bribery scheme. He served six years in prison. Earlier this year, Kruger was rumored to be eyeing a run for City Council in his old southeastern Brooklyn neighborhood.
Hiram Monserrate
Following back-to-backfailed 2010 bids to win back a seat in the Legislature, Monserrate pleaded guilty to charges of mail fraud and conspiracy in 2012, and was sentenced to two years in prison. That corruption case was unrelated to the assault case that got him booted from the Senate. Since getting out, he's lost a bid for City Council, but got elected Democratic district leader in Queens, and is now planning to run for Assembly in 2020.
Kevin Parker
The Brooklynite has remained a Democratic senator in the decade since, despite some notable eruptions – including, reportedly, expletives exchanged with other Democrats while Parker was defending Monserrate in 2010. He's now running for reelection in 2020, while eyeing the race for New York City comptroller in 2021.
John Sampson
The Brooklyn senator led the Democratic conference and reportedly pushed a compromise that would have let Monserrate stay in office till the end of session in June, so Democrats could keep a majority. Sampson was automatically expelled from the Senate in 2015 after getting convicted in a corruption investigation. He was convicted on extra charges in 2019, and is currently serving a five-year prison sentence.