New York City
New York politicians react to Harvey Weinstein's settlement
And they're not happy.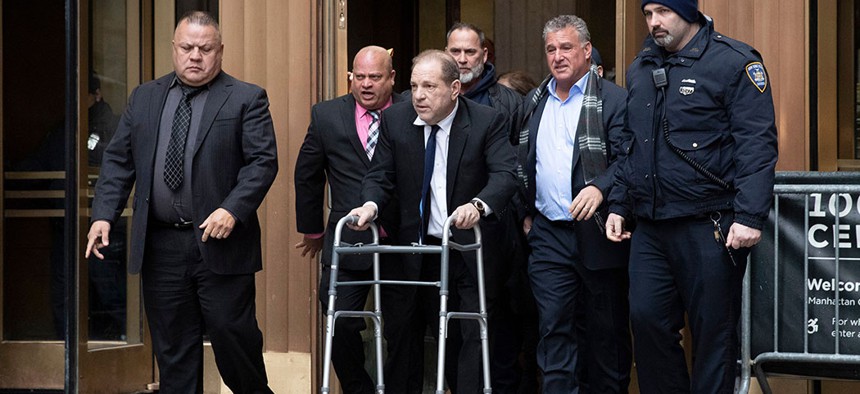 Disgraced film producer Harvey Weinstein is reportedly walking away from dozens of allegations of sexual misconduct that sparked the #MeToo movement without having to pay a dime – or admit to any wrongdoing.
Weinstein and his now-defunct film studio's board have reached a tentative $25 million settlement with over 30 individuals who have alleged a wide range of sexual misconduct, The New York Times reported on Wednesday evening. The former producer has been tangled up legal battles since 2017, when bombshell reports on Weinstein by the Times and The New Yorker unearthed decades worth of sexual misconduct allegations against him. 
The settlement would provide a payout to be split among Weinstein's many accusers – in addition to anyone who has not yet filed a lawsuit against the producer – and would be funded by the Weinstein Company's insurers. Since the company is in the midst of bankruptcy litigation, Weinstein's alleged victims would have to sue the studio's creditors, according to the Times. 
Yet Weinstein's legal battles are not over yet. He is still set to appear in court sometime in January to contend with sexual assault charges involving two women. 
Due to the high-profile nature of the allegations against Weinstein, many are weighing in on the news that Weinstein will essentially not face any financial penalty and will not even to acknowledge the alleged abuse he's been accused of. Weinstein has continuously denied all allegations against him. 
Since news of Weinstein's settlement broke, several New York lawmakers and politicians have voiced their disappointment. Here are a few reactions to the recent news:
State Sen. Alessandra Biaggi
This possible "punishment", from a man who admitted his illegal conduct on a recording, in addition to the 80+ brave women who came fwd, is a barometer for how far we've come & how very far we still must go.

Instead of being angry, I'm using my rage to fuel my war against abuse. https://t.co/ClxT8DcWlD

— Alessandra Biaggi (@Biaggi4NY) December 12, 2019
Assemblywoman Yuh-Line Niou
Was reading the comments on this article...we should never blame survivors for wanting to settle and be over this disgusting human and get on with their lives. For some, this is all the justice they will get to see because of our statutes. He still has a criminal trial pending. https://t.co/ddiGca7qzw

— Yuh-Line Niou (@yuhline) December 12, 2019
Erica Vladimer, congressional challenger against Rep. Carolyn Maloney and former staffer who accused Jeff Klein of harassment
Fuck that. https://t.co/TbDbY2Gszm

— Erica Vladimer for New York (@EricaForNY) December 11, 2019
Maya Wiley, former top aide to New York City Mayor Bill de Blasio
#HarveyWeinstein global settlement won't feel fair. I support the right of survivors to choose this settlement. Weinstein should never get to be in a position of power over women again!

— Maya Wiley (@mayawiley) December 11, 2019
Powered By
NEXT STORY: Rep. Hakeem Jeffries makes a case for impeachment