New York City
Queens machine backs Donovan Richards for borough president
Now that the Queens Democratic Party has weighed in, and one candidate dropped out, the race to replace Melinda Katz takes shape.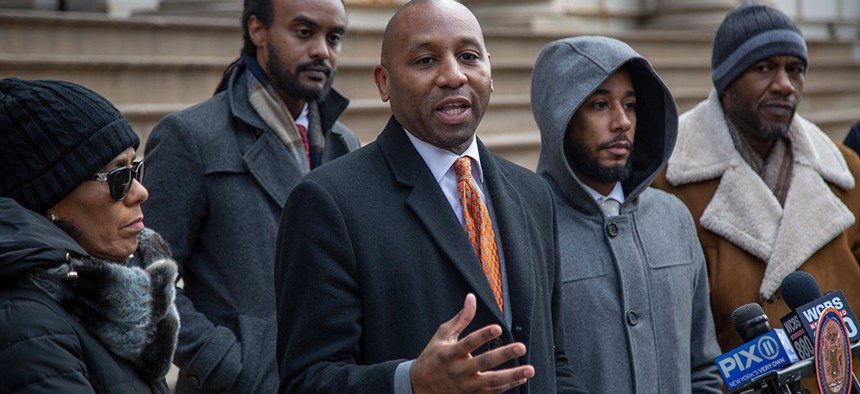 The race to replace Melinda Katz as Queens borough president began to take shape on Monday, when the Queens Democratic Party endorsed New York City Councilman Donovan Richards and Assemblywoman Alicia Hyndman dropped out of the race. And after a weekend of candidates throwing shade at the party and each other, it's promising to be dramatic.
New York City Mayor Bill de Blasio can't even officially set a date for the nonpartisan special election – since Katz still occupies the office. Special elections must happen at least 80 days after the vacancy, so that would likely mean late March. The winner would have to compete again in a June primary and a November general election in order to serve the rest of Katz's term through 2021.
According to the Queens Daily Eagle, Richards was one of just three candidates present at the Queens Democratic meeting, and ultimately the only one seeking the party's endorsement. He won it without opposition. Hyndman's exit leaves five candidates who have officially declared their candidacies and have been publicly running campaigns. In a statement, Hyndman said her decision is "in the interest of a unified Queens Democratic Party." She added that she would support whoever the party decided to back – in this case, Richards. Both represent Southeast Queens, a stronghold for the county organization.
The other candidates include Richards' colleagues: New York City Councilmen Jimmy Van Bramer and Costa Constantinides, both of whom denounced the Queens Democratic Party's endorsement process as well as the last-minute scheduling of the meeting. Former New York City Councilwoman Elizabeth Crowley declared her candidacy after quietly fundraising for months, although she did not seek the party's endorsement nor weigh in on its process. Police reform advocate Anthony Miranda, another borough president candidate, criticized the Queens Democratic Party at a rally prior to its Monday meeting, according to the Queens Daily Eagle and numerous tweets.
Two others – Dao Yin and Daniel Maio – have filed with the city Board of Elections, although it's unclear if either will run active campaigns. New York City Councilmen Paul Vallone and Eric Ulrich – the only major Republican to express interest – were rumored to run, but have made no public confirmation.
The lead up to Monday's vote was something to behold as well. Richards appeared to attack Constantinides, stirring up one of the race's first controversies. Hours after Constantinides criticized the county party and the meeting on Twitter, Richards tweeted it was "funny" that party members "all of a sudden are progressive" and want to "rewrite the rules." Although it did not mention anyone by name, it was an obvious reference to Constantinides, who is a district leader and has long been involved with the party. Constantinides did not appear to offer a rebuttal, but stated in October that he would not seek reelection to his district leader post and agreed to a set of principles put forward by reformers in the county.
Richards also indirectly took aim at Van Bramer, calling him "the other guy" after Van Bramer called the Queens Democratic Party "corrupt." Richards questioned his colleague's progressive bona fides for backing then-Rep. Joseph Crowley over challenger Alexandria Ocasio-Cortez and initially supporting Amazon's decision to build a new headquarters in Queens. Unlike Constantinides, Van Bramer responded to the attack by defending his record of progressivism and referring to himself as "the other guy," in obvious reference to Richards' tweet. After the county party meeting, Van Bramer tweeted about his pride in not having its support.
Most of the subtweeting spat occurred in a matter of hours and anyone not closely watching could have easily missed the shade. And as many rightly point out, Twitter is not real life, so what happens on social media should always be taken with a grain of salt. But the comments and the county party meeting that sparked them have injected some drama into the race.
Correction: An earlier version of this story misstated the number of Queens borough president candidates who attended Monday's Queens Democratic Party meeting.
Powered By
NEXT STORY: From Rockland to Brooklyn, anti-Semitic attacks become more frequent