New York State
The best New York political investigations of 2019
Journalists tackled housing discrimination on Long Island, predatory lending in the New York City taxi medallion industry and more.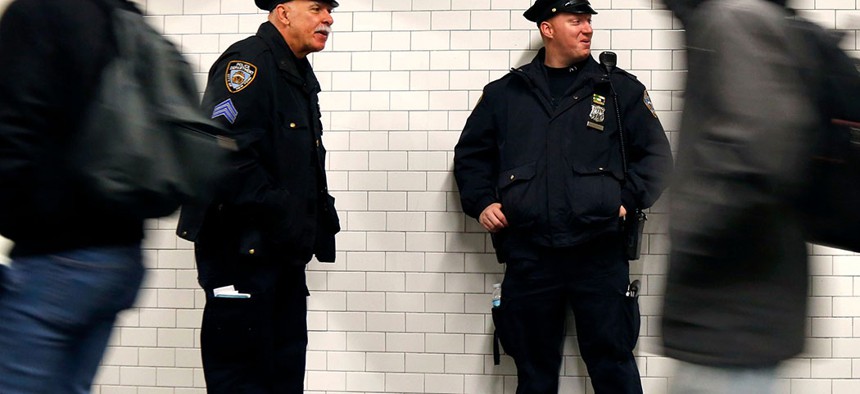 2019 was a busy year for news, from impeachment in Washington to a landmark legislative session in Albany. Between breaking news on a daily basis, journalists across New York were able to publish major investigations, sometimes after months or years of reporting.
Here are some of the best New York political investigations from the past year.
Newsday on Long Island housing discrimination
In November, Newsday published a three-year investigation on housing discrimination on Long Island. The paper painstakingly conducted 86 "paired tests" – sending two sets of actors of different races with similar financial profiles to the same real estate agent to see if they are treated differently in order to uncover bias. It then asked experts to analyze the test results and assess whether the agents had violated fair housing standards. What the reporters found was widespread separate and unequal treatment of minorities by agents at Long Island's biggest real estate brokerages.
The investigation led to immediate calls for action to address the disparities. Gov. Andrew Cuomo ordered a probe of the real estate industry on Long Island based on the reporting and announced several new initiatives to help combat discrimination. State Attorney General Letitia James opened her own investigation into the matter. And the state Senate held a hearing on housing discrimination in December, but only one real estate executive showed up – out of the 68 people who were requested to appear.
The New York Times on predatory lending in the taxi medallion industry
In May, The New York Times published a two-part investigation into New York City's taxi medallion industry. It revealed predatory behavior by industry leaders that artificially inflated the price of medallions until the market collapsed. Predatory lenders targeted thousands of largely immigrant cab drivers who were left in financial ruin with loans they could not repay. And the city failed to help the struggling taxi drivers with its lax oversight of the industry, despite evidence that the medallion price increases were unsustainable and would lead to a collapse. The investigation was published after a spate of cab driver suicides that highlighted the crisis, although public officials at the time blamed ride-hailing apps like Uber and Lyft for the struggles of the yellow taxi industry.
The investigation led to direct action by lawmakers and officials. The New York City Council held a hearing excoriating taxi regulators for ignoring clear evidence that disaster loomed in the taxi medallion loan industry. Members proposed legislation that would crack down on predatory lenders who take advantage of desperate and struggling cab drivers. Federal prosecutors and the state attorney general each opened probes into the lending practices that led to the crisis.
ProPublica on McKinsey 
ProPublica has published several pieces examining the consulting firm McKinsey & Company, including one about a contract it had with New York City. The city paid the company $27.5 million to help reduce violence at the Rikers Island jail complex, although the firm had never advised a jail system before. After three years, the company delivered a report with numbers that showed the success of a program it had implemented: violence was down 50% in the units where the program was used. But ProPublica revealed that both McKinsey and city jail officials manipulated the results, touting the program's success when it had been set up to keep violence among participants artificially low. In reality, violence continued to worsen at Rikers.
The City, The Trace and Measure of America on medical treatment for shooting victims
Crime in New York City has been decreasing for years and today stands at historic lows. That includes a dramatic drop in shootings. But a joint analysis by The City, The Trace and Measure of America of data obtained from the New York City Police Department found that the proportion of people who have been shot that die from their wounds had been increasing in some parts of New York City. Queens had the worst numbers, particularly in southern Queens, where gunshot fatality rates were far above the rest of the city. Reporters found that someone's likelihood of dying from a gunshot wound increased the further away the victim was from a hospital designated as a Level I or II trauma center. Southern Queens has only one such trauma center, and it's struggling financially.
WNYC and Gothamist on dishonest cops
In April, WNYC and Gothamist published an investigation revealing that prosecutors in New York City had been building internal databases of police officers with credibility issues based on judicial rulings, substantiated misconduct allegations, civil lawsuits and criminal charges. At the time the report came out, the district attorney offices in Brooklyn, Queens, Manhattan and Bronx already made use of such lists, while Staten Island's had just begun building one. Following the investigation, allfourdistrictattorneys with established lists released partial or redacted versions in response to Freedom of Information Law requests by WNYC and Gothamist, revealing previously unknown credibility problems for many officers across the city. The releases were praised by criminal justice advocates and public defenders as a positive move toward transparency.
Times Union on Adam Katz
Donors to Gov. Andrew Cuomo's multimillion-dollar war chest have often received scrutiny, but the Times Union dedicated a two-partinvestigation into one of the governor's most prolific donors and fundraisers. Adam Katz, who owns a luxury charter flight company on Long Island, helped facilitate almost $630,000 in contributions to Cuomo or the state Democratic Party – effectively part of Cuomo's campaign apparatus – between 2011 and 2015. The money came from his friends, family, business associates and his companies. The Times Union found that the solicited donations often happened on the same days as each other, and in the same amounts. While receiving all those donations, Cuomo took free rides on Katz's jets, and Katz benefited from a series of questionable state contracts. A bid to redevelop a Long Island regional airport that had already been won was inexplicably rebid and awarded to a Katz-owned company.
Powered By
NEXT STORY: Queens machine backs Donovan Richards for borough president