Corey Johnson
2020 Corey Johnson wouldn't take money from 2009 Corey Johnson
The NYC Council speaker and mayoral candidate pledged not to take donations from real estate developers, like his former employers.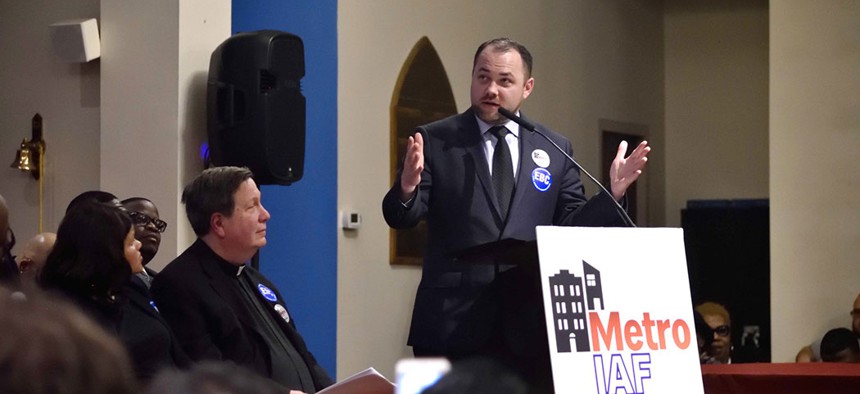 Although he's not a self-funding billionaire like the last mayor, New York City Council Speaker Corey Johnson might conceivably want to donate to his 2021 mayoral campaign – but if he were still in one of his previous jobs, he'd have to return the money. 
Johnson launched his campaign a year ago, pledging not to take money from real estate developers or the people that worked at their firms. But a decade ago, Johnson was one of those employees, serving as government relations director at GFI Development. He worked at the Manhattan-based developer behind high profile projects like the Ace Hotel in Midtown from 2008 to 2010, where he angled for the support of community boards and elected officials. He later worked in marketing for Sydell Group, the developer behind the NoMad Hotel. 
During his time at GFI, Johnson donated some $674 to eight separate New York City campaigns. That includes $225 to former City Council Speaker Christine Quinn's 2009 City Council campaign, $100 to Mark Green's unsuccessful 2009 public advocate campaign, and $100 to Micah Lasher's abandoned 2009 Council campaign, that was later refunded. 
Johnson also donated $25 to the 2009 Manhattan borough president campaign of Scott Stringer, the New York City Comptroller who now seems to be one of Johnson's chief rivals in the 2021 mayoral race. He also gave $50 to Stringer's 2013 comptroller campaign. Johnson reportedly left GFI in 2010, but the October 2011 donation lists Johnson's employer as "GFI Development Company."
Johnson seemed surprised when asked at a City Hall press conference Thursday about his donations while working for Big Real Estate, noting that it was more than a decade ago. Johnson denied that he was trying to buy any meetings for with his small-dollar contributions. "I was not trying to open doors with $25," he said. "I have no memory of those contributions."
The way landlords and others from the real estate industry gain influence over the political process through campaign donations has come under more scrutiny in recent years, with many left-leaning politicians declining developer dollars. Most recently, Stringer has stopped taking real estate money.
Asked if Johnson's perspective on the real estate industry has changed since he worked in it, Johnson dodged the question and explained that his pledge was about removing the appearance of any conflicts of interest.
"Given the position I'm in as speaker of the Council, and given that there are a number of projects and developments that come through this body, it would not be tenable for me, for the next two years in running for mayor, potentially, to take money from developers, when we are the final arbiter," he said. "That is the line in the sand that I drew."
Johnson previously took donations from real estate developers. The industry made up some $63,000 of his $506,000 haul in 2017, when he was reelected to the Council, according to Crain's New York. But Johnson has made passing up real estate money a major part of his 2021 campaign – it's essentially the only thing on his campaign website. In addition to not taking money from developers, Johnson has also pledged to decline donations from corporate political action committees and employees of lobbying firms. He's also limiting all donations to $250, despite the New York City Campaign Finance Board allowing donations of up to $2,000. Johnson's policy has gotten a lot of attention from the press, though many of the articles about his pledge don't mention his past work for a developer. 
Johnson's self-imposed limits haven't seemed to hurt his ability to raise money. He brought in $329,000 in the last six months, outraising both Stringer and Bronx Borough President Ruben Diaz Jr., another top mayoral contender.