New York State
An anti-Semitic attack in Rockland County and bail reform goes into effect
Rounding up the week's political news.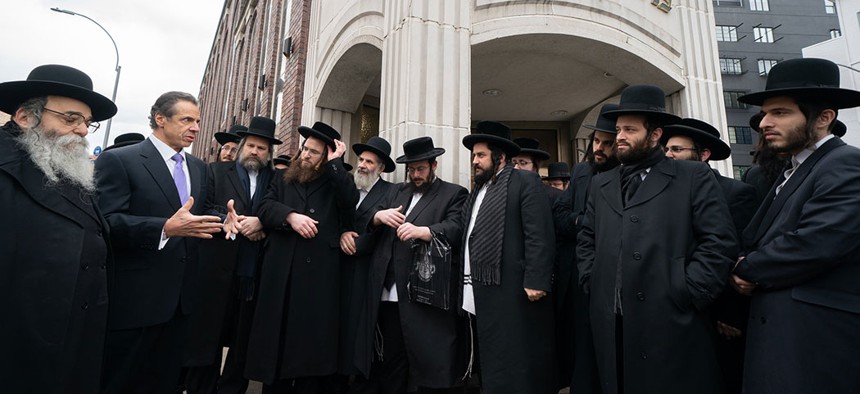 The past week ushered in not just a new year, but a new decade. The 2010s were an interesting time in New York City and state politics. Anthony Weiner was the front-runner for New York City mayor in 2013, and by 2016, he was already one of the biggest losers of City & State's first decade. If New York lives up to its reputation, the next 10 years in local politics will surely take some unexpected turns.
First though, a look back not at the past decade, but the past week in the news.
Anti-Semitic attack in Rockland County
On Dec. 29, a man wielding a machete burst into a Hanukkah celebration at the Rockland County home of a rabbi and injured five people, including one man who remains in critical condition. The suspected attacker was quickly arrested and charged with attempted murder, a hate crime and several other crimes. The stabbing capped off a week that had already been marred by numerous anti-Semitic incidents in New York City. Following the stabbing attack, several Jewish lawmakers asked Gov. Andrew Cuomo to declare a state of emergency, which he has not done yet. New York City Mayor Bill de Blasio announced new efforts to combat anti-Semitism in Brooklyn. New York's congressional delegation also called for new federal funding for security at synagogues and other Jewish institutions.
Bail reform goes into effect
The new year ushered in changes to New York's bail laws, eliminating cash bail for many misdemeanors and nonviolent felonies. Even before the Rockland County stabbing and other anti-Semitic attacks, Republicans offered grave warnings about the unintended consequences of eliminating cash bail in these cases. New York City Councilman Joseph Borelli pointed to an accused bank robber being released without bail as an example of the law's failure. The uptick in anti-Semitic hate crimes over the past two weeks led Assemblyman Simcha Eichenstein to introduce legislation to make hate crimes eligible for bail. It also prompted de Blasio, who already had reservations about the bail reforms, to say that the new law needed some fine-tuning.
Brian Kolb arrested, vacates leadership post
Assembly Minority Leader Brian Kolb was arrested for allegedly drinking and driving after crashing his state-owned SUV in a ditch on New Year's Eve. On Friday, Kolb stepped down from the leadership post that he had held for 10 years, saying in a statement that he would not let his "personal challenges" distract from the conference's goals. In an ironic, classic New York politics twist, Kolb had written a column just a week before his arrest warning against impaired driving and advising his constituents to drink responsibly over the holidays. He was charged with driving while intoxicated, a misdemeanor, which sparked another debate on the new bail reform laws.
Cuomo approves and rejects last-minute bills
Although the legislative session ended in June, Gov. Andrew Cuomo spent the end of 2019 putting his signature, or veto stamp, on some of the more than 900 bills the state Legislature passed last year. He vetoed a bill meant to protect employees from wage theft and another meant to lower barriers to medication used for opioid use disorder for those on Medicaid. He also declined to take action on a bill that would have eliminated the tipped minimum wage for the majority of workers subject to it. Cuomo did direct the state Department of Labor to phase out the tipped minimum wage by the end of 2020 for car wash workers and hairdressers, although restaurant workers were explicitly left out of the order. An addition to his vetoes, Cuomo also approved several bills, including one authorizing the design-build contracting method for New York City agencies. The process saves time and money by combining an infrastructure project's design and construction into one contract.
Queens borough president race takes shape
The race to replace former Queens Borough President Melinda Katz began to shift into full gear during the past week. It started when New York City Councilman Donovan Richards got the backing of the Queens Democratic Party in the upcoming nonpartisan special election. Assemblywoman Alicia Hyndman also dropped out of the race, bringing the number of candidates down to five. New York City Councilman Jimmy Van Bramer received the endorsement of Public Advocate Jumaane Williams, bolstering his progressive image. And with Katz officially out of office on Jan. 1, when she began her new gig as Queens district attorney, de Blasio declared that the special election will be held on March 24.
Update: Around the time of publication, former Queens Assistant District Attorney James Quinn announced his run for Queens borough president. He is the sixth candidate in the race.