Barclay the early front-runner to be next Assembly minority leader
The resignation of longtime Minority Leader Brian Kolb means change is inevitable for the GOP Assembly conference – and Republicans appear to be deciding that upstate Assemblyman William Barclay is the right lawmaker to lead them into a new era.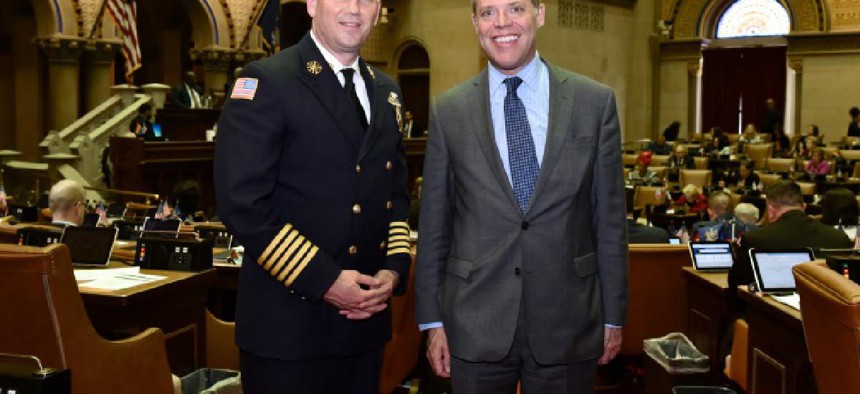 The resignation of longtime Minority Leader Brian Kolb means change is inevitable for the GOP Assembly conference – and Republicans appear to be favoring upstate Assemblyman William Barclay as the lawmaker to lead them into a new era. 
Kolb announced on Jan. 3 that he was stepping down as leader of the conference he has led for the past decade, following a New Year's Eve arrest for drunk driving. Though Republicans will likely not choose a new leader until shortly before the Assembly meets for the first time this year on Jan. 8, Barclay has emerged in the leadership vacuum that has opened up as the front-runner to replace him. He has been working the phones over the weekend, and a half-dozen GOP insiders have told City & State that he's the candidate to beat, although at least one additional lawmaker, four-term Assemblyman David DiPietro, confirmed Saturday that he is also in the running.
Barclay had already locking up support from a number of GOP members as of midday Saturday – including Kolb, who told City & State that he would "absolutely" support Barclay taking over as leader. "I talked to (Barclay) at length this morning," said Assemblyman John Salka of Central New York. "Will is going to be a good leader for for the conference." 
Other candidates have been mentioned for the position, such as Minority Leader Pro Tempore Andy Goodell, but Salka said no other candidates besides Barclay have reached out yet. Goodell told City & State that he is not interested in becoming minority leader but has not yet decided who to support to replace Kolb, though Goodell did say that Barclay is a good candidate.
A nine-term legislator with experience as the ranking Republican on the Assembly Ways and Means Committee, Barclay has had a prominent position in the conference in recent years. Assemblyman Colin Schmitt of the Hudson Valley said that he was getting behind Barclay in part because of the help he has provided in securing funding to deal with toxic water pollution in New Windsor. "Will has been there for me and the district when I bring up priorities, funding priorities," Schmitt said. "If it's a legislative priority and you go and lay it on the table to him, he has unique perspectives of how to get it to a positive resolution." 
While Barclay confirmed that he is in the running for leader, he declined to state how many individual members have promised him support. 
Either Barclay or DiPietro would offer Republicans a seasoned hand to take over a conference that has suffered an unexpected political embarrassment in recent days. Not only was Kolb arrested a week after penning an op-ed urging others to avoid drunk driving over New Year's, he did so in a state-issued SUV. Doing this at a time when Republicans have been issuing nonstop criticism of newly-enacted criminal justice reforms only made it more difficult for Kolb to stay on as leader – though he was initially expected to try to make his case to fellow Republicans. "I don't think there's a movement to push for his resignation," Barclay told the Syracuse Post-Standard on Jan. 2. "I think we want to give him a chance to present his story when we're back in session next week."
In the end, Kolb would not get that chance as Republican members expressed their desire for him to step aside, although he will continue to represent his district in the chamber. His departure from leadership offers Republicans a chance to shake up a minority conference that has struggled to exert political influence against a Democratic supermajority. "I feel we need to go in a little more dynamic direction," DiPietro said. "I think we need to get our message out better than we have." 
While Barclay appears to have the edge to become minority leader, some Assembly Republicans have expressed opposition. "I think (Barclay is) a terrible choice," said GOP Assemblyman Kieran Michael Lalor of the Hudson Valley. "That would be a difference without a distinction … Will Barclay has been in charge of the reelection committee for the Assembly Republicans for as long as I've been there, seven years – no success there." The fact that Barclay also has a state-issued vehicle undermines the argument that he would represent a significant break from the past for a party that has tried to cast itself as the fiscally conservative alternative to the Democrats, according to Lalor. 
With a few days to go until the legislative session begins on Jan. 8, it remains to be seen who else might compete for the role of leading the minority conference. Lalor was the first member to call for Kolb's resignation, but has said that he is not interested in the position. Goodell wants to stay on in his current position as GOP floor leader, and has counted himself out.
Whoever ends up becoming the new leader will inevitably bring some level of change to a legislative conference that had the longest-serving leader in the state Legislature until Kolb announced his resignation on Jan. 3. Though things could still change in the coming days, it appears at this point that the race is Barclay's to lose despite facing at least one other rival. "I fully expect that he will replace him," Schmitt said. "I'm certainly looking forward to his leadership. I think there will be a fresh direction for the conference and I'm quite excited to see that happen."