Andrew Cuomo
Can Cuomo's budget co-opt his critics?
Gov. Andrew adopted his critics' cause on health care, education and bail while building his progressive brand.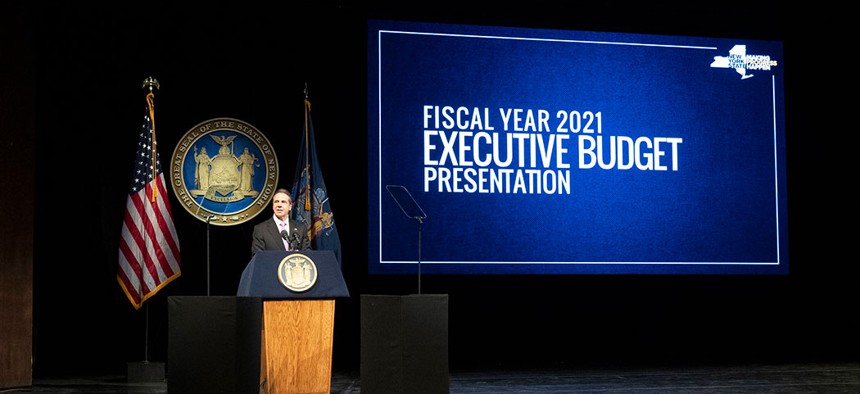 Earlier this month, Gov. Andrew Cuomo suggested in his State of the State address that he would close a $6 billion budget gap that is driven largely by Medicaid spending by shifting costs to local governments – and the fears of local officials, lawmakers and activists were only heightened in the subsequent days about what other tactics the governor might use to balance the state's spending plan. 
Yet the $178.6 billion budget proposal that Cuomo delivered on Tuesday contains some major provisions that, in some ways, come as no surprise. A new Medicaid Redesign Team is tasked with finding $2.5 billion in savings by the budget deadline of April 1. Another $2 billion in savings is being sought through funding reductions to local assistance programs and state agencies. Revising projected tax receipts is helping to move the state $2 billion more out of the hole – not least because tax revenue in recent months has exceeded projections by about $1.3 billion.
At first glance, Cuomo's spending plan appears to mark a retreat by the governor on hot-button issues like Medicaid funding, education and bail reform. But his political maneuvering in addressing the budget deficit also serves one of the greatest purposes of all for the three-term governor: demonstrating not only that he can get things done, but that he, a left-of-center liberal, is the real progressive in the state Capitol.
Though Democratic lawmakers and Cuomo have been at odds at times, his budget address made efforts at comity. "We are in this business to make friends not enemies," he said. "We are also in this business to make change. And we had the guts to do it on the criminal justice system and bail reform. And we had the guts to do it on health care. We need the guts to do it on education." On those three big issues, Cuomo also sees a larger ideological debate over what progressivism means in New York politics in 2020. "Those are the three fundamental systems, they track the national dialogue," he told City & State in an interview following the budget address.
Many define the term "progressive" by how far to the left someone is on the political spectrum. The governor sees it more in practical terms, as a state of getting things done – literally making progress. "It's less the spectrum, more the fundamental definition," Cuomo added.
That emphasis on pragmatism was on display on Tuesday with Cuomo's announcement that he would abide by a longstanding agreement for the state to cover localities' share of Medicaid cost increases that have accumulated in recent years. He proposed a $826 million increase in funding for public schools while aligning with lawmakers who have been calling on him to overhaul of the state's longstanding funding formula. Cuomo said that the state's newly implemented bail reform law – an issue he avoided in his State of the State – should be amended. But the details of each of these proposals show that the governor is not only emphasizing collaboration, but co-opting the messaging of his critics to promote his personal brand of progressive politics.
On health care spending, a revived Medicaid Redesign Team – chaired by Northwell Health President Michael Dowling and Dennis Rivera, the former leader of 1199SEIU – is tasked with finding $2.5 billion in savings with a few parameters that include avoiding cuts to beneficiaries and local governments. Municipalities, however, could face a new incentive to keep costs from increasing under Cuomo's proposed budget. "You have to manage the program and it can't go above 3% growth," Cuomo said. "If it goes above 3%, the local government pays." So while Cuomo is not scrapping the existing deal between the state and localities on Medicaid, he is adding a new clause that limits how much of the funding increases the state will take up moving forward.
Following months of criticism over the governor's budgetary sleight of hand that shifted in Medicaid costs from one fiscal year into the next, the Medicaid task force will also scrutinize long-term factors driving Medicaid spending increases that have been more than double the 3% limit that Cuomo wants. "Localities have a limited ability to control Medicaid spending," said Andrew Rein, president of the Citizens Budget Commission. "There is real money there but they don't have a lion's share of control. It is more policy-driven than administrative driven, (but) localities having skin in the game is reasonable." 
Rather than facing an outcry for transferring billions of dollars in Medicaid costs on local governments – a scenario that appeared likely earlier this month – Cuomo devised a way to make local governments play ball according to the rules he set to address health care spending in a structural way. "Counties stand ready to work with a Medicaid Redesign Team to assist the state with reforming its Medicaid Program," John Marren, president of the New York State Association of Counties, said in response to the proposed budget.
As with Medicaid, Cuomo is looking to resolve another thorny political issue – education – by adopting proposed funding changes lawmakers have advocated in recent months. Democratic state lawmakers say they want to change the funding formula for Foundation Aid, which is the main way that the state funds public schools. While Cuomo is proposing $826 million in new education spending this year, lawmakers have been pushing for $2 billion that they claim is owed to schools across the state following a 2006 state court decision in the case of Campaign for Fiscal Equity v State of New York. 
The details of the case are complicated, but at the heart of the governor's position is the belief that total education spending is not the issue. The problem is the discrepancy in per-pupil spending between school districts, some of whom are supported by more robust local property tax bases. More than 80% of the proposed $826 million increase will go to "high needs" districts, according to the governor, though the total 3% increase in total education spending means that $200 million in savings would come at the expense of increases to other "low needs" districts. 
The governor has emphasized this approach to "equity" in recent years. What is different this time around is that he is calling for changes to the Foundation Aid formula – which lawmakers say has never been fully funded – and the decades-old "shares agreement" among lawmakers that directs 38% of school funding to New York City, 13% to Long Island and the rest to upstate and New York City's northern suburbs. 
Lawmakers say that Foundation Aid, whatever its faults, is the right place to start addressing inequities in public education. The frame of debate in upcoming budget talks, however, will nonetheless move toward Cuomo and his newly announced effort to focus on the shares agreement. "That is the governing formula," the governor said. "That's how it works" – and what he said he wants to change.
Then there is bail. There has been a frenzy of criticism since the new criminal justice reforms took effect Jan. 1. Some criminal defendants allegedly committed additional crimes after avoiding jail pre-trial without posting bail. Polling by Siena College this week shows that public opinion has noticeably shifted away from the large majority that had favored the bail reform included in last year's state budget. "Reform is an ongoing process," Cuomo said on Tuesday. "It's not that you reform a system once and then you walk away."