New York City
Cuomo's 2020 agenda and bail reform brouhaha
Rounding up the week's political news.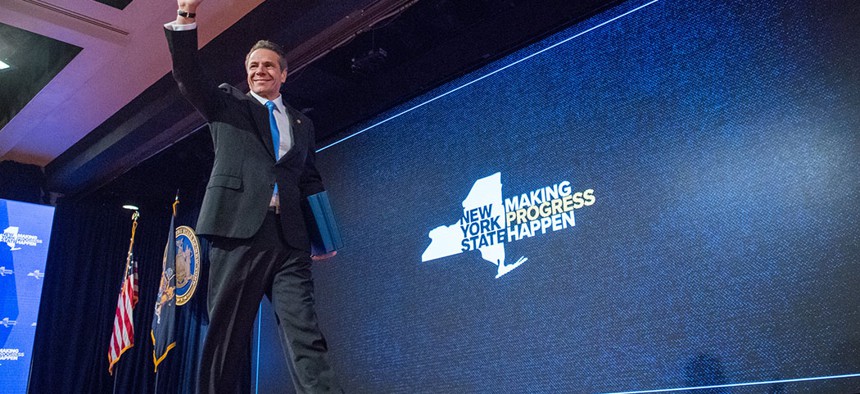 Who needs data when you have "common sense"? New York City Mayor Bill de Blasio seems to think he knows better than all those NYPD numbers when it comes to electric bikes. An analysis of the data showed that e-bike accidents constitute a miniscule fraction of pedestrian injuries on city streets. "I keep coming back with something that is bluntly in my view, better than data. It is common sense," the mayor insisted. "I have seen them with my own eyes as have so many people I've talked to all over the city."
For more of this week's headlines – and the actual facts – read on.
Cuomo's 2020 agenda
Gov. Andrew Cuomo delivered his annual State of the State address on Wednesday, where he laid out his priorities for the rest of the year. It was heavy on policy proposals new and old, but light on how the state will close a $6.1 billion budget gap rooted in Medicaid spending. The governor only mentioned the deficit once, seemingly placing the blame on localities for how they run their Medicaid programs. But other than that, Cuomo laid out a bright 2020 for progressives and promised to get a slew of legislation passed, from recreational marijuana legalization to a statewide ban on Styrofoam. He also proposed statewide paid sick leave, a $3 billion bond issuance to fund environmental conservation and banning sex offenders from riding the New York City subway.
Barclay succeeds Kolb
After Assemblyman Brian Kolb stepped aside as minority leader following his arrest for allegedly driving his car into a ditch while drunk on New Year's Eve, his fellow Republicans chose a new leader: William Barclay. Kolb left the post open right as lawmakers were preparing to head back to Albany. So the day before the start of the legislative session, Assembly Republicans sat down and made sure their conference had someone in charge. They decided on Barclay, the former deputy minority leader, to fill the role. It's an abrupt change after more than 10 years with Kolb at the helm. Barclay said that a week ago, he would have never expected to be where he is today.
Bail reform brouhaha
Several top Democratic leaders opened the door to making changes to the state's new bail reform law, which has come under scrutiny in the wake of a string of anti-Semitic attacks. Cuomo said that the law is a "work in progress," while state Attorney General Letitia James called on legislators to revise the law. State Senate Majority Leader Andrea Stewart-Cousins didn't go quite as far, but in a notable shift, she opened the door to revisiting and potentially revising the law, which eliminated bail in some cases. She later said that her conference is aware the law may need some "tweaks." Assembly Speaker Carl Heastie, on the other hand, said that he had no intention of changing bail or any other criminal justice reform approved last year. He even allegedly disinvited New York City Mayor Bill de Blasio from a State of the State reception because de Blasio had called for more judicial discretion. Heastie denied that allegation.
The Long Island Two?
Republican state Sen. Kenneth LaValle announced that he won't seek reelection, bringing the elder statesman's 44 years in Albany to a close at the end of the year. LaValle's retirement opens up one of just three remaining GOP state Senate seats on Long Island, where the party used to have a stronghold referred to the Long Island Nine. Republicans lost two seats and became the Long Island Seven in 2016. Then in 2018, Democrats won four more seats, unofficially becoming the Long Island Six. Several Democrats had previously announced runs against LaValle, and no Republican has publicly expressed interest in the seat or been tapped as a successor.
Powered By
NEXT STORY: Cuomo's poster, annotated