New York City
Impeachment trial gets rolling and limo safety bills approved
Rounding up the week's political news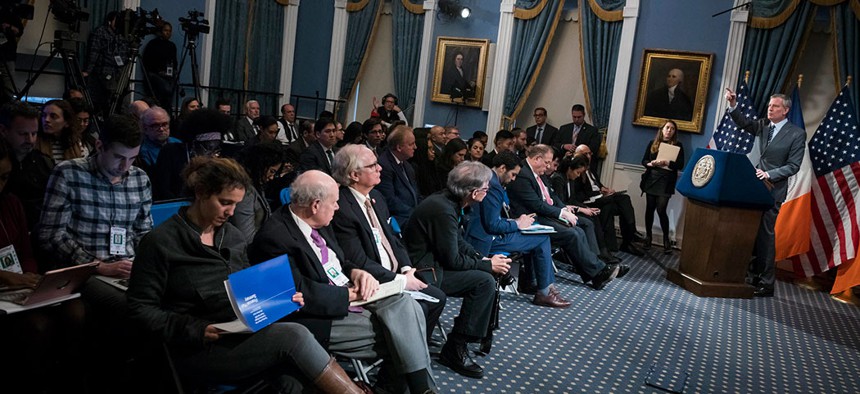 For several hours on National Bagel Day, New York City Mayor Bill de Blasio found himself embroiled in a baked goods scandal. Bagelgate began when the mayor tweeted that his favorite bagel shop in the city is Park Slope's Bagel Hole, and that his go-to order is whole wheat, toasted with cream cheese. The toasted comment raised some eyebrows among bagel purists, but then came the real rub: it was revealed that Bagel Hole doesn't even have a toaster! De Blasio promptly deleted his tweet and replaced it with an identical one that excluded the word "toasted." De Blasio later tried to play off the mistake with a joke, saying he had a "hole in (his) memory." But the people don't want quippy puns, the people want the warm, chewy truth. For all other nonbagel-related news of the week, keep reading.
De Blasio presents his budget
New York City Mayor Bill de Blasio proposed his $95.3 billion preliminary budget, only about 2.7% more than he proposed last year. That represents the smallest percentage year-to-year increase in a preliminary budget since de Blasio took office. Although Gov. Andrew Cuomo has not presented his executive budget yet, de Blasio said he was keeping in mind likely cuts from Albany in light of the $6.1 billion shortfall the state faces. It was also the reason that major spending proposals were also absent from the mayor's presentation.
Impeachment trial gets rolling
The U.S. Senate impeachment trial of President Donald Trump has officially begun. House Speaker Nancy Pelosi appointed seven impeachment managers who will act as prosecutors during the trial, laying out the case to remove Trump from office. They include New York's own Reps. Jerrold Nadler and Hakeem Jeffries. The House voted to approve the impeachment managers and to send two articles of impeachment to the Senate on Wednesday, setting into motion a series of ceremonial formalities before the trial gets underway. It began with the impeachment managers physically delivering the articles to the Senate, followed by Chief Justice John Roberts swearing in each senator on Thursday.
State Legislature gives green light to limo safety bills
Keeping a promise from last session, the state Legislature has approved a package of 10 limousine safety bills. The state Senate passed them shortly before the end of the session last year, but they didn't make it through the Assembly. Now, shortly after the 2020 session began, both chambers of the state Legislature and Gov. Andrew Cuomo reached an agreement on the bills. The package has passed in both the Assembly and the state Senate, and is now awaiting Cuomo's expected signature. The new regulations will include seat belt requirements, new penalties for illegal U-turns and special licenses for limo drivers. The legislation is largely in response to an upstate limousine crash in October 2018 that killed 20 people.
The Brooklyn Democrats get a new boss
It's a time of change at the Brooklyn Democratic Party as Frank Seddio, who has led it for the past seven years, announced that he is stepping down as chairman. His hand-picked successor, Assemblywoman Rodneyse Bichotte, faces no opposition in the race to replace him and is expected to get the committee's rubber stamp on Monday. Seddio attempted to make headway with reformers in the party during his tenure, a departure from his scandal-scarred predecessor Vito Lopez. But he is hardly leaving with the best reputation. The cash reserves of the party have drastically decreased under Seddio's leadership, as has the county organization's power. He also had a penchant for remaining loyal to Democrats facing widespread criticism.
Tish James investigates the NYPD
State Attorney General Letitia James has opened an investigation into the New York City Police Department to determine whether its officers are biased in enforcing fare evasion in the subways. A spokesperson for the department said that all officers enforce every law "fairly and equally without consideration of race or ethnicity." The announcement from James comes several weeks after several NYPD officers alleged in a federal lawsuit that their commanding officer instructed them prioritize black and Latino turnstile hoppers.
Flavored e-cigarette ban overturned
A state Supreme Court justice ruled in favor of the vaping industry and overturned Cuomo's administrative ban on flavored e-cigarettes. The decision comes after a previous ruling that temporarily stopped the ban from taking effect. It also follows a partial ban imposed by the federal government earlier this year. Despite the setback, state lawmakers are still trying to end the sale of flavored vaping liquids through legislation. A group of legislators called on their colleagues to quickly pass bills that would ban all flavored tobacco products, including menthol cigarettes.
Powered By
NEXT STORY: Assembly primary challengers who are raising big money