Education
Richard Carranza's rough new year
New York City schools have been making news for the wrong reasons.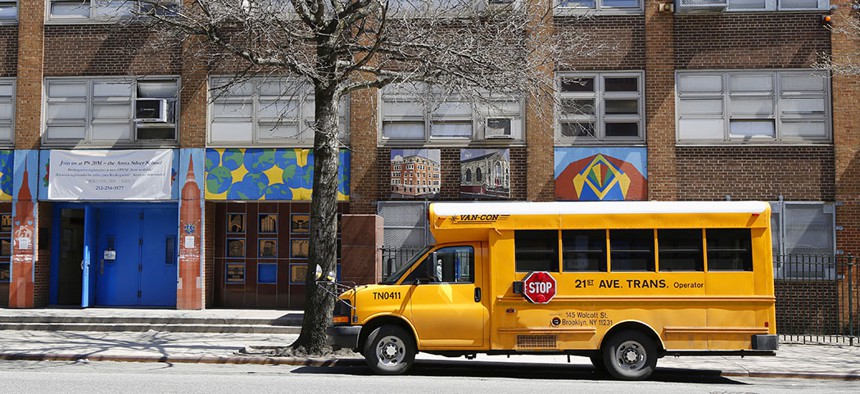 New York City schools have always been controversial, and current schools Chancellor Richard Carranza has been especially prone to provoking criticism. But there's been a lot happening with the city's public schools in recent days and weeks for New Yorkers to wrap their heads around, from a raucous town hall to a federal investigation.
Here's what you should know.
A contentious Queens town hall
Carranza held a town hall in the Bayside neighborhood of Queens on Jan. 16, in part to address safety concerns of parents following reports of sexual and physical violence. A student at Queens middle school M.S. 158 had alleged that a fellow student sexually harassed her for months at the beginning of the school year in 2019, before he assaulted her in November. Another report alleged that the school did nothing following the alleged sexual assault of a male student by a classmate. A video also emerged of a lunchroom fight at M.S. 158 that school staff apparently failed to break up earlier this month. Queens lawmakers, from City Council to Congress, had sent a letter to the Department of Education on Jan. 15, demanding answers for what they considered a lack of appropriate leadership in response to the reports.
Carranza cut that public meeting short and left abruptly after the parent of the girl who made the sexual assault allegation questioned him about the alleged sexual assault of his daughter at M.S. 158, a Queens middle school. The town hall began with pre-approved questions, but it quickly turned unruly as attendees began shouting from the audience. 
Adriana Aviles, who is president of Community Education Council 26, which is like a local school board and organized the event, tweeted afterwards that the town hall was shut down "because of disruptions from those that were not a part of our community," an apparent reference to protesters who oppose Carranza's desire to eliminate the entrance test for the city's specialized high schools. Carranza stood by that assessment in public comments more than a week after the town hall. He said that "agitators" from outside the school district had been "brought in in vans" to disrupt the meeting. Carranza called the meeting a "setup," and dismissed many of his critics as racist. He added that he has spoken with both parents and officials about the reported assaults. 
Town halls that Carranza attend can often get rowdy – he has many detractors who oppose his specialized high school integration plans and voice their opinions at the public events. NY1 education reporter Jillian Jorgensen has suggested that Carranza lumped the critics from the Queens town hall – who were focused on safety at one specific school – with his louder, more persistent critics, who oppose his desire to eliminate the specialized high school admittance test to help diversify the city's specialized high schools.
Community Schools have limited success
As the Queens controversy continues, the Rand Corporation released a city-funded analysis of the Community Schools initiative, which provides schools in high-poverty areas with extra funding for social services like mental-health counseling and food pantries. Rand found that the $200 million per year program reduced absenteeism and increased graduation rates at participating schools. But the study also concluded that the initiative had no significant impact on state test scores for reading, and only minimal improvement in state math scores. Still, both Carranza and New York City Mayor Bill de Blasio hailed the results of the report and declared Community Schools a resounding success. 
A federal probe of city schools
The F.B.I has reportedly begun investigating academic fraud at public schools in the city, like encouraging students to cheat on exams and changing test scores. City Councilman Robert Holden said he met with federal investigators after previously calling for an investigation. He said the meeting was a positive one and that he handed over evidence he had of fraud at a high school in his district. However, a spokesperson for de Blasio said that city has not yet received official notice of a federal investigation.