Andrew Cuomo
Takeaways from Cuomo's 2020 State of the State
The governor called for a tax cut, recreational marijuana, paid sick leave and more.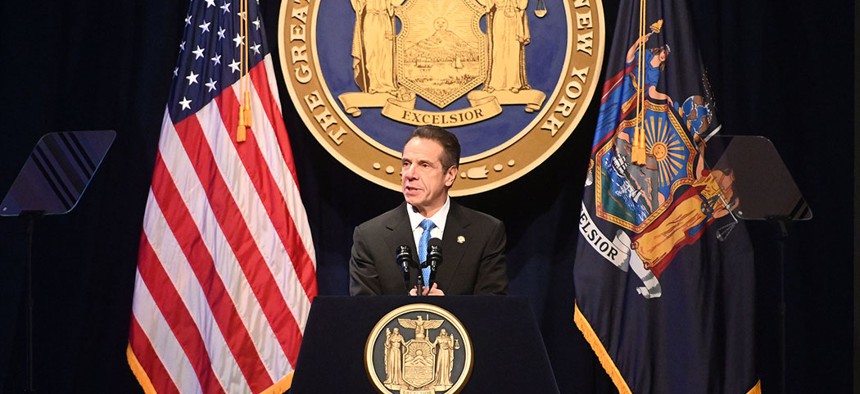 Sometime after the interminable introductions of the state's political power players and before his parting message ("Excelsior!"), Gov. Andrew Cuomo delivered his 2020 State of the State Address. Cuomo had already previewed some 34 policy proposals before the speech, but he saved some big news for the Wednesday afternoon address in Albany. Here are five of the highlights. 
Where's the money?
Cuomo separated his State of the State address and executive budget rollout for the first time in years, meaning Albany observers don't yet have the full picture of how Cuomo's proposals would affect the state's finances. That's likely a calculated move, since the state is facing a $6.1 billion deficit. While Assembly Speaker Carl Heastie, a fellow Democrat, has expressed an openness to raising taxes, Cuomo used the speech to brag that he has never raised taxes – and in fact he called to cut the tax rate on small businesses from 6.5% to 4%. The governor also mentioned lowering the tax rate for those making less than $300,000, but that seems to just be the continued phase-in of tax cuts passed in 2016.
But Cuomo did propose one clear way to save money: redesigning how the state administers Medicaid and getting local governments to pay more towards the system. The state had been covering cost increases, even though municipalities, including New York City, administer Medicaid to their residents, Cuomo said on Wednesday. But that could change. "You can't separate administration from accountability," Cuomo argued. "It is too easy to write a check when you don't sign it."
Marijuana, take 2
When Democrats took full control of the state government last year, the state Legislature legalizing recreational marijuana use seemed inevitable. But it never happened, in part due to a standoff over ensuring that minority communities benefit from the potential windfall. This year, Cuomo is endorsing legalization once again. But now, he plans to work in concert with New Jersey, Connecticut and Pennsylvania. Those three neighboring states haven't legalized marijuana, and Cuomo met with their governors late last year for a "weed summit." The governor also called for the creation of a new state center to study cannabis risks, saying that "there is a dearth of independent research on the science, the safety risks, and the dangers/benefits associated with its potential use."
Five days off – or more
New York City guarantees workers five days of paid sick leave, but employees outside the five boroughs aren't so lucky. Cuomo proposed changing that, requiring businesses with less than 100 employees to give workers at least five sick days, and making larger companies guarantee at least seven sick days. The business community will be expected to push back, just as opponents of New York City Mayor Bill de Blasio's paid personal time proposal have been able to hold it off for a year. 
Automatic voter registration, take 2
Election reforms have been among the most contentious topics among Cuomo and his critics on the left (just look at the hubbub around fusion voting). Automatic voter registration, which could greatly increase election day turnout, failed to pass in the waning days of the 2019 session due to a drafting error. Cuomo has given AVR his support once again, but lawmakers may have to move quickly if they want any changes to take effect in time for the elections this year. 
Restoring "Mother Nature"
As if New York voters didn't already have enough excitement on the ballot in November 2020, Cuomo previewed a ballot proposal he'd like to see. Dubbed the "Restore Mother Nature Bond Act," it would raise $3 billion for habitat restoration and flood reduction projects. Cuomo, a proud fisherman, also wants some of that money to go towards fish hatcheries to help make New York "the top state for recreational fishing."
Stay off the subways
Cuomo left unmentioned one of the hottest topics of the political moment – whether last year's law severely reducing the use of cash bail should be altered. But that doesn't mean he avoided talking about crime. Referencing a recent trend of anti-Semitic hate crimes, the governor proposed the "New York Hate Crime Anti-Terrorism Act," which would create a new felony charge of "domestic act of terrorism motivated by hate," punishable by life in prison without parole. 
Cuomo also endorsed a proposal that's been rumbling around the city for some months: banning serial sexual harassers from the subway. "Subway cars should not be feeding grounds for predators," Cuomo said Wednesday. But critics have called such a plan "both infeasible and misguided," no matter how well-intentioned.
Powered By
NEXT STORY: Murder rose by 8% in NYC in 2019