Albany
The GOP's lucky breaks in Albany in early 2020
Republicans are finding some political openings at the start of the state legislative session.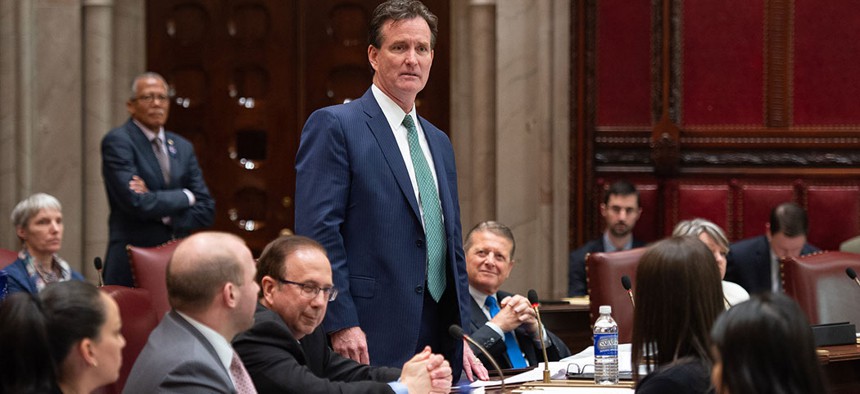 Republicans are at a major disadvantage when it comes to asserting any influence over state politics. But as the second week of the 2020 state legislative session comes to an end, GOP lawmakers are seeing some glimmers of hope that they can remain relevant despite their minority status in both houses of the state Legislature. A progressive bail reform law and $6 billion budget deficit are offering new opportunities to attack the Democrats – and even when Republicans were confronted with a New Year's Eve leadership scandal in the Assembly, they dealt with it quickly and decisively. 
In many ways, recent events have positioned the minority party to double down on classic talking points. GOP lawmakers say the new criminal justice reforms show the Democrats are too soft on crime. A $6 billion budget deficit allows Republican lawmakers to claim they are the party of fiscal responsibility, without the burden of solving with the problem. Voting reforms are letting them take a swipe at immigrants through spurious claims by some Republicans of a Democratic-led effort to encourage voter fraud. And Assemblyman Brian Kolb's resignation as minority leader has even given Republicans a chance to show they are sticking by their long-running emphasis on individual responsibility. These arguments hold up to scrutiny to varying degrees, but they have helped the GOP gain some political traction before a 2020 election where Democrats are looking to increase their dominance over the state Legislature.
"It's made many of us optimistic about gains this year," said one GOP legislative staffer. "The pendulum is swinging back in our direction, slowly." Republicans still have a long way to go before they can think seriously about recapturing the state Senate – but they are in a much better political spot than just weeks ago. 
The year began with a political embarrassment for Republicans when Assembly Minority Leader Brian Kolb allegedly drove a state-issued SUV into a ditch while under the influence of alcohol. But his prompt resignation from leadership before the legislative session began had a silver lining of sorts because it allowed Republicans to avoid the type of protracted fight that followed the arrest of Democratic Assembly Speaker Sheldon Silver in 2015. While the incident involving Kolb was embarrassing for Republicans, it underscored their claims that personal responsibility matters to them at a time when President Donald Trump undermines that argument at the national level. 
To be sure, Democrats have huge advantages statewide with party registration and fundraising. Yes, there is a sense that the GOP has hit rock bottom in New York. Nine Republican state senators have announced in recent months that they will not return after 2020. But the hope is that bail reform in particular can help them regain political ground in November. "There's no shortage of messages and ammunition that we have this year," said GOP consultant Jessica Proud. "This bail reform has been an unmitigated disaster and it's only getting worse by the day and I think that's the type of issue that you can win elections on." 
Both state Senate Minority Leader John Flanagan of Long Island and Assembly Minority Leader William Barclay have said in the past week that the state bail law – which officially went into effect on Jan. 1 – will be at the heart of their political messaging this year. "I want to be clear, we're going to hammer this every single day," Flanagan told reporters at the Capitol on Jan. 9. "We're going to make the point that this is what the public cares about." Polling in the past year has shown that a majority of New Yorkers have supported the new bail laws, though that could change given the success of opponents in shaping the media narrative around it. 
While some Republican lawmakers and their staffers have tried to score political points surrounding the bail policy changes, others insist they are not aiming to capitalize on tragedy. "We want to protect New Yorkers and have been working with Democratic electeds, prosecutors and law enforcement officials in our efforts to repeal or amend these laws," said state Sen. Phil Boyle, a Long Island Republican. "Even Mayor Bill de Blasio agrees with us." 
Much of the media attention around the newly-enacted bail laws has focused on examples of people being hurt by criminal defendants who were released after allegedly committing offenses like assault and robbery. A fatal hit-and-run in Rockland County on Christmas Eve is a prime example. The car that killed 35-year-old Marie Osai was driven by an undocumented man who was reportedly afraid of legal consequences because he was driving without a license. He was released early on Christmas Day. Republicans soon joined efforts to highlight what happened.
A cousin of Osai, Sheila Harris of Rockland County, told City & State that she originally reached out to Democratic state Sens. David Carlucci and James Skoufis for help in understanding the new bail law a day after the suspect was released. A spokeswoman for Carlucci said that no record of a call from Harris could be found. A staffer for Skoufis did speak with her, though the staffer misunderstood at the time whether or not Harris was trying to schedule a meeting, according to a spokeswoman. A meeting between the senator and Harris is now scheduled.
Republican Assemblyman Colin Schmitt – who unsuccessfully ran against Skoufis for an Assembly seat in 2017 – took up Harris' cause as his own by the end of the week. "An illegal alien, unlicensed to drive a car, struck and killed mother of three Rosie Osai on Christmas Eve," Schmitt said in a Jan. 27 press release. "The governor and Democrats in the state Legislature who rammed these criminal justice changes through have allowed a confessed killer to walk free." Harris said at a Jan. 15 press conference with GOP members of the Assembly that the absence of the two Democratic state senators from Osai's funeral was disappointing. "Not one of them came to (her) funeral on Saturday to say 'I'm sorry,'" she said. "Not one of them showed up at the rally to say, 'You know what? We need to reconsider this.'" 
Though the suspect was not out on bail before the incident, Republicans focused on his alleged crime and his lack of legal status as evidence that under ideal circumstances he should be in jail pre-trial, though he is officially innocent until proven guilty. "He lost that right," Harris said. "That man lost that right to enjoy anything for the rest of his life. Why should he be the one to go home and celebrate Christmas?"
The differences between supporters and opponents of cash bail come down to a fundamental philosophical difference. Opponents argue that the law puts more people at risk, while supporters say more people are able to keep their jobs and defend themselves against criminal charges while avoiding the trauma associated with incarceration. Assembly Speaker Carl Heastie and State Senate Majority Leader Andrea Stewart-Cousins have argued that more time is needed to gauge the law's effectiveness – though Stewart-Cousins has signalled she is more willing to consider changes than Heastie. Gov. Andrew Cuomo and Attorney General Letitia James have said that some changes should be made, but both have declined to give specifics. 
While the GOP has been playing offense on bail reform, Democrats have had to play defense on an issue that has divided the moderate and liberal wings of the party. Suburban state senators on Long Island and the Hudson Valley have argued that changes need to be made to the law, including designating more offenses as eligible for cash bail and granting judges more discretion to decide who should be released pretrial based on their dangerousness to the public. In the upcoming months, lawmakers may expand the types of offenses eligible for cash bail while increasing judicial discretion in deciding whether someone should be released pretrial, according to one Democratic senator. But New York City Democrats are sticking by the reforms that passed in the state budget at the beginning of April. 
The upcoming state budget may or may not include changes to the bail laws, but it will have to address the budget deficit. Cuomo has signalled that he will balance the budget without raising taxes, though the details of his financial plan are not expected to be released until next week. Whether or not Democrats are able to avoid tax hikes – Heastie has argued that he would rather do that than cut services – Republicans are likely to pounce on their path forward. "No matter how good the national economy is, New York is finding itself in a deficit," said Republican State Party Chairman Nick Langworthy. "Other states are running up surpluses and we have a hole because we provide too much, we spend too much." The deficit also reinforces the overarching theme of the GOP's political message – that Democrats are prioritizing people who break the law at the expense of other New Yorkers. 
According to Republicans, immigrant-friendly policies, like a new law that allows undocumented people to access state college tuition assistance, come at the expense of the needs of legal residents. Bail reform, they say, is letting criminals roam free at the expense of victims and public safety. Passage of legislation allowing for automatic voter registration is a "trojan horse" that will allow non-citizens to vote, according to Langworthy. "People that break the law are being put first in all the priorities of the Democratic Party," he said. "(Democrats are) going to pay a hellish price at the ballot box this November." 
Democrats have offered counter arguments to these assertions. Bail reforms are balancing the playing field between rich people, who can afford bail, and poor people who cannot. College tuition for undocumented people is just one small part of a $175 billion state budget, while the deficit is largely due to an increase in Medicaid spending that has ballooned with the support of both parties. Automatic voter registration would not lead to mass voter fraud so easily, according to Democrats. Undocumented people tend to avoid law breaking because of their status, and government officials would have to examine any paperwork submitted to government agencies like the Department of Health before they would send people's names to the Board of Elections to be registered to vote. 
While the Republicans claim they are looking out for average New Yorkers, Democrats argue that their rivals are appealing to xenophobia and other darker impulses among some voters. "Do they have a political strategy?" asked state Sen. Brad Hoylman, a Manhattan Democrat. "This sounds like a last gasp attempt at relevancy." 
Editor's note: This post has been updated to reflect the response of state Sen. James Skoufis' office to Sheila Harris.
Powered By
NEXT STORY: Reps. Nadler and Jeffries named impeachment managers