New York City
Who are the New York City Council's most prolific lawmakers?
Some lawmakers pass lots of bills, some at least try and some don't bother.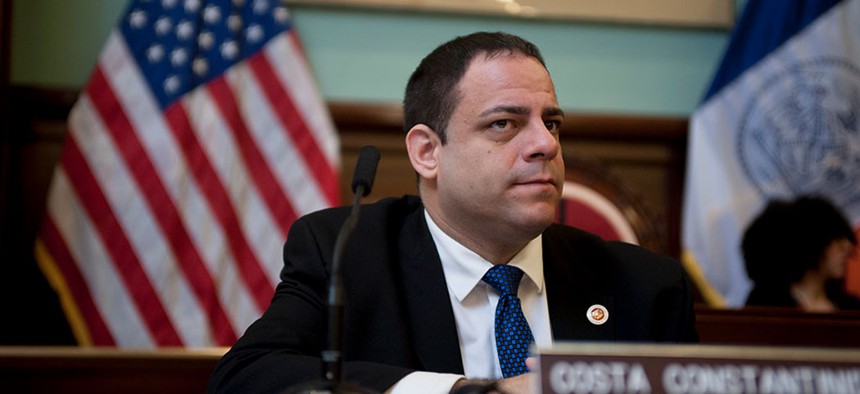 There's a reason that elected officials in the New York City Council are called lawmakers, but not all of them live up to the label.
In 2019, half a dozen council members had zero bills become law, while four lawmakers – Costa Constantinides, Daniel Dromm and Helen Rosenthal, along with City Council Speaker Corey Johnson – led the way with 11 new laws apiece.
The tally was made as part of City & State's analysis for its Best & Worst New York City Lawmakers list that was published earlier this week. We ranked each council member based on the number of new laws for which they were the first prime sponsor, from most to least. We counted bill introductions but left out resolutions, which have little impact. We included any bills signed in 2019, regardless of when they were introduced.
While bill signings signal effectiveness, we also wanted to measure effort – so we conducted the same analysis for bills introduced by lawmakers in 2019, regardless of where those measures ended up. (The full methodology is here.)
Here's how each council member stacked up against the competition.
Laws enacted
(rank, name, number of laws enacted)
Corey Johnson, 11 (tie)
Costa Constantinides, 11 (tie)
Daniel Dromm, 11 (tie)
Helen Rosenthal, 11 (tie)
Mark Levine, 10 (tie)
Mark Treyger, 10 (tie)
Alicka Ampry-Samuel, 8 (tie)
Carlina Rivera, 8 (tie)
Ben Kallos, 7 (tie)
Diana Ayala, 7 (tie)
Keith Powers, 7 (tie)
Antonio Reynoso, 6 (tie)
Laurie Cumbo, 6 (tie)
Rafael Salamanca Jr., 6 (tie)
Robert Cornegy Jr., 6 (tie)
Stephen Levin, 6 (tie)
Ydanis Rodriguez, 6 (tie)
Chaim Deutsch, 5(tie)
Fernando Cabrera, 5 (tie)
Francisco Moya, 5 (tie)
Justin Brannan, 5(tie)
Rafael Espinal Jr., 5 (tie)
Adrienne Adams, 4 (tie)
Brad Lander, 4 (tie)
Donovan Richards, 4 (tie)
I. Daneek Miller, 4 (tie)
Ritchie Torres, 4 (tie)
Deborah Rose, 3 (tie)
Joseph Borelli, 3 (tie)
Margaret Chin, 3 (tie)
Steven Matteo, 3 (tie)
Barry Grodenchik, 2 (tie)
Carlos Menchaca, 2 (tie)
Inez Barron, 2 (tie)
Mark Gjonaj, 2 (tie)
Mathieu Eugene, 2 (tie)
Peter Koo, 2 (tie)
Robert Holden, 2 (tie)
Rory Lancman, 2 (tie)
Vanessa Gibson, 2 (tie)
Andrew Cohen, 1 (tie)
Andy King, 1 (tie)
Jimmy Van Bramer, 1 (tie)
Paul Vallone, 1 (tie)
Alan Maisel, 0 (tie)
Bill Perkins, 0 (tie)
Eric Ulrich, 0 (tie)
Kalman Yeger, 0 (tie)
Karen Koslowitz, 0 (tie)
Rubén Díaz Sr., 0(tie)
Bills introduced
(rank, name, number of bills introduced)
Helen Rosenthal, 29
Mark Levine, 26
Robert Holden, 19
Diana Ayala, 18 (tie)
Donovan Richards, 18 (tie)
Joseph Borelli, 18 (tie)
Rafael Salamanca Jr., 18 (tie)
Daniel Dromm, 17
Carlina Rivera, 16 (tie)
Costa Constantinides, 16 (tie)
Paul Vallone, 16 (tie)
Stephen Levin, 16 (tie)
Alicka Ampry-Samuel, 15(tie)
Ben Kallos, 15 (tie)
Francisco Moya, 15 (tie)
Keith Powers, 14 (tie)
Ritchie Torres, 14 (tie)
Margaret Chin, 13
Adrienne Adams, 12 (tie)
Corey Johnson, 12 (tie)
Justin Brannan, 12 (tie)
Fernando Cabrera, 11 (tie)
Robert Cornegy Jr., 11 (tie)
I. Daneek Miller, 10 (tie)
Mark Treyger, 10 (tie)
Mark Gjonaj, 9 (tie)
Ydanis Rodriguez, 9 (tie)
Antonio Reynoso, 8 (tie)
Vanessa Gibson, 8 (tie)
Jimmy Van Bramer, 7 (tie)
Laurie Cumbo, 7 (tie)
Rafael Espinal Jr., 7 (tie)
Andrew Cohen, 6 (tie)
Brad Lander, 6 (tie)
Peter Koo,6 (tie)
Carlos Menchaca, 5 (tie)
Deborah Rose, 5 (tie)
Inez Barron, 5 (tie)
Steven Matteo, 5 (tie)
Eric Ulrich, 4 (tie)
Karen Koslowitz, 4 (tie)
Rory Lancman, 4 (tie)
Andy King, 3 (tie)
Chaim Deutsch, 3(tie)
Mathieu Eugene, 3 (tie)
Rubén Díaz Sr., 3(tie)
Barry Grodenchik, 2
Alan Maisel, 1 (tie)
Kalman Yeger, 1 (tie)
Bill Perkins, 0
Powered By
NEXT STORY: NYC prepares for 'inevitable' coronavirus contamination