New York City
All the times politicians called for fixing NYC's property tax system
Decades after Dinkins' commission, there's been little headway.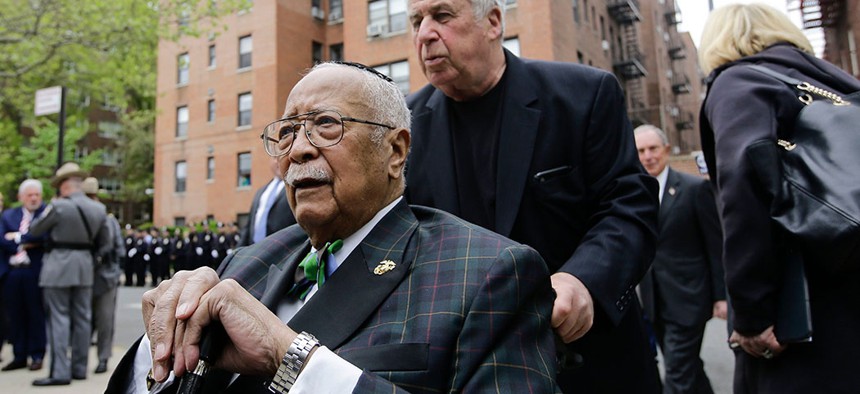 For years, politicians have criticized New York City's property tax system as unfair, outdated and overly complex. And for years, little has been done to fix it.
The current system dates back to 1981, when the state Legislature passed a law that divides property in the city into four classes: residential properties with one to three units; residential properties with more than three units; utility company equipment and special franchise property; and all other real property, such as stores, offices, and factories.
Over the years, critics have complained about wide disparities in how much property owners have to pay, both from one class to the next and from one neighborhood to the next. 
Many officials have vowed to reform the system over the years, but have stalled or run into political opposition. Complicating things is that any major changes would have to be approved in Albany. While the de Blasio administration and the New York City Council are optimistic that a new report will pave the way for real changes, a top City Hall official last year warned that time may be running out – although she quickly reversed herself. 
Here's a history of the times key elected officials called for reforms – with little success.
1993: New York City Mayor David Dinkins established the New York City Real Property Tax Reform Commission, which found that the property tax system was inherently unfair and benefitted people with higher incomes. The report concluded that "he property tax in New York City not only appears unfair, it is unfair." Dinkins, however, was unable to pass any reforms since the report came out two days before he handed over the mayorship to Rudy Giuliani. Many of the report's central suggestions, like uniform residential valuation, a revised class system and relief for low income residents, are still relevant today. 
1996: Mayor Rudy Giuliani and the New York City Council endorsed the suggestion from Dinkins' Real Property Tax Reform Commission's report that would bring the tax status of co-op and condominiums more in line with that of residential properties with one to three units. Two years later, a compromise providing an abatement to apartment owners promising to narrow the gap between the two classes emerged, but it showed that helping one group would come at the expense of other groups. While it was supposed to be a two-year program, the abatement was repeatedly renewed.
April 8, 2014: Mayor Bill de Blasio appointed Jacques Jiha as finance commissioner after taking office in 2014. During a Q&A at the press conference for his appointment, Jiha stressed his commitment to reforming property taxes. "It's a major issue," he said. "We have a lot of unfairness and inequity. We think particularly some of the classes that we have in New York City … we're going to look into every aspect of … property taxes in New York to see what can be done." De Blasio reiterated Jiha's intentions. "This is a big, sprawling area of concern and we're going to look at it very closely," he said. "Part of why we wanted a finance commissioner with Jacques' experience and insight is to take a whole look at the tax system of this city and look at ways to make it clearer, more transparent and more equitable."
April 23, 2014: City Council Speaker Melissa Mark-Viverito proposed the creation of another commission, modeled to the one commissioned by Dinkins in 1993, which would examine the issues with the property tax system. "The commission on property-tax reform will spearhead changes to the city's outdated tax code and create a more equitable and transparent property-tax system to meet the demands of New York City in the 21st century," she told The Wall Street Journal. 
Feb. 26, 2016: Mark-Viverito addressed the lack of progress with property tax reform, which she said was less of a priority than criminal justice reform. "Initially I had indicated some interest in taking a look at this," she told Politico. "As with anything, you have to figure out where your priorities are, and for me, I think there can be appetite; we do have these conversations internally; there are concerns that are raised, and I think right now restructuring the whole system is not something that I have immediately on the horizon in terms of addressing." 
April 24, 2017: De Blasio defended himself during a Q&A session when asked about property tax reform and downplayed a class action lawsuit against the Department of Finance that claimed the system disproportionately affects low-income and moderate-income neighborhoods. "This would be a huge, huge effort," he said. "So, anyone who promises a quick fix is not telling the truth. This one's exceedingly thorny and it has to be navigated – you know, the pieces that can be decided administratively and legislatively at the city level, plus the pieces that have to be decided in Albany – that's a very careful balance that has to be struck."
Nov. 6, 2017: Property tax reform gained more attention asde Blasio campaigned for reelection. "We will come up with a more consistent, more transparent, more fair system," he said a day before his general election victory. "But I want to put a caveat on it. We can't reduce our revenue substantially." 
May 31, 2018: De Blasio and Council Speaker Corey Johnson announced the creation of a new advisory commission co-chaired by Vicki Been and Marc Shaw to recommend reforms to the city's property tax system. "This is an important first step towards addressing inequities in this city's broken property tax system," Johnson said. "It is crucial that we work to bring clarity and fairness to this process, which has long perplexed the public and left many feeling hoodwinked by the city government tasked with representing them. The Council looks forward to rolling up our sleeves and addressing this long-standing problem." The commission's goal was to create a simpler and fairer system and also keep revenue that funds essential city services stable. "New Yorkers need property tax reform, and this advisory commission will put us on the road to achieve it," de Blasio added.
Sept. 10, 2019: Vicki Been, the deputy mayor and co-chair of the city's property tax reform commission, suggested during a Crain's event that property tax reform would not get done under de Blasio. "I don't know that that's realistic," she said. "I think the foundation can be laid. Laying the foundation now makes it a topic that has to be front and center in the next mayoral election, and I think that's really important."
Sept. 12, 2019: Been retracted the statement she made two days prior. "Answering a question at the Crain's Business Breakfast Forum on Tuesday, I focused so much on the extraordinary challenges ahead of us when it comes to property tax reform that I left some observers with a false impression," she said. "So let me be clear: The de Blasio administration is working to reform property taxes before we leave office." 
Dec. 5, 2019: State Sen. Brian Benjamin, who represents Harlem, led a state Senate roundtable on the future of property tax late last year. He echoed much of the concerns that other city and state officials have emphasized over the last four decades. "What I have found so far as chair of this committee is that the real property tax system is confusing, it's complicated, and it's not entirely fair," he said. 
Jan. 30, 2020: The city's Advisory Commission on Property Tax Reform released its report. The report, which contains 10 recommendations, comes after months of delays. "The Commission's recommendations are the most significant reforms proposed in forty years and will bring a much needed level of fairness, transparency and simplicity to the entire system," de Blasio asserted. "I thank the Commission for its hard work tackling these issues head on and look forward to their final report." Among its suggestions are changing the assessment methods of co-ops and condos and removing caps on tax increases for small homes.