NYPD
Are NYPD officers really all 'under siege'?
The stats don't reflect a spike in violence against cops.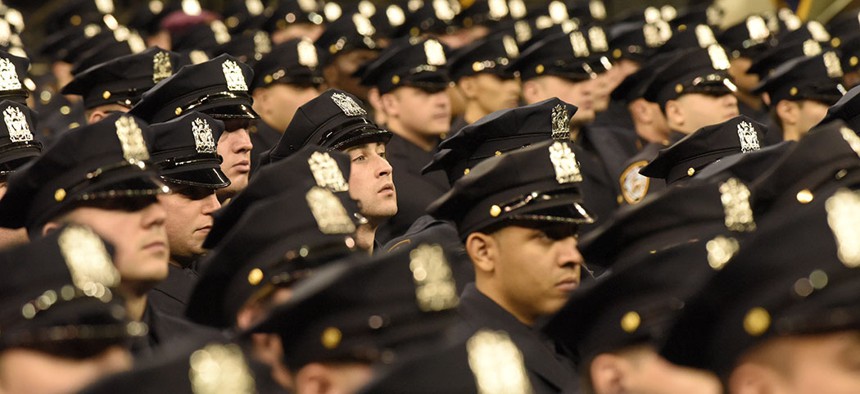 Three New York City Police Department officers were fortunate to only be wounded in two separate shootings in the Bronx earlier this month, allegedly by the same man.
The moment allowed for some introspection from NYPD Commissioner Dermot Shea.
"I am aware of the dangers you face each and every day you put on that uniform," he said in a memo sent to officers, as reported by ABC News. "We have a tough and dangerous job, I appreciate it."
Working for the NYPD has always been a relatively dangerous job. But after February's shootings, the heads of the two largest NYPD labor unions suggested that targeted attacks on police were part of the new normal.
"To our fellow police officers … be aware! This is no longer Mayberry," New York City Police Benevolent Association President Patrick Lynch said at a Feb. 10 press conference, referring to the idyllic town from "The Andy Griffith Show." "You're in danger. You need to be careful. But more importantly, we need to back each other up."
Lynch repeated his message at a Feb. 14 press conference.
"The politicians need to listen to the police officers on the street (and) the citizens saying, 'We can't stand for this.' It's getting more dangerous."
And Sergeants Benevolent Association President Ed Mullins tweeted that "NYC is under siege" and agreed with President Donald Trump's tweeted assertion that now "our wonderful NYC police are under assault."
The statistics show that the number of NYPD officers killed on the job has decreased in the past seven decades, largely being stable since the mid-1990s. And while assaults on officers have slightly increased in recent years, the number of serious injuries have gone down.
Since 1950, an average of nearly five officers per year have died while on duty. But the job has been getting progressively safer, with a clear downward trend when it comes to deaths in the line of duty. In the 1970s, an average of eight officers died each year. In the 2010s, two died per year – lower than any of the six previous decades.
These numbers were compiled using data from the Officer Down Memorial Page, a nonprofit organization tracking law enforcement deaths. NYPD spokeswoman Detective Denise Moroney directed City & State to the nonprofit when asked for official information on deaths in the line of duty, and declined a request for an interview. The Police Benevolent Association did not respond to a request for comment.
A total of 331 NYPD employees have died in the line of duty since 1950. Deaths peaked in 2001, when 23 officers died in the 9/11 terrorist attacks, but the effects are still being felt today. The nonprofit also tracked the deaths of NYPD employees from 9/11-related illnesses, and that cause of death dwarfs all others. According to the nonprofit, 206 officers have died from illnesses related to the attacks, which are separate from the 331 officers who died in the line of duty.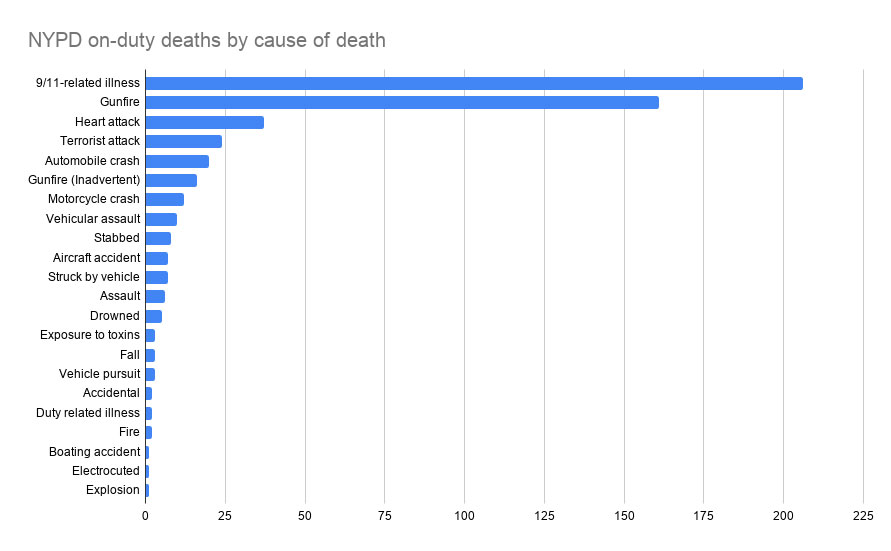 The next leading cause of death was gunfire, with 177 deaths – 16 of those considered "inadvertent." 52 deaths were attributed to vehicles in some way, with automobile and motorcycle crashes leading the way. And 37 on-duty deaths in the past 70 years have been attributed to heart attacks, with many of those occurring while officers were running after suspects.
Police work ranks 16th on the list of the country's most dangerous jobs, below professions like roofing, farming and logging. According to the U.S. Bureau of Labor Statistics, policing has 13.7 fatal injuries per year for every 100,000 workers.
But on-duty deaths can only tell us so much about the dangerousness of police work. When the NYPD police unions talk about the risks that officers face, they're more often referring to assaults on officers that don't lead to death – such as the recent shootings. The NYPD only started publicly tracking assaults on officers in 2016, so there isn't the same level of historical data. But the department's use of force reports do not suggest that policing has become significantly more dangerous for officers in the past three years. In the first nine months of 2019, the NYPD reported 3,345 injuries to officers when somebody used force against a member of the department – most of them during the course of an arrest. That was a nearly 7% increase over the first nine months of 2018, and a nearly 12% increase over the same period in 2017. However, only a very small percentage of those injuries were classified as "serious physical injuries." Serious injuries have actually decreased by more than 16% over the past three years, from 122 in the first three quarters of 2017 to 101 during the same period in 2018 and 102 in 2019.
When discussing the danger faced by officers, union officials like Lynch and Mullins seem to be focused on ambush attacks. On Feb. 8, Robert Williams is alleged to have walked up to a parked patrol van in the Bronx and shot Officer Paul Stroffolino, grazing him in the chin and neck. That shooting echoed the July 2017 ambush killing of Officer Miosotis Familia and the December 2014 murders of Officers Wenjian Liu and Rafael Ramos in Brooklyn. But when taking the whole picture of officer injuries and deaths into account, such surprise attacks are extremely rare. Out of nearly 9,500 injuries sustained by NYPD officers between 2017 and 2019, just one was classified by the department as resulting from an ambush attack. 
Historically, the number of people killed by on-duty NYPD officers is much higher than the number of officer deaths. According to an NYPD use of force report, the department's officers shot and killed 1,113 people from 1971 to 2018, or an average of 23 per year. But much like the deaths of NYPD officers, the number of people shot and killed by the NYPD has dropped significantly since the 1970s. From 2009 to 2018, an average of nine people were shot and killed each year by the department.
Withreporting by Julia Agos and Eric Holmberg