2020
Bloomberg plays defense again in second debate
Former New York City Mayor Michael Bloomberg performed somewhat better in his second presidential debate, but he was still under attack and missed some opportunities to fight back.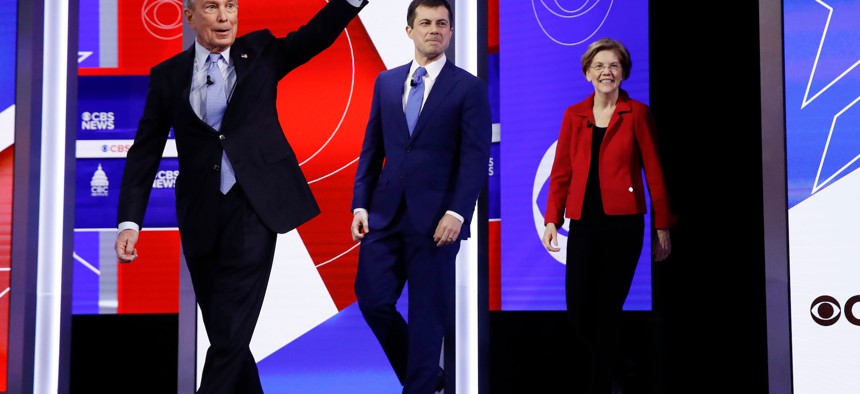 If Tuesday night's debate could be summed up in one word, it would be chaotic – and it wasn't just because Michael Bloomberg tried to make jokes. The former New York City mayor delivered a better performance compared to his first debate last week, but he once again found himself on the defense for much of the time, weathering attacks from U.S. Sen. Elizabeth Warren in particular. And he was relatively silent in the second half of the debate, meaning that while he largely avoided more criticism and potential gaffes, he also said little to stand out. Here are the biggest Bloomberg takeaways from the debate.
Bloomberg went on the attack (briefly) … 
U.S. Sen. Bernie Sanders attacked Bloomberg immediately at the start of debate for his billionaire status, and for a moment, it seemed like the former mayor was going to turn the tables this time around. Rather than defend his wealth, Bloomberg hit Sanders for new intelligence that says that Russia is trying to help the Vermont senator win the Democratic primary. But that was about as aggressive as Bloomberg got, even as he took opportunities to highlight his record as mayor and talk about topics like gun control he has strongly campaigned on.
… but was still mostly on the defensive
Like in his first debate, Bloomberg found himself once again defending his record on stop-and-frisk policing and against allegations of sexual harassment in his company. On the first front, nothing novel came out of this debate that wasn't aired the first go around, even if Bloomberg has now repeatedly been forced to confront what is arguably the biggest stain on his mayoralty. He once again claimed to have decreased its use 95%, when in fact stop-and-frisk increased greatly after he took office as mayor. And once again, he was not fact-checked on this claim on the debate stage, to his advantage.
Bloomberg's announcement that he is willing to release three former Bloomberg LP employees who accused him of some form of harassment from nondisclosure agreements was not enough to keep Warren from once again attacking him on his alleged mistreatment of women. Even as Bloomberg brought up his recent reversal, and admitted that he was "probably wrong to make the jokes" that landed him in hot water, Warren demanded more. She brought up one particularly infamous case, when Bloomberg allegedly said "kill it" to a pregnant employee in regards to her unborn child. An angry Bloomberg vehemently denied the allegation, as he has repeatedly in the past.
Warren also attacked Bloomberg for financially supporting numerous Republican candidates in the past, including her rival in her race for U.S. Senate in 2012. She asserted that he could not earn the trust of Democrats at large. In New York, Bloomberg supported Republican former Rep. Dan Donovan and Rep. Pete King as recently as the last election cycle in 2018. In defense, Bloomberg brought up the 9/11 terrorist attacks, saying, "I have been training for this job since I stepped on the pile that was still smoldering" at the World Trade Center site. Later in the debate, he mentioned the $100 million he spent to get House Democrats elected in 2018. He caught himself before saying that he "bought" those candidates, which would have been quite the Freudian slip considering accusations that he's trying to buy the 2020 election. Bloomberg also touted his ability to work across the aisle to achieve policy goals and attract moderate Republicans to vote for him, which he said candidates like Sanders can't do.
Bloomberg still makes bad jokes
Similar to his tenure as mayor, Bloomberg attempted to make several jokes, which seemed to fall flat. He quipped that he was "surprised" the other candidates showed up to the debate after he so thoroughly whooped them all last time around. Though it must have been a joke, his intonation could leave one wondering if he genuinely thought he won the previous debate. Later in the night, when answering a question about his signature anti-obesity policies, he said that what works in New York won't work everywhere, "otherwise you would have a naked cowboy in every city." This too fell flat. 
At the end of the debate, Bloomberg said the biggest misconception about him is that he's six feet tall. Of course, there are other misconceptions he could have mentioned – like the claim he made during the debate that he released his tax returns as mayor, when in fact he only allowed reporters to review heavily redacted documents for a few hours.
A mixed record on education
Interestingly, the former New York City mayor suggested that in his town, he treated teachers right. But he famously left office in 2013 without negotiating a new contract for city teachers – they were working without one since 2009. He also notably compared teachers unions to the NRA during a 2013 speech recently uncovered by Politico. However, he did raise teacher pay while in office despite the clashes. Bloomberg's comment also led to some ridicule on Twitter from observers who suggested that few teachers would back his claims.
Graduation rates did improve under his tenure, even if not all Democrats agree with his support of charter schools or his overall methods, like closing and consolidating underperforming schools and emphasizing student testing. He espoused both his support for charters when asked about them during the debate, as well as his successful track record improving city schools.
A wasted chance to shine
Bloomberg had a chance to stand out among the candidates on the stage when the debate turned to gun control, but he largely wasted the opportunity. The founder of Everytown for Gun Safety and a substantial financial supporter of the nonprofit's volunteer wing Moms Demand Action, Bloomberg has been a strong supporter of gun control and has made his efforts a big part of his campaign. Climate change, another major part of his campaign platform thanks to his philanthropic and policy efforts on the issue, never came up, so gun control was his chance to make his mark. But Bloomberg made only one short remark on the subject when it came up, namechecking Moms Demand Action and mildly calling out Sanders for not taking a stronger stance on gun control. Particularly when Sanders, the frontrunner, has been criticized for his comparatively weak stance, the question could have been a standout moment for Bloomberg in the debate.